Healthy Vegan Artichoke Dip
This vegan artichoke dip is totally healthy, rich, and creamy. It uses vegan cream cheese for an awesome texture and is perfect to make in advance for any upcoming spring or summer dinner parties!
Party Food
Hi friends! Happy Wednesday! How's the morning going? I'm coming up for air after all of the celebrating we've been doing over here. We had the best time with the fam in town this weekend, and last night, I had our monthly wives' meeting here at the house. It was a great night with sangria, enormous cheese boards,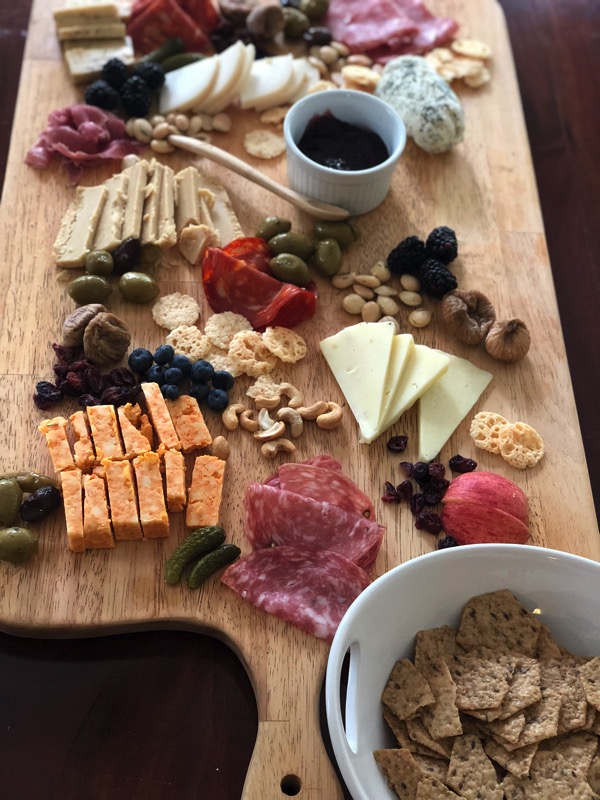 and the ridiculous little drink markers.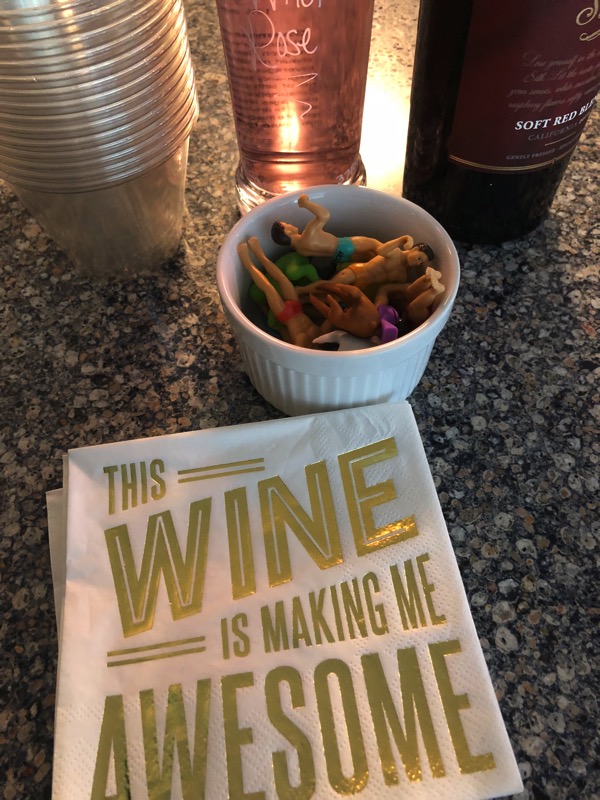 I made almost everything during the day so it would be ready to go. For dessert, we had crazy brownies: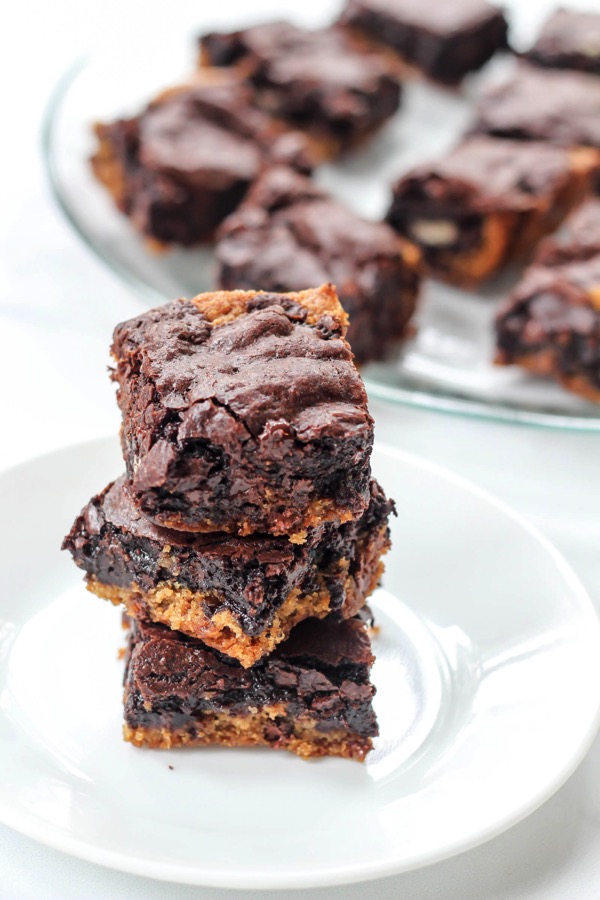 (cookie dough on the bottom, Trader Joe-Joes in the middle, chocolate chip brownies on top. Layer and bake in a 9×13 dish at 350 for 35-40 minutes. I'm really glad I never made these while I was pregnant because the obsession would have been real.)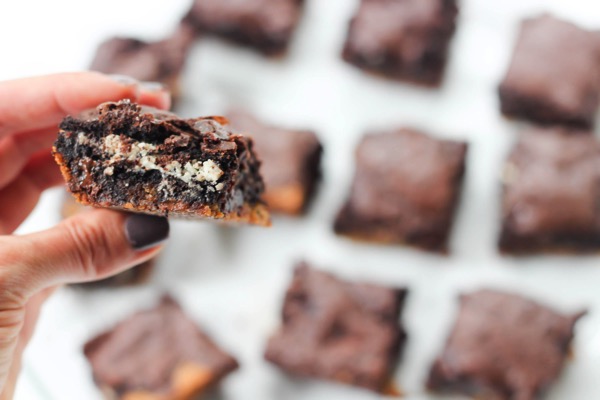 and the famous Kris Jenner lemon cake. I've heard Lauryn talk about this cake so often, and knew I wanted to give it a try. You guys. It was SO GOOD. And so ridiculously easy. I added a teaspoon of lemon zest to the batter, and it gave it a little extra somethin'. Definitely try it out for any upcoming holidays or get-togethers.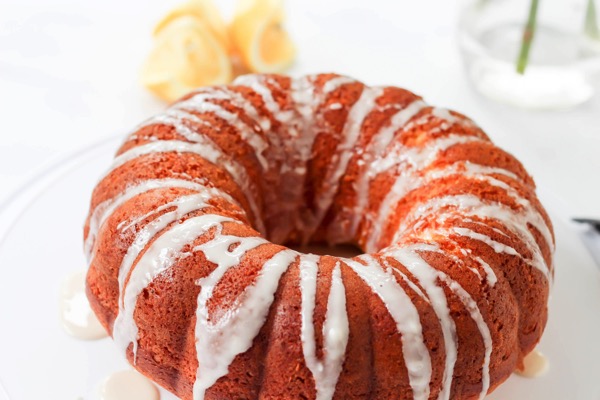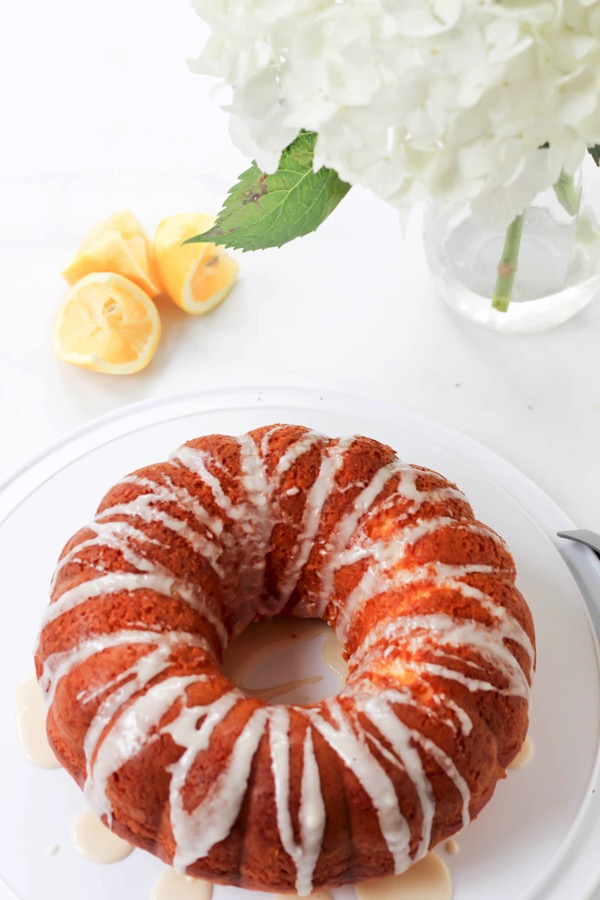 The bulk of dinner was catered from Birdie's Market: teriyaki chicken and steak skewers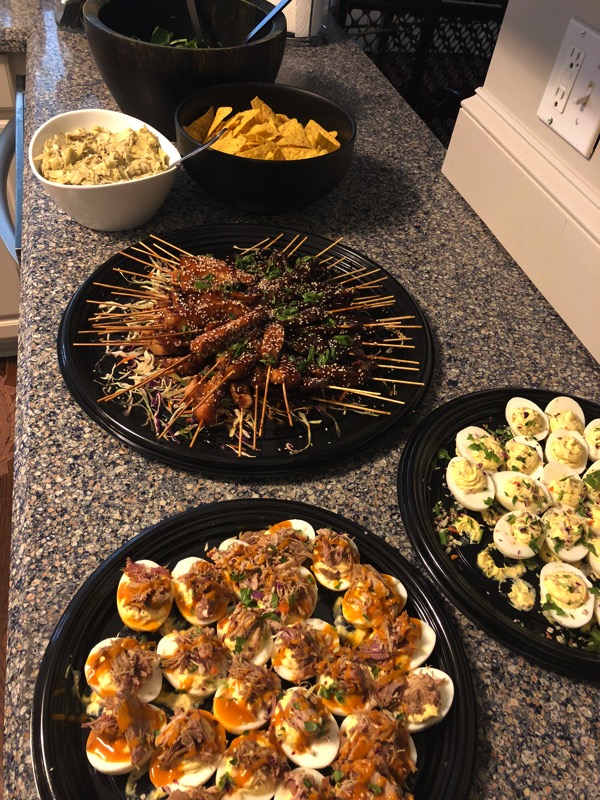 BBQ pork deviled eggs and regular deviled eggs.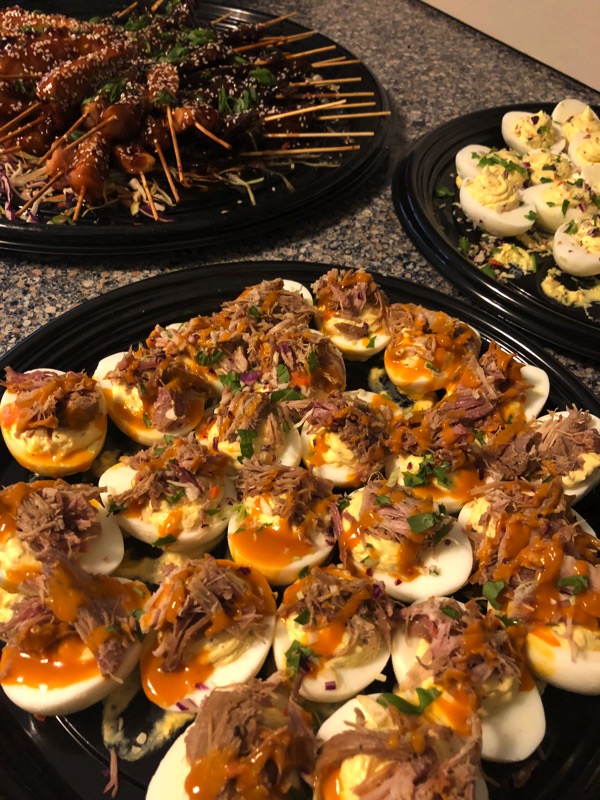 I made a quick chopped salad (spinach, bell pepper, zucchini) and served it with Trader Joe's carrot miso dressing (<— it's by the salad greens and so good).
We also had this healthy and delicious vegan artichoke dip.
Vegan Artichoke Dip
I used Kite Hill cream cheese style spread and it was dreamy. Here's the recipe if you'd like to give it a whirl!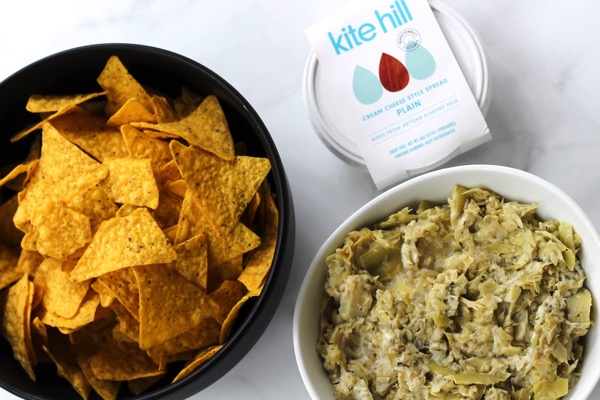 Vegan Artichoke Dip
3

cans (14 oz each) of artichoke hearts, drained

2 teaspoons

dried oregano

2 teaspoons

dried thyme
Juice of

1

lemon

1/2 cup

avocado oil (or neutral oil)

6

cloves of garlic, minced

1

container of Kite Hill (or similar vegan) almond cream cheese
Instructions
Preheat the oven to 350.
In a food processor, chop the artichokes and garlic so they still have a bit of texture, but are small enough to scoop.
Add the artichokes and garlic to a round baking dish, and stir in the oil, thyme, and oregano. Cover with foil, and bake for 35-45 minutes.
Remove from the oven and stir in the lemon juice. Season with salt and pepper.
Stir in the vegan cream cheese of choice.
Serve with tortilla chips or pita chips!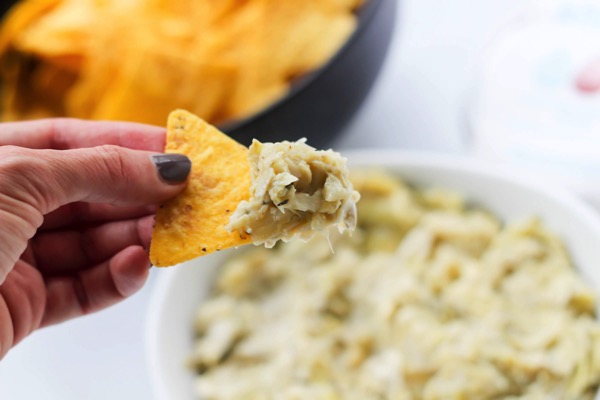 What's your go-to dessert for get-togethers? Any quick dips or spreads that you love to make?

More Dip Recipes
Check these out too for your next get together!
xo
Gina