Hey hey! How are you? Hope you enjoyed a fabulous weekend. We had a great one spending time family and friends, so it was definitely a win. 🙂
I shared some of the adventures from Friday and having the fam in town in Friday Faves, and the festivities continued through Sunday.
On Saturday, we had a chill breakfast, and then the crew headed to one of the jumping castle parks for a couple of hours. I stayed back to clean up a bit and pick up some last-minute supplies (cake, drinks) and even caught a 30-minute spin class in the garage. When everyone came back, we all chilled on the couch, ate popcorn, and watched Coco. I've seen it at least 20 times (the girls can't get enough) and the ending makes me hold back the ugly cry every.single.time. It reminds me so much of my family, especially the nana Coco, and it just hits me in all the feels. They did an incredible job of showcasing Mexican music, culture, and the family dynamic.
I snuck into the kitchen for a little while to put together the biggest cheese board I've ever made. We got this giant wooden paddle board thing at Birdie's, and knew it would be ideal for family parties.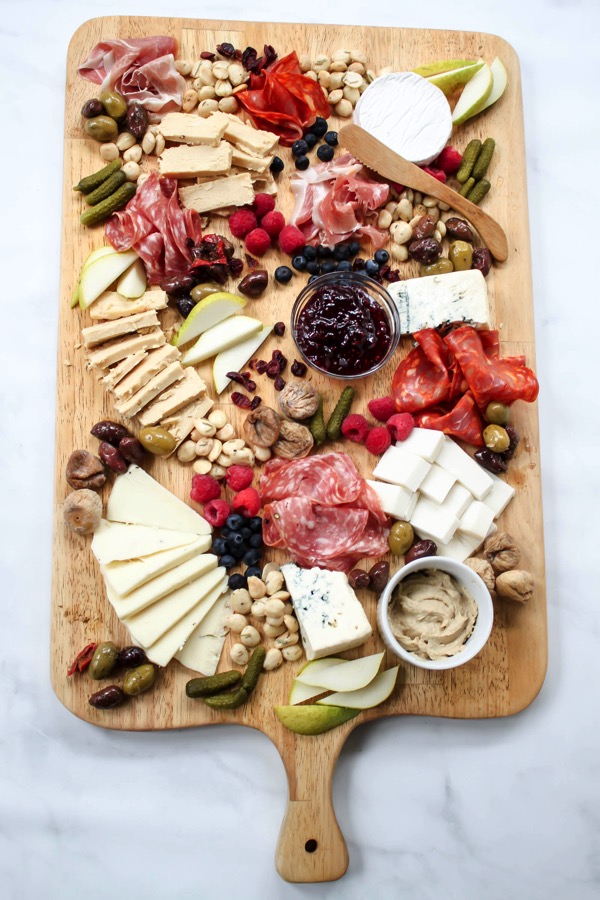 We stocked up on cheeses during our last Trader Joe's trip, so it had a fun mix of bleu cheese, goat gouda, caramelized onion cheddar, and truffle cheese. I used my usual strategy for assembling it, just on a bit bigger scale. 😉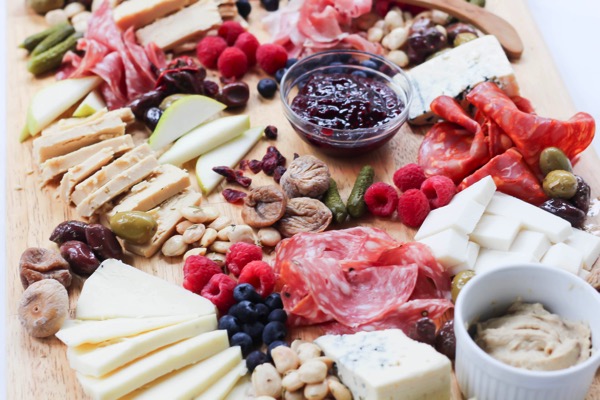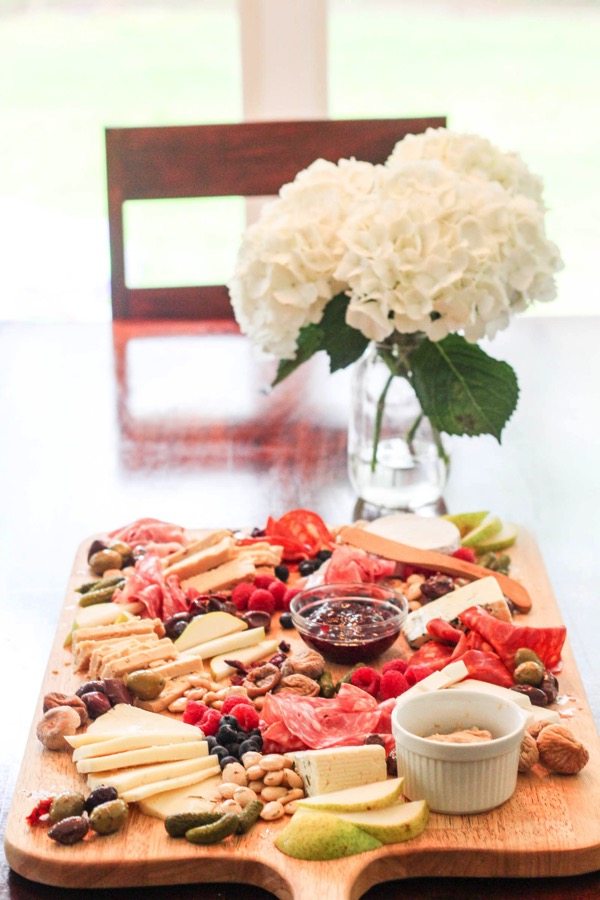 The food was ordered from Woodstack BBQ – we wanted the fam to be able to try some our local BBQ, and Woodstack is amaaaaazing –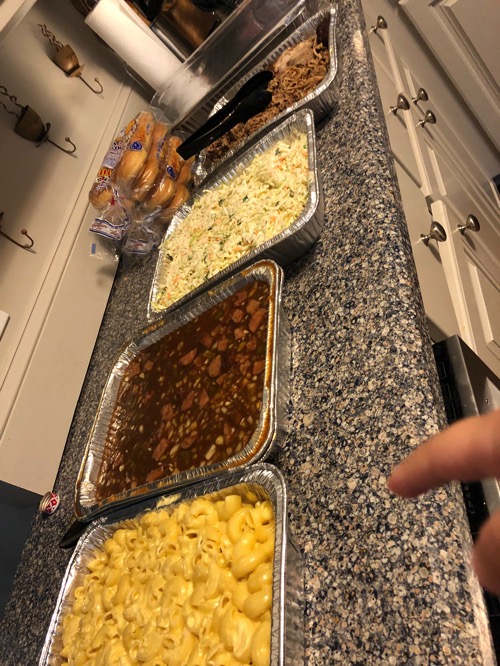 (the…weird-looking thing…on the right side is P's finger haha)
and I had made a double batch of tequila sangria. It's so dangerously fruity and smooth.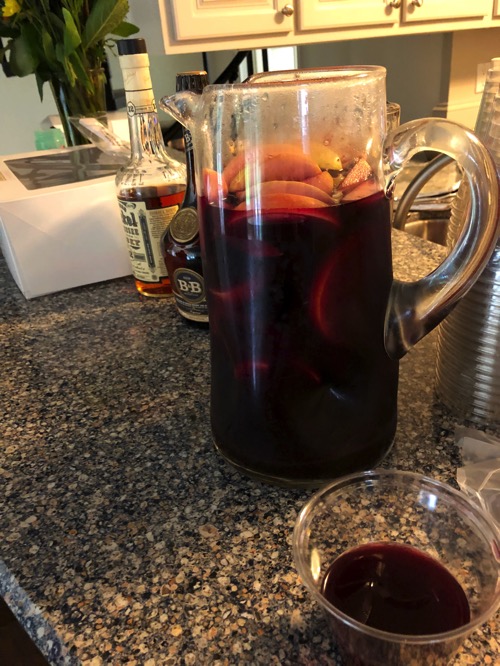 It had been raining all day, which ended up being perfect for the wet/dry inflatable slide in the backyard. The kiddos took turns sliding down in their swimsuits and screaming with glee, while the adults watched and drank sangria.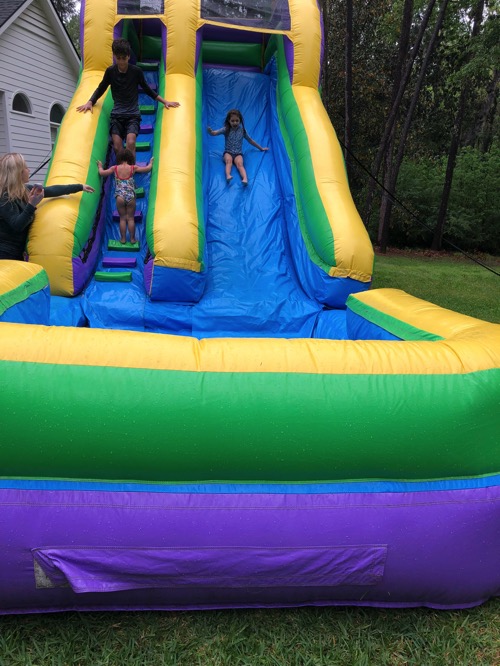 My friend Sarah from high school came over with her kiddos and it was a blast to just hang out, chat and eat with everyone.
For dessert, we had little cookies from Sweet's Addiction (I thought they might be kind of "meh" tasting since they seemed to be more for decoration purposes, but I was way wrong. They were SO good and had the slightest hint of lemon),
and cake. I couldn't help putting candles on it so we could all sing to the Pilot. 😉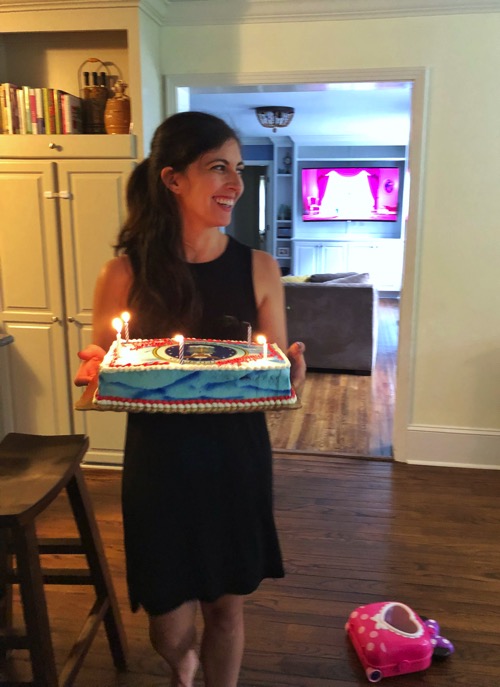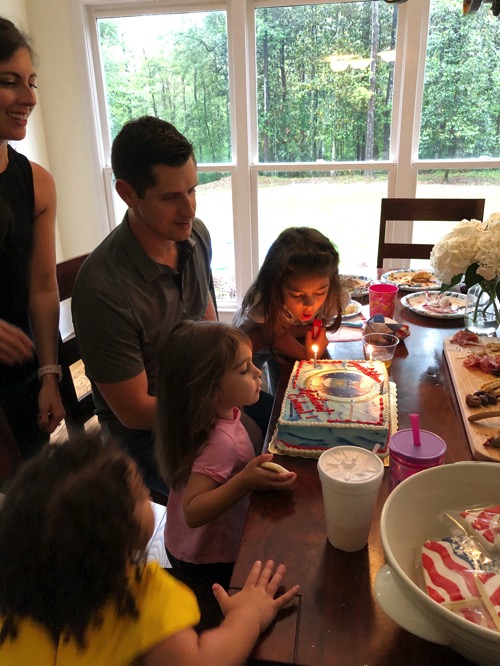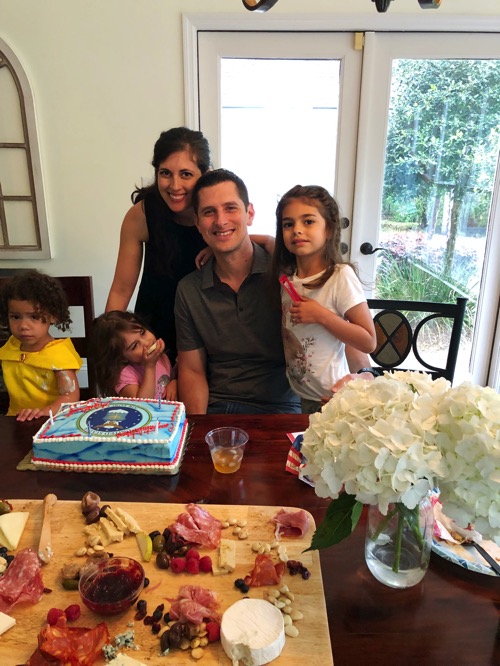 So very proud of this man and thankful to have him in our lives. <3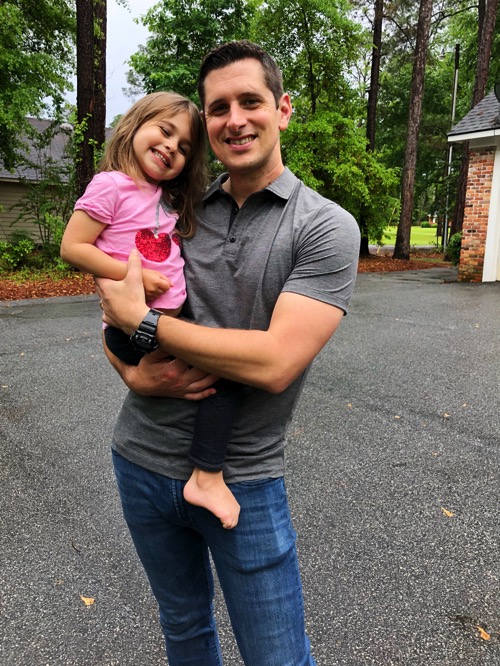 As wonderful as it was partying and celebrating, the best part by far was that so many of his family members (almost his entire family!) came out to spend the weekend with us. It was so great to see everyone, and the girls had so much fun with their aunts, grandparents and cousins. It was certainly a weekend for the books.
Today, we're back in the usual Monday routine. I'm teaching Zumba later, and getting some work stuff done this morning. I hope your Monday is off to a great start.
Have a beautiful day and I'll see ya in the morning with a full Peloton review.
xoxo
Gina
Looking for a workout? I've got you.