This morning, we had one of the first awake snuggle sessions we've had in a while.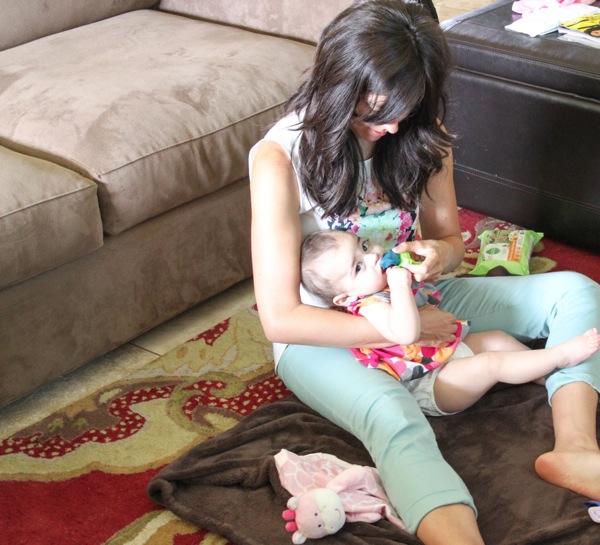 Liv will always snuggle up before bed as she drinks her bottle, but if I try to lay with her during the day, she pushes up on me and laughs. Or, like this afternoon, I lay next to her and she faces me while poking my eye, putting her hands in my mouth to scratch my teeth and trying to put her finger up my nostril. It cracks me up.
This morning, her teeth were really bothering her, so I was happy to curl up with her while she sucked on an ice cube in the mesh feeder.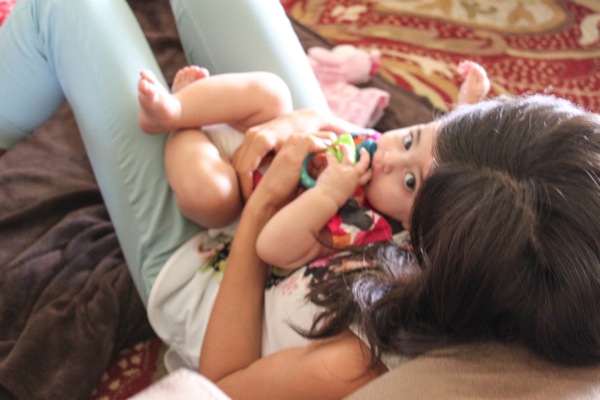 When I first had Liv, I never wanted to put her down. Since we had so many breastfeeding problems, when I wasn't pumping, I wanted to be holding her. I'm glad I held her and wore her as much as possible, because the soft snuggly stage dwindled as she became more mobile and curious. Even though I wanted to hold her all the time, I figured it would also be good for her to learn how to play independently, so she'd spend about a half hour or so in the pack n' play or on her activity mat, rolling around and batting at the animals and toys.
Now that she's crawling all over the place and thinks she can walk -even though she's still a noodle and working on the strength to hold herself up- I almost regret one of my main requests in finding a house: minimal carpet. Even when I vacuum and get carpet steamed regularly, it never feels really clean, and we've been planning on ripping up the only carpet we have (upstairs) to replace it with wood flooring. Tile and wood is so much easier to clean, but not quite as safe for a mobile baby to land on if she falls.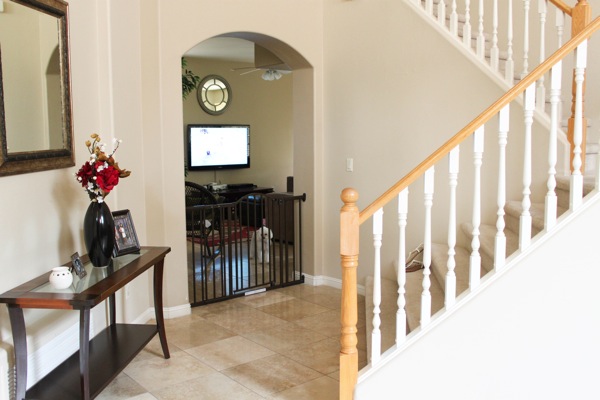 I've become a bit of a helicopter lately. I'm worried about Liv falling and hurting herself on the tile, so we've been spending a lot of time in what Tom and I call "the fortress": a square area on the den rug, covered with a thick brown blanket and bordered by her play mat, ottoman, the couch, and cushions in front of the TV stand.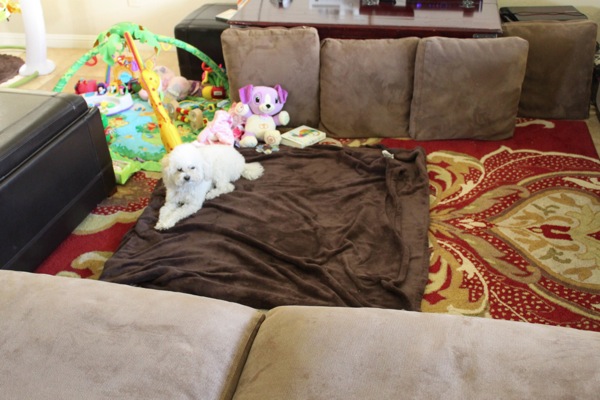 (Bella, queen of the fortress)
We'll sit in there with her, and she has room to explore pretty safely. Even so, I'm always an arm's distance away from her if she falls.
One of the books I've read said "the best thing you can do for your child is let them fail." And my nana told me, if she doesn't fall, she won't learn, and had the great idea to bring the pack n' play downstairs (it was in the guest room when my cousin stayed with us).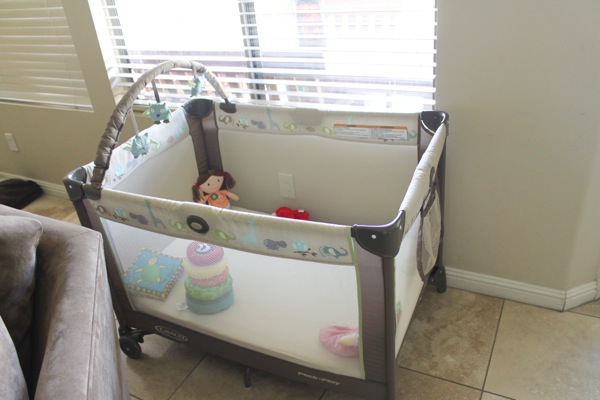 Nana said that Liv was in there for a few minutes yesterday while I was at work, and quickly figured out how to scale and walk around the sides. If she fell, she had something soft to land on.
However, when I put Liv in there to play for a little while, she screams. SCREAMS. I ended up wearing her on my back in the BabyHawk to clean up this morning- it worked really well. While I get dressed for the day, Liv will crawl around in our bedroom because I can see her from the bathroom and it's all carpet, but other than that, I usually right there next to her in case she falls. Even with all of the babyproofing we did, we can't exactly protect her from the tile unless we're right there to catch her.
Any parents with tile floors have tips while she's becoming more mobile and trying to walk? Anyone know where I can find a bubble suit? Haha.