This post is sponsored by Zappos.
Hi friends! Hope you're having a lovely morning.
Now that spring is officially here, we've been spending even more time outside. The girls play in the backyard for hours every day, we're finally walking the dogs on a regular basis again, and the fresh air has been amazing. With the warmer weather, I've been inspired to switch up my workouts and enjoy more outside. I've been partaking in outdoor walks before the gnats take over, dragging the spin bike out of the garage to spin al fresco while the girls play, practicing yoga in the grass, and exploring some local trails.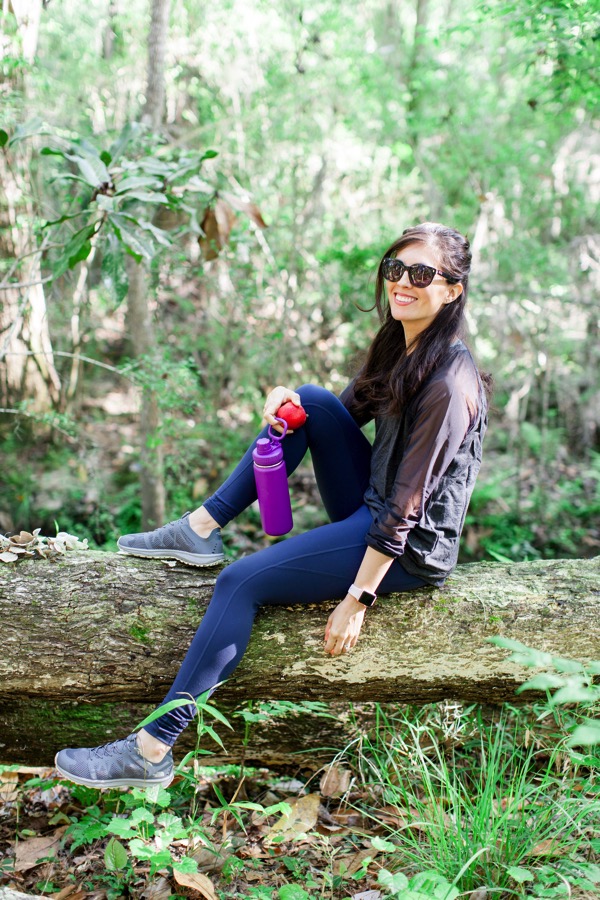 (Wearing the Litewave Flow Sneakers, Vision Pullover, and Perfect Core High Rise Tights, all from The North Face)
Trail workouts are some of my very favorites when the weather is nice. It's fun to incorporate strength exercises with outdoor cardio drills, using your own bodyweight + some natural "tools," like a tree for a wall sit. By taking your workout outside, you're challenging your brain in an additional way (more stimuli to take in and absorb!) + recruiting different muscles from working on alternate terrain. By varying our stressors, it keeps the body from kicking it into cruise control; you're using different muscle groups and helping to prevent overuse from repeated impact on the same terrain. I love switching between strength and cardio while exercising outside because you get muscle-building potential, cardio benefits, + some bonus vitamin D in the process.
Here's a HIIT + strength workout you can do anywhere, especially during your next outdoor trail run. Find a spot where you can run/walk .25 or .50 miles away, and you can perform it as an out and back with a break at each point for your strength work. Your heart rate will remain elevated for the strength components for a higher calorie burn during the workout, and the HIIT blitzes will give you that sweet post-workout EPOC (exercise post-oxygen consumption; more calories burned after the workout, like while you're chillin' and watching Netflix).
Here's what the workout looks like:


My friends at Zappos sent me some of their new gear from The North Face to try, which I'm wearing in all of the photos above. I've been a huge fan of The North Face for years. They're been around for over 50 years as one of the most trusted sources of fitness apparel, especially for outdoor adventures. These are my new outdoor shoe obsession: The North Face Litewave Flow Lace sneakers.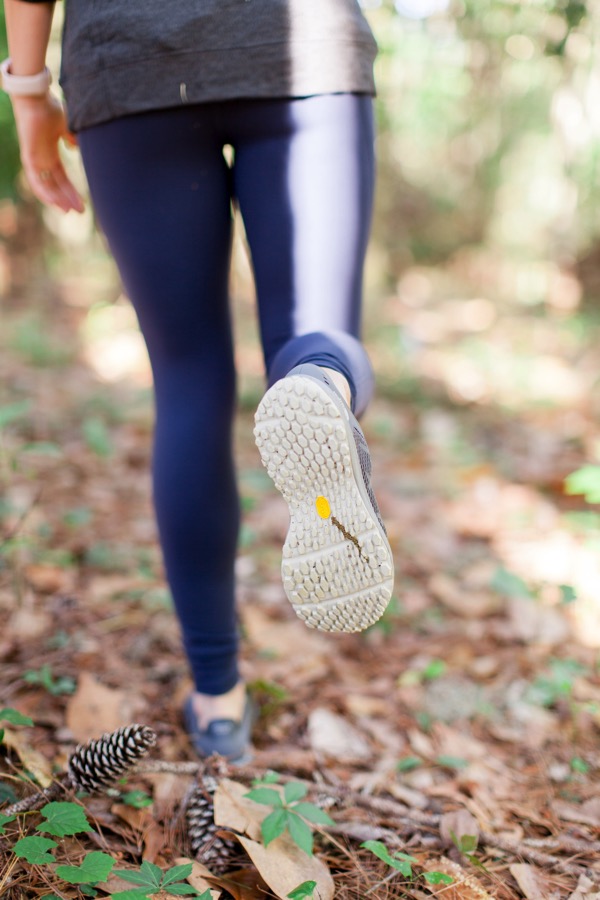 They're insanely lightweight, have a snug, supportive fit, and convenient quick-pull laces. I could totally see myself wearing these to hike Sabino Canyon, or just wearing them while playing outside with the girls. You can wear them with or without socks, and they're a versatile shoe for pretty much any outdoor activity.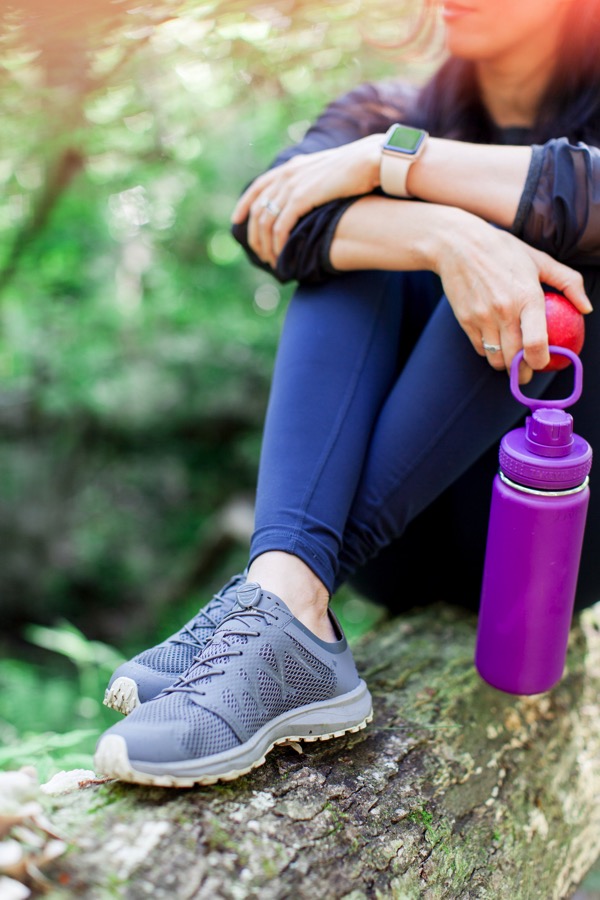 I've been living in this Vision Pullover, which has a sleek back cut-out and soft mesh sleeves. I like that it still feels a little special/different with the mesh detail, but is neutral and matches everything.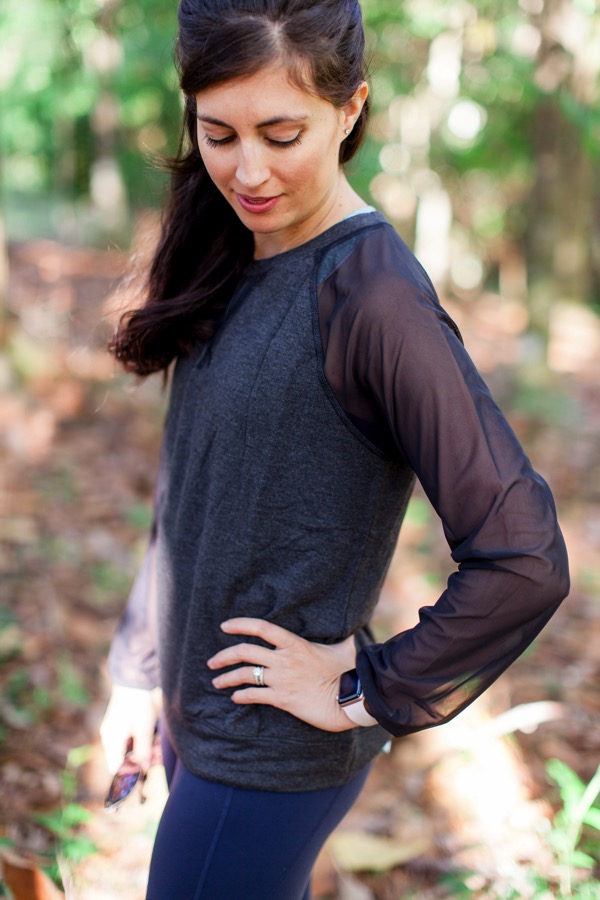 I also picked up these extremely supportive and comfortable Perfect Core High-Rise Tights. Since The North Face and Lucy have recently joined forces, you can expect the style and fit expertise of Lucy under The North Face name. This means that they have even more beautiful and stylish products that are functional for outdoor excursions and adventures. It's like the best of both worlds. 🙂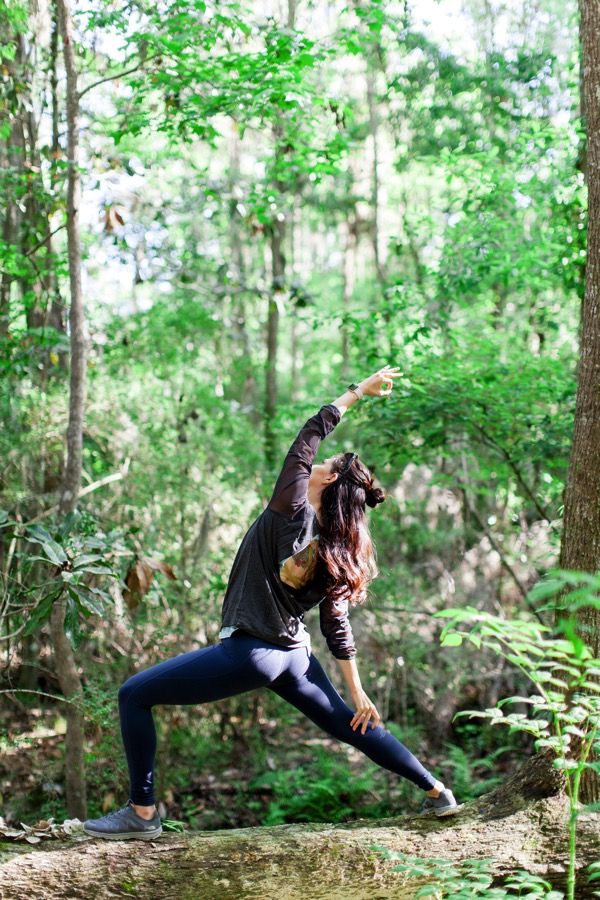 Lastly, I picked out the Afterburn Tank Top – a lightweight burnout tank that's amazing for yoga, strength, barre, cardio drills, or lounging. The fabric is soft and dreamy, and it's got an open back. (I realized after taking these pics that you can tie the two back pieces to give it a different look!)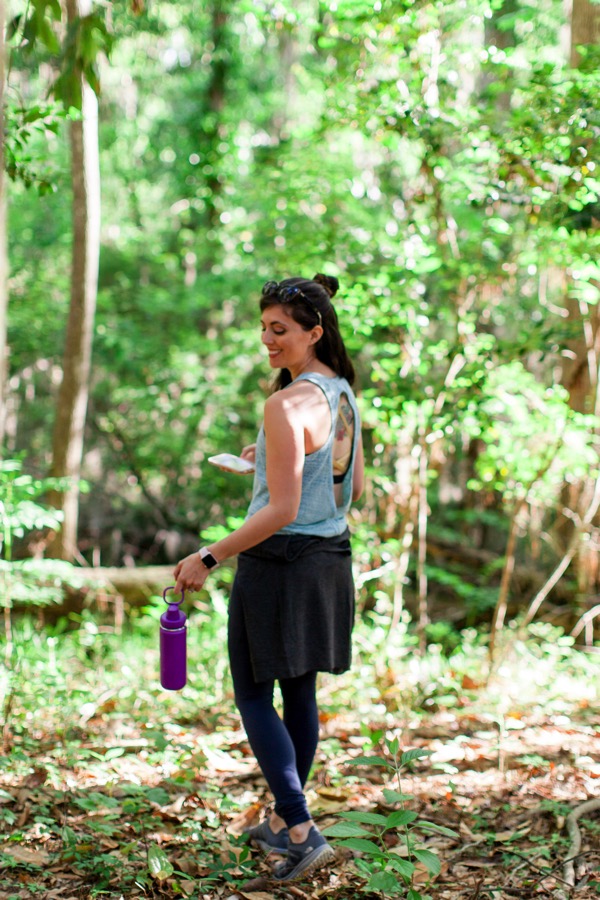 I ordered everything from Zappos, which is one of my favorite online spots to shop. We don't have a lot of shopping options here in V-town, so I end up ordering a lot of products online. Zappos has super fast shipping, and a convenient return policy. It makes it WAY easier than dragging the girls to a store to try on a bunch of shoes and apparel. I order whatever we need, and can easily send back the items that don't fit.
So, tell me friends: what's your favorite spring outdoor activity? Any favorite hiking trails nearby? If you try out the HIIT workout, please let me know how it goes!
Have a wonderful morning and I'll see ya soon.
xoxo
Gina
Photos: Lindsay Colson