Helloooooo. Happy Monday! How was the weekend? I hope you had an amazing one! Ours was a nice mix of recovering from our little trip, enjoying time outside, and spending a cozy evening inside while it poured. I feel like it didn't rain nearly as much last time we lived here – last summer I feel like it rained every day!- and it's definitely something I'll miss when our time here is up.
Well, that's enough weather talk from me because I really wanted to chat about the new fitness plans + answer some FAQs.
When I first announced the plans, I was so excited to hear that you're as pumped as I am for them to be here! (If you sign up or have signed up, you'll get the first month in your inbox on May 1). I also received quite a few questions that I wanted to answer for ya as you make your decision.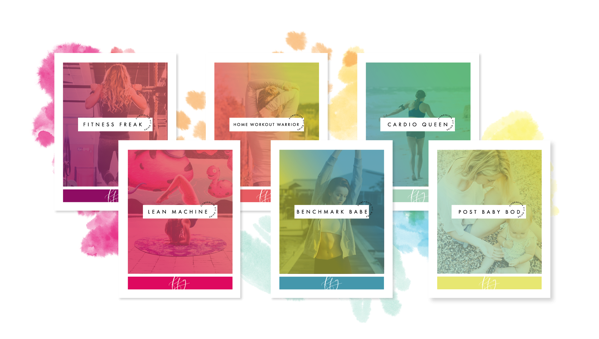 What are the Fit Guides exactly?
The fit guides are 4-week fitness plans designed for different fitness personality types. When I head to the gym to train, I use different strategies and exercises depending on the client. I set up a little quiz to help personalize your fitness plan experience! It's totally free and fun, and will help you narrow down all of the Fit Guide options.

If you choose to sign up, you'll get 4 weeks of workouts in your inbox each month. Each of the plans are completely different, with different exercises, muscle group splits, cardio recommendations, and gym equipment. You'll also get a monthly bonus (the first month is a 7 days of healthy meal ideas), a full cardio guide, and support through our Facebook group. It's the perfect way to amp up your routine, find consistency, and get a little extra motivation as we head into summer.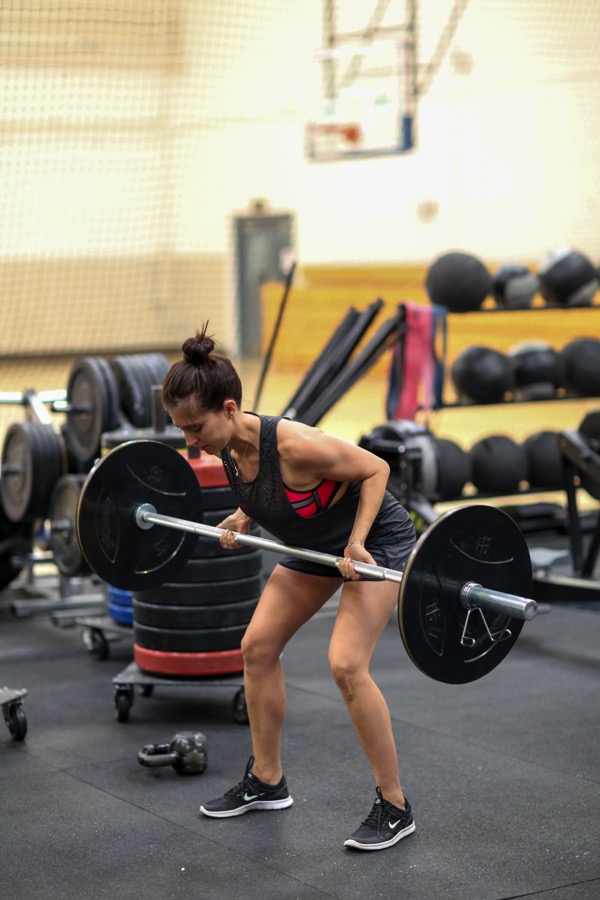 How much does it cost?
Right now is like a pre-order, and if you sign up, you'll lock in the $19.99 per month price. I wanted these plans to be really affordable (less than half of a 1-hour personal training session for a whole month of customized workouts), while still providing lots of value, new exercises and training ideas with you all. After May 1, the price will jump up to $29.99/month.
How long are the workouts?
The workouts range from 20-45 minutes. The strength + cardio days are a little longer (solid 45-50 minutes), but you can always tweak the workouts by doing less sets or eliminating some of the cardio. I'm happy to help you shorten the workouts if you're on a time crunch, and you can always split them up. There are two rest days each week.
What do the plans look like?
The plans have a weekly schedule (weeks 1 and 3 are the same, and weeks 2 and 4 are the same) with all of the strength workouts laid out. We're currently putting together a huge exercise gallery on the blog that will go live in the next couple of weeks so you can check it out if you need form cues + video how-tos.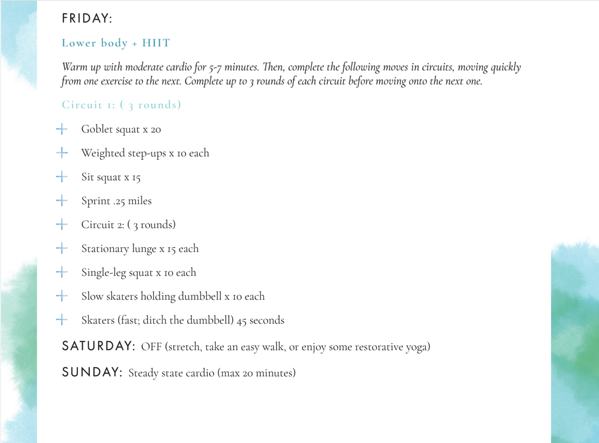 (All of the PDFs are gorgeously designed by Julia at Luminous Lines and I can't wait for you to see them!)
What equipment do I need?
Different plans require different tools. For the lean machine and fitness freak plans, I assume you have access to traditional gym equipment (TRX, cable machines, stability balls, kettlebells, medicine balls, etc.). For the home workout warrior, we use dumbbells, stability balls (with options if you don't have one), and Month 3 includes a resistance band loop (with options if you don't have one).
The cardio queen and benchmark babe plans also use less equipment (dumbbells + stability ball + options if you don't have them). If you come across an exercise and need a modification, please let me know and I'm happy to help. I tried to make these as fun/unique as possible while not relying on a ton of equipment tools.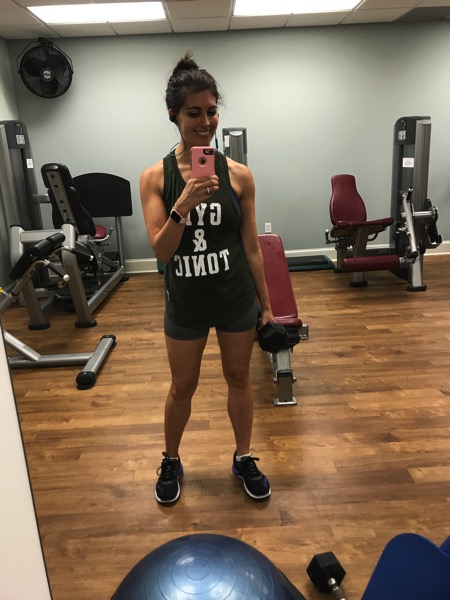 (Testing out the workouts!)
What if I need to cancel?
Simply send me an email and I'll cancel it for you. There's no commitment or anything weird like that. I genuinely hope you love the plans, but if you decide it's not a fit for you, it's NBD to cancel.
What if I want to change plans?
Send me an email and I can change your tag in the system. The only challenge would be switching back and forth multiple times because each time you switch, you'd start at Month 1 of the plans.
I'm pregnant right now; what should I do?
I'd recommend sticking with your usual fitness plan and follow doctor/midwife guidelines for now, and check out Post Baby Bod after you're cleared to exercise again post-birth. If you already know you'd like to go with the Fit Guides after Post Baby Bod, email me now so I can write you down for the $19.99 intro price when you're ready.
I think that's it!
If you haven't checked out the fitness personality quiz yet, here it is. The details for each of the plans can be found here. There are still some spots left if you'd like to grab yours now, especially before the price jumps on the 1st.
Thank you again so much for all of your amazing support. I'm so excited for this fitness party!
xo
Gina