Homemade Almond Milk + flavor variations
I've never been a huge fan of drinking milk plain. Even when I was younger, if it wasn't colored and flavored with the Cocoa Puffs I was eating, I wasn't a huge fan. I've remained that way with milk, until I met almond variety.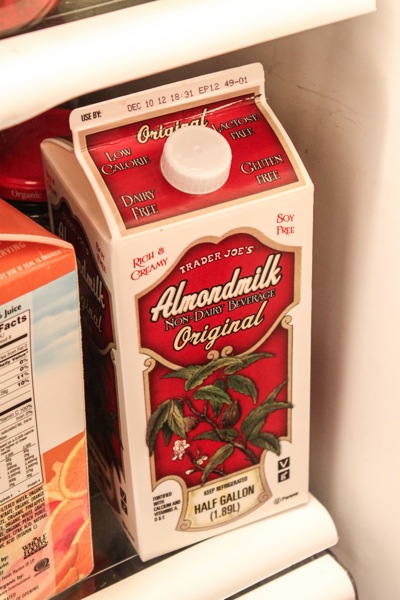 To me, it tastes so much lighter and milder than the regular stuff. Even so, it still seems to play second fiddle to whatever cereal I'm eating, or whatever coffee I'm drinking.
When I went to school at 105degrees (now Matthew Kenney OKC- they also just opened up a school and restaurant in Santa Monica called M.A.D.E), learning how to make homemade almond milk changed my life. It was CRAZY easy. A couple ingredients into the Vitamix (1 C soaked raw almonds, 3 C water, 1/2 t lecithin- optional, acts as an emulsifier and you can choose sunflower or soy, 1 t vanilla, pinch sea salt)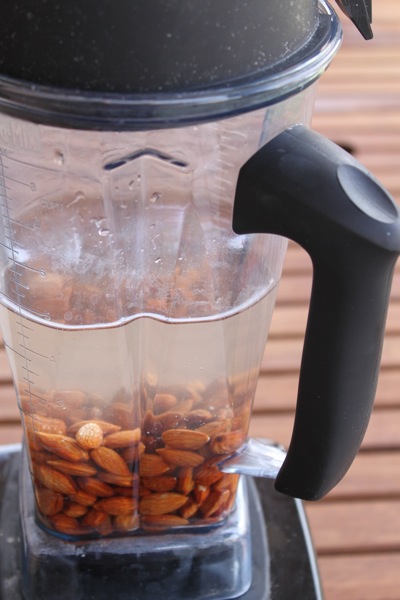 whirl it up,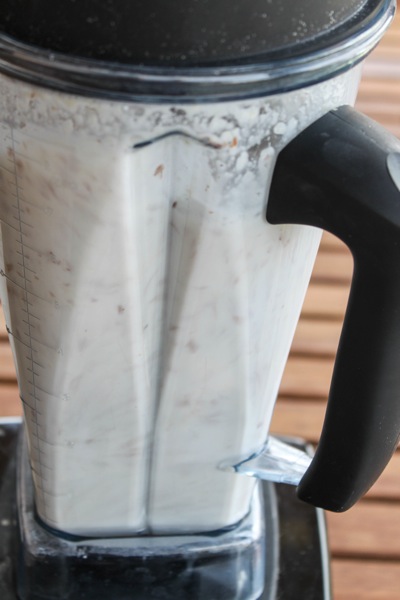 strain,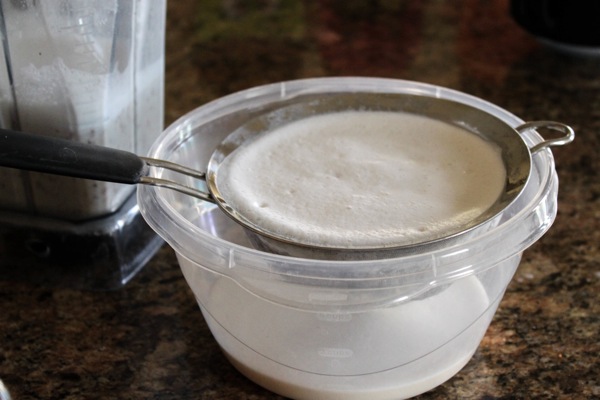 (I use a fine mesh sieve, but a nut milk bag or cheesecloth in a strainer work well, too)
and done.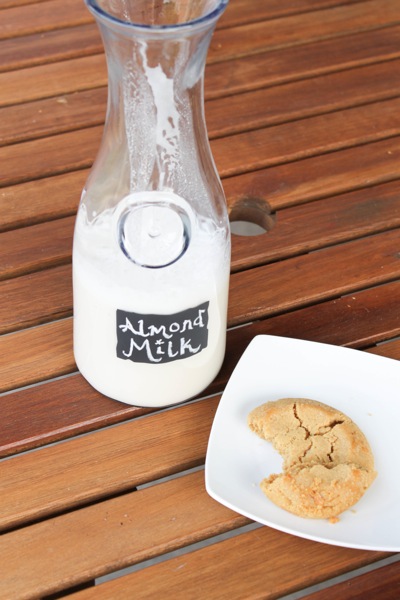 The hardest part was waiting for the almonds to soak beforehand.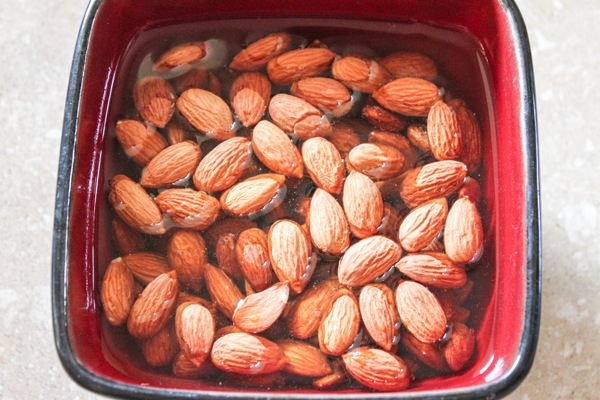 (Soaked for at least an hour, or in the fridge overnight)
So that's all fine and dandy, but I found the problem with homemade almond milk is that I don't drink it fast enough.
I only really use milk with cereal or coffee, and the homemade version will usually go bad in a couple of days. That is.. until I made these types: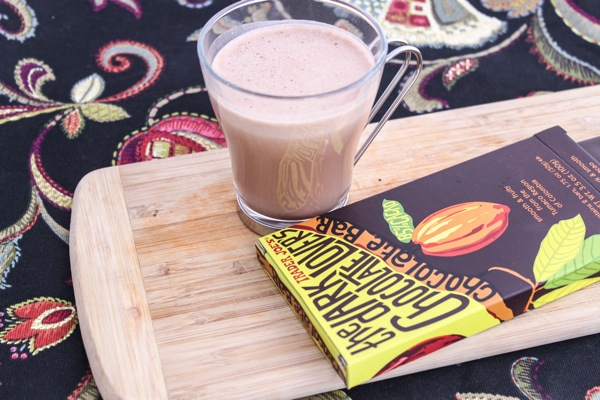 Chocolate
Add 1/3 C raw cacao or cocoa powder to the almond milk, plus Stevia or honey to sweeten, blend and strain again. For a Mexican-style chocolate, try adding 1/2 t cinnamon and a generous pinch of cayenne.
Berry Cherry
Add 1/2 C of frozen berry-cherry blend (or any berry blend you like), plus Stevia or honey to sweeten, blend.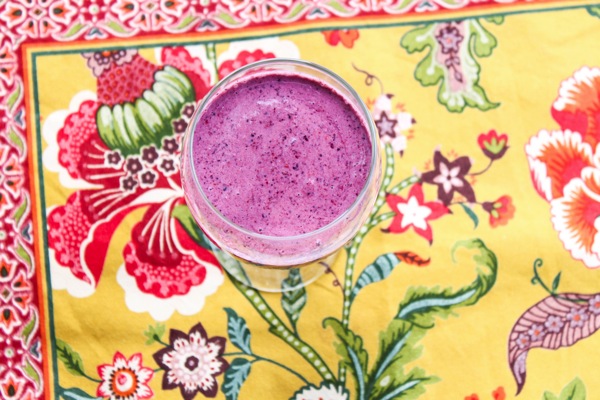 If your serving it for a party or company, I'd strain it again. Since this party consisted of me, myself and I, it was just left as is… a smoothie 🙂
Pumpkin Spice
Add 1/2 C pumpkin puree to the almond milk, along with 1/2 t pumpkin pie spice + Stevia or honey to sweeten. Don't have any? No worries, add 1/2 t cinnamon, 1/4 t nutmeg and a good pinch of cloves. Blend and enjoy.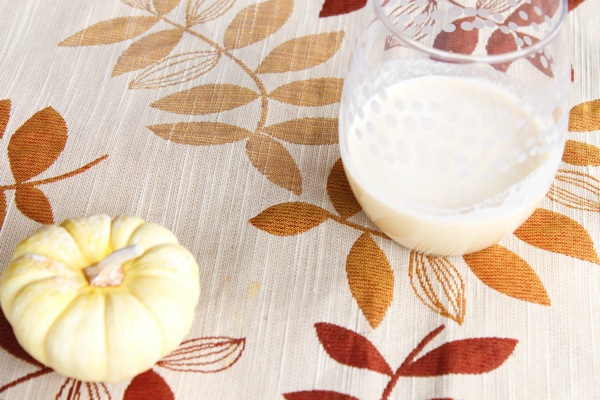 A little bird told me this is amazing as a cocktail with vanilla vodka.
Now I can't make it fast enough… and the cereal is optional 🙂
______________________________________________________________________________________
If you're wondering what the heck to do with the leftover pulp, just spread it out onto Teflexx sheets and dehydrate. After it's dried, a quick blitz in the food processor and you have raw almond flour, which is fantastic in pancakes, cookies or macaroons. If you don't have a dehydrator, you could dehydrate it on a cookie sheet on the oven's lowest setting with the door slightly ajar.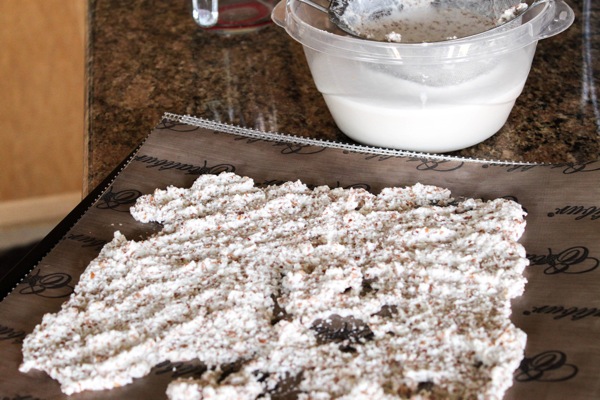 Enjoy! <3