Eats are always changing and evolving based on discovering new ingredients, changes in activity levels, and learning more about your body and nutrition over time. My eats have changed quite a lot since I started the blog over 3 years ago, but they've changed even more in the past 27 weeks. A wonky appetite was one of the first pregnancy symptoms I experienced (along with hips that were KILLING me)- I knew something was off when I didn't want almond butter anymore. By second trimester, my normal eats sounded appealing again and getting into the third, my belly is growing but my stomach is shrinking.
Here's how my eats have changed from the first to beginning of the third trimesters.
Weeks 4-13: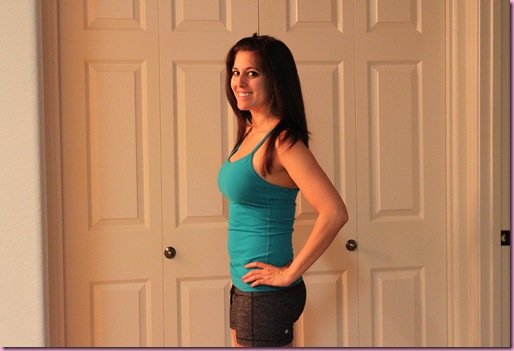 [4 weeks]
While I only got sick a handful of times, I was nauseas pretty much all the time. This is when I started counting calories on a regular basis again- something I hadn't done in forever, but I needed to make sure I was getting enough fuel with teaching fitness and a weird appetite. Smoothies were an easy way for me to fill in gaps when I needed more fuel that day, but the only foods that *really* sounded good were salt and vinegar chips and pizza.
My midwives were happy with the amount of weight I gained during the first trimester [which was the high end of the healthy range], especially since I felt so ill most of the time. By the end of the first trimester, I started to feel more like myself.
Staples:
Gluten-free bagels with egg and goat cream cheese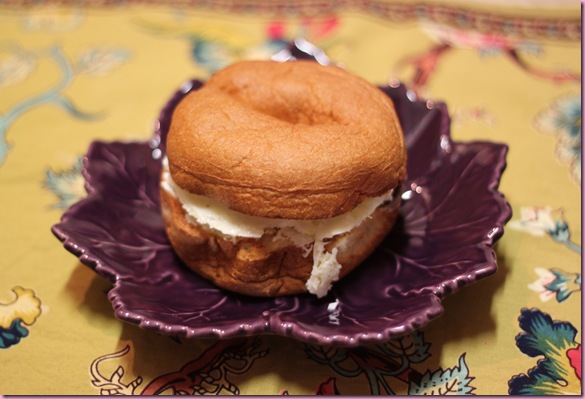 Fruit and smoothies
Glutino pretzels
Ginger Ale
And of course, the chips and pizza
Weeks 13-26: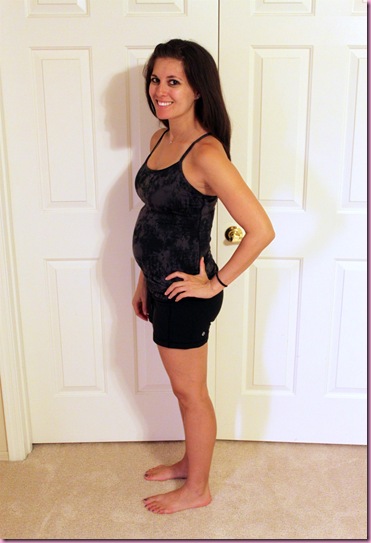 [17 weeks]
During the second trimester, I didn't need to count calories daily anymore [except for on the days I teach, which I always do- Zumba burns a crazy amount and I'm sure to make up for it fuel-wise]. I felt great and now that my appetite was back, I could focus more on the quality of the food I was eating, since veggies didn't sound too fab during the first trimester and finally sounded fantastic again. My focus began to shift more towards getting lots of protein, calcium, Vitamin C, A, whole grains, fresh produce, and the nutrients the baby and I need.
By this point, I started munching a snack almost every hour or so to keep my blood sugar stabilized. If I get the slightest bit hungry, baby starts to kick and ask where the heck the food is 🙂 Thank goodness I've never been the "blog-everything-I-eat" type, or I'd be going crazy right now with the picture snapping. Every hour, you can find me eating something: a handful veggies or tortilla chips, a dip into the almond butter jar, trail mix or a Larabar, fruit, hardboiled egg, small smoothie- anything that's easy and quick.
Staples:
–Fruit
-Smoothies
-Eggs
-Cheesy toast
-Salad beasts
-Anything with spice, mustard or marinara sauce
Weeks 26 + [I'm 27 right now]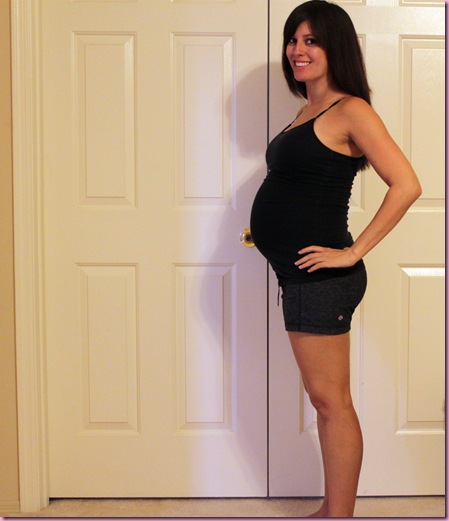 [26 weeks]
I'm finding now that as my belly is growing, my stomach is shrinking. My eyes are definitely bigger than my stomach because I'll sit down for a large meal, have half of it and be stuffed, which is weird for me.. many times in my non-pregnant state, I could eat more than Tom.
The good thing is that since I like snacking and lots of small meals, it's worked out pretty well to stick with this strategy for now. So far, I've gained 19 lbs, which the midwives say is right on track for how far along I am.
My eating style before the bun in the oven:
Breakfast, Snack, Lunch, Snack, Dinner, maybe snack
Now:
Snack, Breakfast, Snack, Snack, Lunch, Snack, Dinner, Snack
I'm even thinking of breaking my "no food upstairs" rule and keeping a snack on my nightstand to have in case I wake up hungry… I woke up feeling snacky the other night and was too tired to walk downstairs.
What was your biggest craving during pregnancy? For me, pizza has been #1. I could eat it every day.
Friends sans kids: what's been your biggest change in eating style? I think my most significant changes were cutting out Splenda –I used to sprinkle it on everything back in the day- and stopping counting calories. It's a great strategy for many people to maintain or get to a healthy weight, but it wasn't something I wanted to do long term.