Hey hey hey 🙂 How's your morning treating ya??
Mine has been bueno… especially since I got my Vegas booty handed to me by Shaun T. Last night's Fit Test was HARD and this morning's plyo workout was even harder. But Ashley and I were troupers and got 'em done 😀
After last night's fit test, I did what I usually do when we get back from vacay and are lacking in the food department:
Grabbed a Tucson tamale from the freezer 😀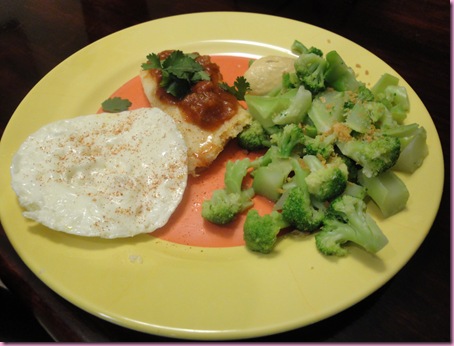 Desperate times call for desperate measures
It wasn't a Bobby Flay tamale but it was still pretty face-rocking 😉
This morning before the Plyo workout, I munched an apple with mesquite and cinnamon: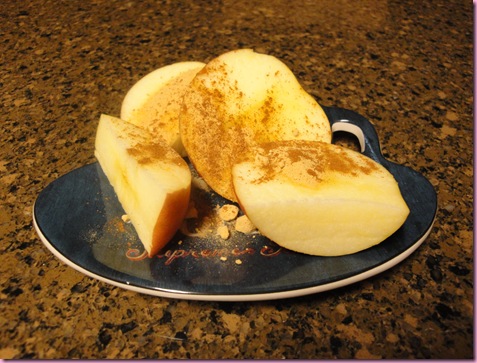 and almost *always* regret eating something before Insanity. My estomago can't handle digestion with all of the jumping around… I did ok with the apple, but there were a couple of times where I feared getting sick.
Post workout: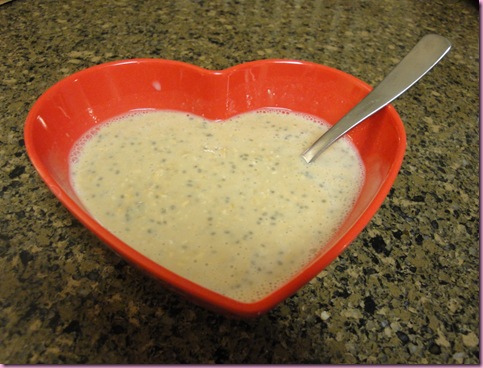 Raw Chia Protein Oats
-1/3 C soaked oat groats blended with
-1/2 banana
-1/2 scoop Sun Warrior
-Water
-cinnamon + mesquite
and soaked chia seeds mixed in
There's SO much to do today!!!!
1. Laundry mountain
2. Inbox mountain
3. Train clients
4. Work schtuff on computer
5. Puppy wrangling 😉
6. Groceries
See ya this afternoon!
xoxo,
Gina
Something to do:
For health: Make it a goal to FLOSS every day this week if you don't do so already! Healthy gums = healthier heart
For fitness: Add in a high intensity interval workout this week. Go easy for a minute and a half, then balls to the wall (either through speed or resistance) for 30-45 seconds and repeat. It will give you an effective workout in less time (20 minutes, including a warm up and cool down).
For happiness: Do something *nice for someone else* this week. You'll be amazed how good it will make you feel, whether it's paying a genuine compliment (someone told me they loved my dress on Saturday and it totally brightened my day), picking up the tab for the driver behind you in the Bizzle line, or helping out a friend with errands, etc. What do you plan on doing??
As the week goes on, leave a comment and me know how they go 😀