Hey guys! How are ya? Hope your day is going well <3
Thank you so much for the awesome feedback on the Summer Shape Up so far! Please keep cheering each other on and posting your workout triumphs and how you're doin' in the comments section 😀
Today has been a weird day. I think I told ya'll about the car accident I was in a month and a half ago. Well after fighting with the insurance people (her adjuster was trying to say it was my fault even though the lady backed into me), I finally got everything settled (and WON) and dropped my little car off to be fixed. I couldn't get the key out of my rental car!! I had to drive back to the rental place and have them help me… embarrassing.
Also, as I'm thinking you may have seen this already, the blog crashed. Thankfully, everything is back to normal with my blog baby.
Weird day!
I did have an awesome bfast though 😉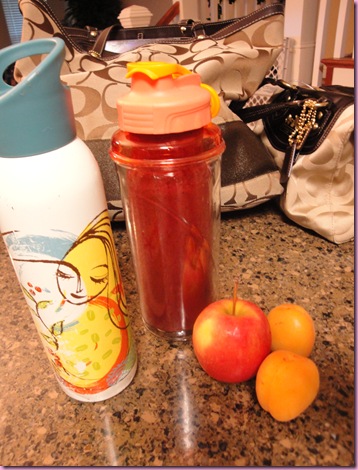 Cherry bomb + an apple and two apricots + water on the way to the car-fixer-uppers
Fun smoothie celebration news: SUN WARRIOR IS NOW IN MY OPENSKY STORE! About time, eh? 🙂 Great price, too! Edited to say: The Sun Warrior has been added, but isn't showing up yet. It should be visible tomorrow- sorry for confusing ya'll! See? Weird day.
I started cleaning the casa, did Insanity and had a lil snack: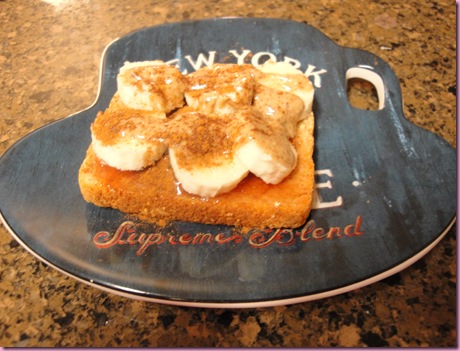 Millet with strawberry Meyer lemon jam, the other half of my smoothie bananner and an almond butter drizzle 🙂
I have plenty of almond butter, thanks to this lovely friend <3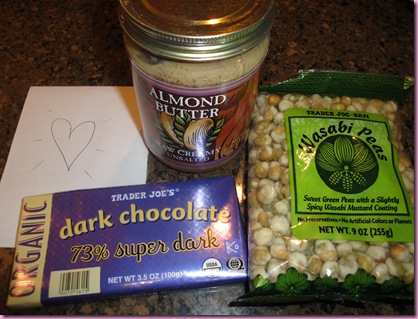 Lunch was smaller since I'd been eating pretty queenly all morning- I wasn't that hungry.
The star of the show:
Goat gouda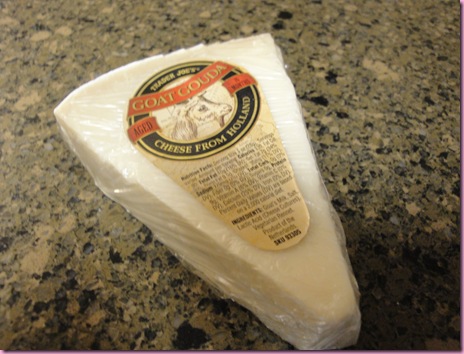 It's so so gouda 😉
I made a 3 egg white stada with goat gouda, spinach, Gahhhhlic gold, roasted tomatoes and onion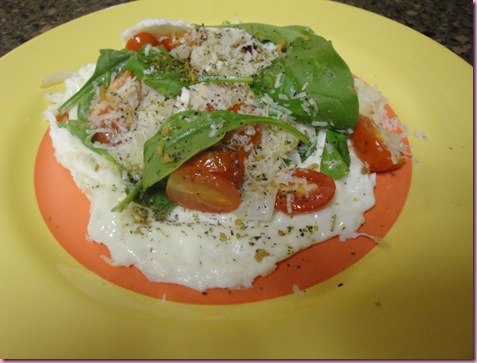 It was pretty face-rocking, but not nearly as good as these…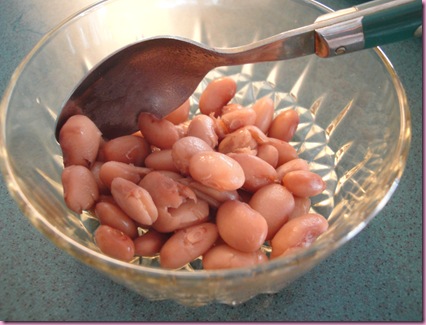 My auntie's homemade frijoles. She cooks them with cloves of garlic and I had a small bowl before leaving Orlando yesterday. I dreamt about them last night…. Might have to *attempt* to replicate them soon 😉 Maybe this Thursday.. the pilot requested homemade horchata 🙂
I'm off to teach spin and Zumba!
xoxo,
Gina
Today's tip: You tell me 😀 I was supposed to do a post on food budgeting, and when I stopped to think about what to write, I realized I'm pretty horrible at it. We have a set amount of dinero that we stick to (more or less) each week, but I also spend $13 on goat gouda at Publix and a ridiculous amount when we go to Whole Paycheck.
Here are some of the best tips I can think of:
– Shop around (I know for a fact that an organic cucumber at Publix is 3.99 –for a single cucumber!- and is 1.97 at Wizzle aka WalMart, frozen organic cherries are less expensive at Publix than Winn Dixie, etc)- I usually have to go to multiple grocery stores anyway, so I might as well buy what's least expensive at each store
-If you see a coupon you like, hold onto it! The last 3 gallons of almond milk that I've picked up have been FREE thanks to the Silk Almond Milk coupons they had at Winn Dixie.
–Buy from local farmers or farmers markets. Not only are they usually organic (just talk to them about their practices, but most don't use harsh pesticides but can't afford the price and hassle to become USDA Certified Organic), but you're directly supporting the people who work hard to the grow the products and are protecting the environment by buying local.
–Buy frozen. Frozen organic produce can be even MORE nutritious than fresh, and is usually far less pricey.
That's really all I've got… how do you save money on food??