Hey everyone! Happy Tuesday! Here's hoping today is a thousand times better than yesterday 🙂
It was so fun to hear your money-saving food tips and comforting to know that many of you spend a ton of money on food, too. The way I feel about it is that food is an investment in your health, and there are far worse things to splurge on. Healthy food now, or medical bills later. I'll roll with the healthy food 😀 Ya'll had some AWESOME tips on saving money on the good stuff, though- thank you!
Last night's dinner was kind of a smorgasbord 😀
As soon as I got in the door from spin and Zumba, I reheated a leftover vegan black bean burger from the depths of the freezer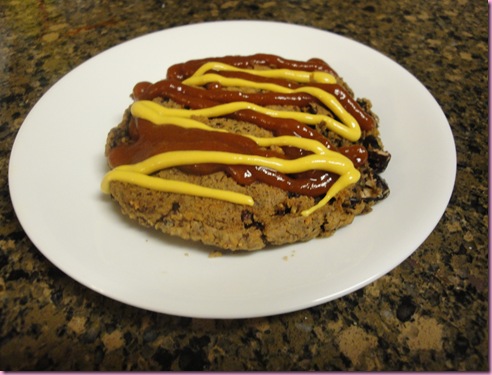 Took a shower, then had a massaged kale salad (1 bunch of kale with Nama shoyu, cayenne, rice wine vinegar, olive oil, sea salt, Garlic Gold). All ya do is season the kale and then "massage" it with your hands to wilt it down and distribute the seasonings. Not gonna lie, it feels kind of nice to squeeze and massage kale… is that weird? Haha.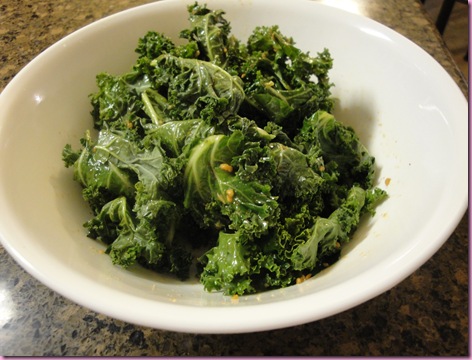 And a plentiful plate of sweet potato fries with a side of Dancing with the Stars 😀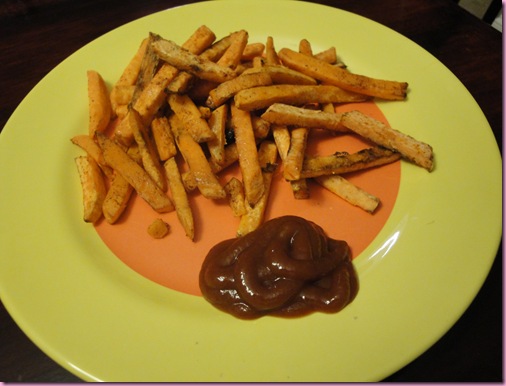 Perfection 😀
This morning, Ashley and I did Insanity Pure Cardio and then I made some smoothies for protein powahhhh.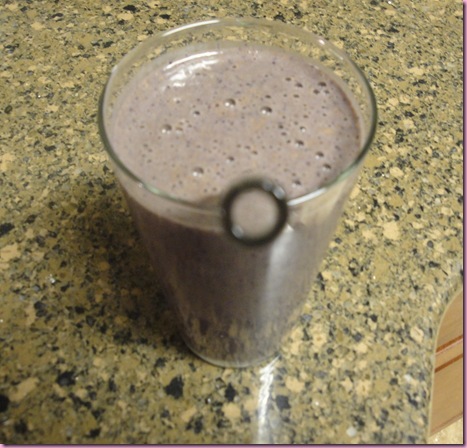 For 2 smoothies:
-2 C almond milk
-1 C water
-1 banana
-2 C frozen organic blueberries
– 2 scoops Sun Warrior
-2 T maca
-2 T raw cacao powder
-heaping handful of spinach
-vanilla Stevia
I'm off to take a shower and then drop Bella off for a haircut…. she's a little fluffball right now 😉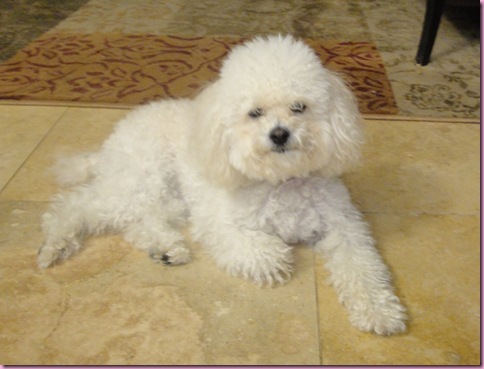 I'll be sure to post the "after" picture.
My friend is coming over to do our taxes (we filed extensions since the pilot was gone) and she requested a bfast cookie for lunch 😀 Love it.
Have a wonderful day and I'll see ya later this afternoon!
xoxo,
G$
Something to talk about: What's your sign that you're too stressed out and need to take things back a little? How do you chill out? For me, it's my skin. I usually don't have skins issues and thrive on a little stress, but lately my skin has gone crazy. Remember when I told ya'll that the fro yo gave me two small volcanoes on my face? Well I failed to mention the bumpy colony that had already been established there. I'm sure it's a mix of a lot of things (stress, lots of recent traveling –Vegas, Bahamas, Orlando, a potential deployment, hormones) but I'm going to make a conscious effort to chill a little. I also haven't been juicing very much lately, but the juice will be coming back today- those enzymes always help out my skin.
Something to do: Let me know how those Day 2 workouts go!! <3