What's this?! A fashion post!
Wow, it's been quite a while since I've done one of these. At first, it was more of a "here's what I like" page, that turned into a "here's what I wore" page that came to a standstill as it got more and more challenging to dress myself. Some women manage to pull it off beautifully, but I just felt awkward most of the time and stuck to my trusty lululemon. It's been a little bit of a hiatus over here on the lonely fashion page, but I've always planned on bringing it back in a different way- focusing on the new-to-me and homemade beauty products I love, shopping finds and things I'm loving and venturing into thrifting and DIYs with my future sis-in-law, Meg.
That's the fun thing about blogging… things can (and should!) evolve as time goes on 🙂
It's also in between-er as far as shopping goes- this has always been my least favorite time of the year for clothes shopping. Stores tease and tempt with amazing spring and summer styles, but it's way too cold to wear them, but not enough time left in winter to invest in cold-weather gear. It's warming up over here (!) and here are some of the things I've loving for spring:
Printed and colored denim
Circle skirts and dresses
Bright flats
Seaside accessories
Denim dresses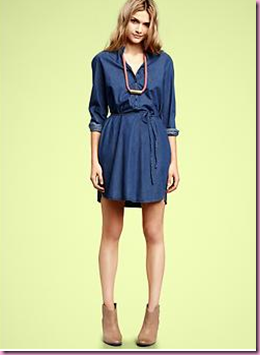 Gap
Of course, every spring stripes come out to play. Stripes aren't my fave, and no matter how good I *think* they look, I'll see a picture and… blah. I do like this sweater from Ann Taylor that Jessica Alba has: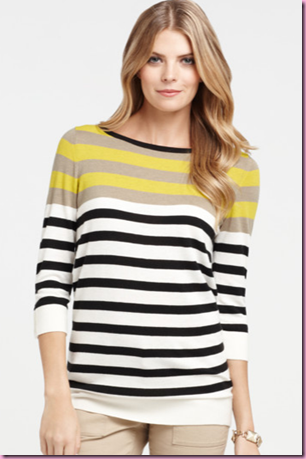 Source
Are you a stripes fan, or notsomuch?
What piece or style are you loving for spring?