Inspiration boards + fitness necessities for 2015
Hi guys! How's the day going? Hope you've had an amazing one. I took an INSANE Barry's Bootcamp class this morning (my first one!!) and I'll be sharing a Focus On post next week.
In the meantime, I'm really excited to share some of the beautiful inspiration boards that were sent my way. If you didn't have time this week to make one, it would be fun to take some time to work on one this weekend. I've found that inspiration boards are an excellent tool in helping me remain mindful, and create daily actions, towards my goals. You can even pin an inspiration board now, so there are no excuses. 😉
Here is a collage of beautiful boards I received this week: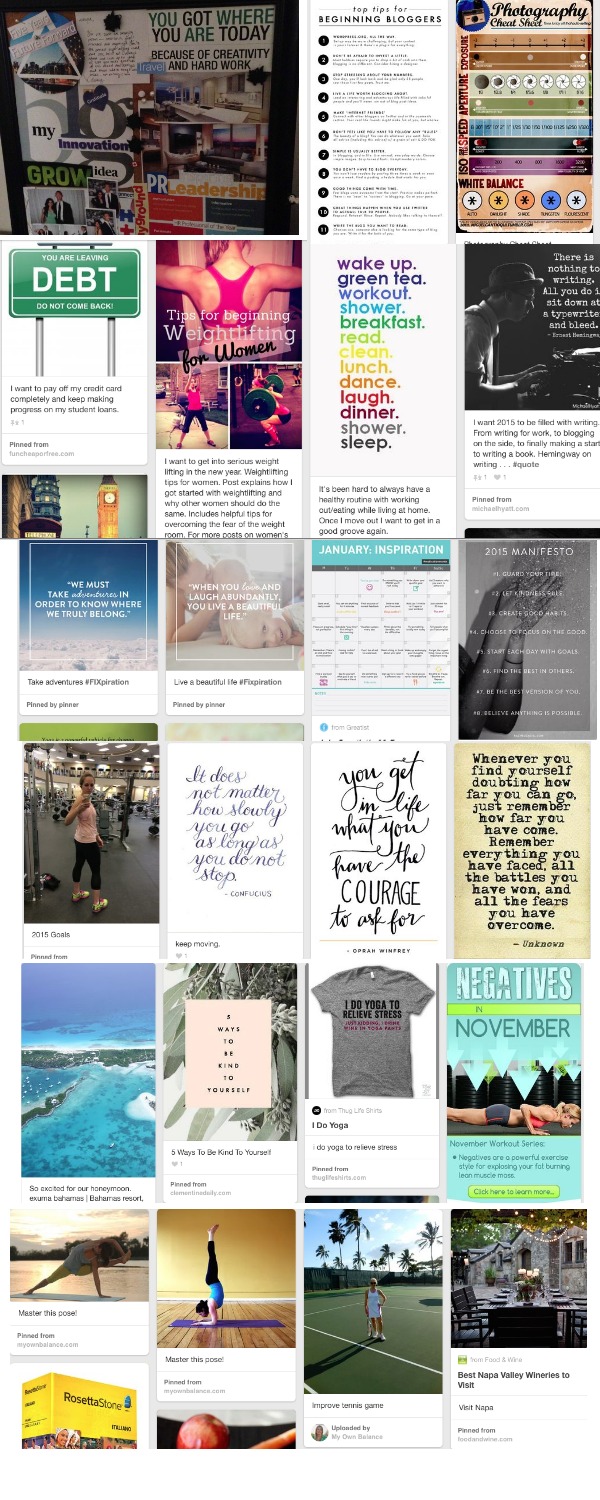 In the theme of making changes for the new year, it's also a great time to check out fitness gear and update the true necessities, like socks, sports bras and workout underwear. Once I forgot my gym bag and had to do cardio in a regular underwire bra. It was terrible. This morning, I got rid of some mismatched socks (I swear, they disappear in the washer and never make it to the dryer) and also got some great sports bras last night via the Victoria's Secret semi-annual sale. 
Some more faves:
Socks:
–Bombas. I recently did a post for them (they're like the TOMs of socks!) and are my new favorite pair. 
–Balega. These are another favorite pair, and are great if you like thin socks. 
–lucy. These are awesome for running! Thin, stretchy and sweat-wicking.
Sports bras and fitness underwear:
–Victoria's Secret Incredible. Super supportive, soft and flattering.
–Moving Comfort. Ideal for high-impact workouts and classes.
–lululemon Flow Y and Ta-ta Tamer. I love the Flow Y for everyday and low-intensity classes (like Core40 or yoga), and the Ta-ta tamer for high intensity.
A post about gym underthings is here, too. 🙂
Sneakers:
–Z-quicks or Nanos (for cross-training). I got a black pair of Z-quicks a few weeks ago (and love them!) and am still on a mission for a new pair of running shoes since mine have officially bit the dust.
What's your all-time favorite workout sneaker or sports bra? Any fitness apparel fails? 😉
What's on the fitness plan for the weekend?
Hope you have a great night!
xoxo
Gina 
Affiliate links are included above. Thank you as always for your support. <3