I've definitely been warned about other people touching my belly, since the word is out that we're expecting a little one.
The thing is, I kind of love it. Like really love it.
Maybe it's because the only people to touch my stomach so far have been close family and friends (not randoms at the supermarket) but every time one of them gently touches my stomach, I feel such a loving energy and I think the baby probably loves it too.
The best belly rub, by far, was this afternoon when we went to visit my great-grandmother. She's doing some physical therapy at a medical facility, so we stopped by to say hello. My auntie was there with her and the first thing she did when she hugged me was touch my belly and say hi to the baby.
We chatted and caught up while my nana napped, and when my nana woke up my auntie told her that I was going to have a baby and that she was going to be a great-great-grandmother. Sometimes when we talk to my nana she pretends not to hear us, but she definitely heard that one… the look on her face was pure joy. She told me that I have to be careful and take good care of myself. I promised her that I would.
I went up to hug her and my auntie told her that she should bless the baby. My nana said "bless the baby, bless the baby" as she made the sign of the cross on my stomach. She had happy tears in her eyes, and I have them in mine too as I write this. My heart is very full.
My growing belly:
4 1/2 weeks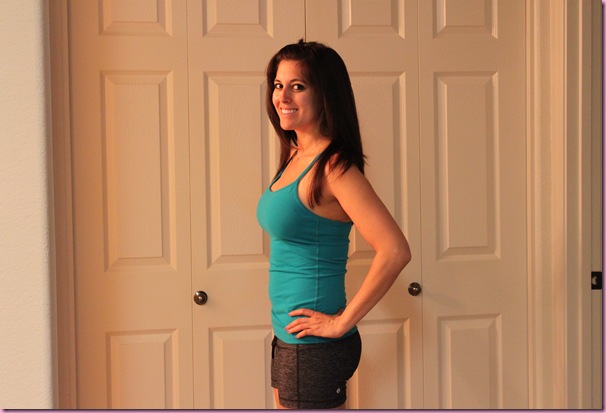 10 1/2 weeks
Something is definitely happening in there 😀
Weight gained: 5 lbs
Current cravings:
Salt and Vinegar potato chips (I can't.get.enough)
Sauerkraut and mustard (on a plate, together)
Caesar salad
Oatmeal and berries
Chocolate (finally!! I want it again. Vosges rocks my world, too)
Anything salty or savory
Dunkin' Donuts (Particularly the chocolate munchkins. As much as I've been thinking about this one, I haven't been able to do it yet)
Aversions:
99% of all foods
Almond butter (whyyyyyyyy?)
Eggs
Meat of any kind (even seafood sometimes- I have to be in the mood)
Cooked vegetables (salad is ok, but cooked veggies are on vacay right now)
Both my midwife and doula have told me that if my body is craving something, there's probably a reason for it. The baby gets the nutrients first, and I get whatever is leftover, which may be the reason for my major hankering for salty food right now. Every meal is a little more exciting since I have no idea what I'll want until the time comes, and then after I eat it, I feel like I never want to see it again. Weirdest thing ever.
And I'm loving every second. <3