June 3: The sweetest sound
Today I finally had my ultrasound! I was a WRECK leading up to it because I was so anxious to find out if everything was ok. 9 weeks is a long time to wonder, ya know? I texted Sabrina and Beth each about 20 times and they were so lovely and encouraging- I needed it, fo sho.
We get there early for the appointment and have to wait about 40 minutes, so the Pilot entertains me by taking pictures with the Alien Booth and Zombie Booth apps on his phone (I make one scary-looking zombie) and then the tech calls us back.
This tech should never have been hired into a position in which you have to interact with people. She had the personality of Bella's water dish.
I lie down on the table and we're trying to make small talk with her (which is failing miserably), and she squirts the goo on my stomach and presses down HARD with the contraption.
I always thought that they were gentle during ultrasounds, but no. It was really uncomfortable to have her press so firmly –I wanted to say "hey, I think you're smashing my baby, mmmk ?"- and on the screen was a black hole.
An empty, black hole.
She sighed (yes, sighed!!!!) and started to input measurements onto the screen as she changed angles.
I asked her if everything looked ok and she said, "I can't comment on that."
As I looked at the Pilot, who was holding my hand, my lip started to tremble and I immediately talked myself out of crying.
And then on the screen, she had zoomed into a white, kidney-bean looking figure.
Our baby.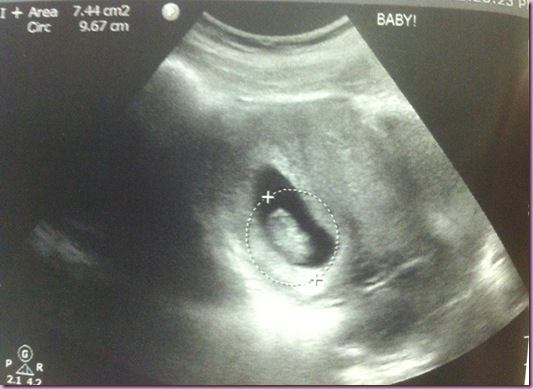 I watched it intently, waiting to see what was next and what I was waiting for happened within a few seconds: the bright flashes of light that was its heartbeat.
The heart's beating!!
She pressed down even more firmly (owwww!) and told me to be still. It wasn't until then that I realized I had been shaking the entire time.
And then we heard the best sound I've ever heard: the quick pace and thump of a strong, perfect heartbeat.
That moment right there was one of the peaks of my life. We met with the midwife who told us the tech noticed a lot of fetal movement (he/she is flipping and swimming around in there!), got our photos (which we immediately sent to the parents) and celebrated at Little Poca Cosa for lunch.
Now, we have our own poca cosa ("small thing"), and from what we can tell, it's alive, healthy and hopefully happy, because we're over the moon. 🙂