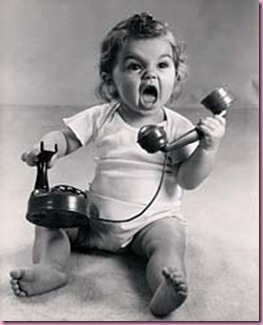 Source
Technology has come a LONG way since I was a youngin.' We played outside or indoors with toys and arts and crafts, occasionally Sega Genesis (I was always Tails in Sonic the Hedgehog), no Facebook to worry about, and we wrote notes back and forth instead of texting. When I was in middle school, my friend's mom let us borrow her cell phone while we went to the mall.. it was the size of a brick and had a giant antennae, and I thought it was the coolest thing ever. My mom didn't have a cell phone, and my dad had one that was for work.
I was 16 when I got my first cell phone. Tom was a sophomore, too.. in college 😉 I begged my mom for one, and she said there was no point in me having one until I could drive. Later that week, I saw a 5-year old yapping on their cell phone while signing up for summer arts programs. At the time, I was shocked, and now.. it's the norm to see kids talking, texting or totally fixated on their phones. If I were a kid in today's society, I would totally want an iPhone.
It's definitely not something we'll have to worry about for a while – and who knows, something else new may be out by then- but when is it appropriate for kids to have a cell phone? When did you get your first phone? I could see myself trying to say "not until you drive" like my mom did, but I think that they can be extremely helpful for safety reasons. Maybe a phone with calls only- no data plan or texting until she's much older?
Totally random, but remember when you had to plan out when you'd call your friends?
Busy tones?
Pagers?
Oh, the good old days 😉
More: