Hi guys! How are you? Thing are pretty bueno over here. 😀
I just picked up the pups from getting their teefers cleaned. They didn't need any teeth pulled and did great- the whole procedure took less than an hour for both of them, but they kept them at the vet's office all day to keep an eye on them.
Bella is [rightfully] still pouting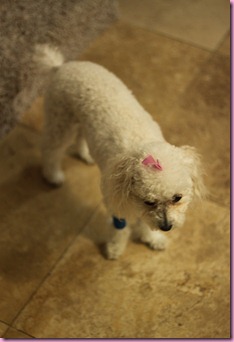 and Viesa hates her arm bandage.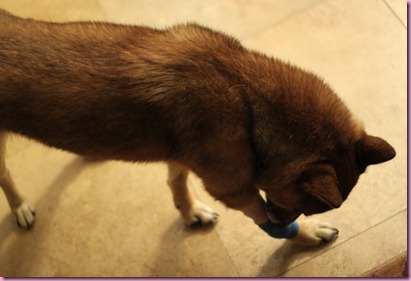 I'm about the snuggle with them on the couch until they feel a little better. Their chompers look beautiful and I know that it is a smart step for their health in the long run, but I still feel bad for making them get their teeth cleaned.
Afternoon snackage: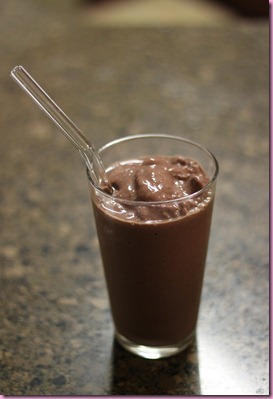 Smoothie with:
-1 C frozen organic strawberries
-1.5 C homemade almond milk
-1 serving chocolate Vega smoothie to-go (an HLS freebie)
-1 t spirulina
-1 banana
-1 T hemp seeds
-a lil water and ice
It was pretty much perfect 🙂
After the squadron BBQ this afternoon, I hit up the base gym for a solo spin/Harry Potter reading sesh.
Before I knew it, I'd been on the spin bike for an hour! Harry Potter made the time fly by 😉 I'm determined to finish the 5th book and move on.
It's a beautiful day in Valdizzy today.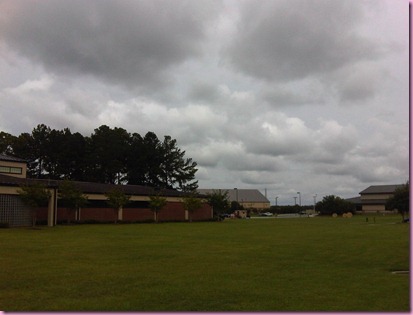 Cloudy and COOL- Fall is in the ayer 🙂
(I took that pic outside the base gym)
Perfect weather for a movie and drowsy puppy snuggling. The plan was to go out to dinner with the Pilot but since I want to keep an eye on the dogs, we may opt for an easy dinner or takeout (Indian??!!).
See ya in the morning!
xoxo,
Gina
Something to do: Keep those fall shoe ideas coming! I LOVE checking out all of the links ya'll are suggesting. I <3 online shopping 😉
Something to talk about: Did you read the Harry Potter books?? Are you reading anything awesome right now?