Hi friends! Long time, no update over here. There really hasn't been too much to report, besides the usual things and trying to hide the fact that all I want is eggs and toast on the blog, but today I had my first prenatal appointment.
It was both a success and a fail.
I had high hopes for this appointment, maybe too high, because a close friend is pregnant and we're about the same amount along and she had an ultrasound yesterday. When she texted me the picture, my heart melted- I just wanted to see our little lentil so badly!
When I got to my appointment (with the madre, who came with me since the Pilot is still gone), I was 100% ready for my ultrasound… which never happened. They're waiting two more weeks to give me mine since I'm still early (7 weeks) and they don't see any reason why it should be pushed up. I was beyond bummed.
While I do feel the hints of being pregnant, this was going to be the thing to make it more real. I feel like I need proof like this is really happening, but instead I'm going to have to rely on faith that everything is ok in there, and be thankful that the Pilot will be here for the first ultrasound appointment. I told the midwife that "I just want it to be real" and she said, "honey, blood tests don't lie."
The good news is that I ADORE the midwife I met today. I'm seeing a group of midwives, who deliver the babies in a birthing center at a local hospital, and their C-section rate is 8%, compared to Tucson's 25% average. I had a feeling that it would be a good experience, but I really had no idea it would be so wonderful.
The midwife I met with today -there are 8 and you meet with all of them, because only one midwife is on call for births per 24 hour shift- knew about ALL of the herbal supplements my homeopath has me on, and sat in the room as if she had all day to answer questions. Seriously, we could have had lunch together in there. She was so thorough, kind and patient- unlike my experiences with traditional doctors, I didn't feel rushed in the least. I'm very, very fortunate to have been referred to this group, and hope that the rest of this whole shebang is just as pleasant 🙂
Even though I was so happy that the midwife was incredible, I still cried when I picked up my La Parrilla and discovered in the car that they had put cheese sauce on my to-go order. I had to compose myself before going back inside to switch it out for another one.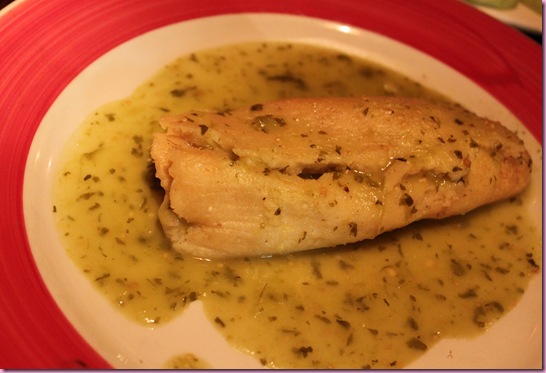 Raging hormones are a biotch haha.