Morning friends! Hope you're having a great day so far <3 Thank you so much for the kind words and congrats on our new home. Since it was a short sale, I'm still kinda shocked that it actually fell into place and worked out! I'm definitely excited to start putting it together and decorate 🙂
So there's been a thing going around the blog world called "7 Links". Many of my blog friends have already participated and I was so stoked when Gena and Julie "tagged" me to join in the fun.
1) Most Beautiful Post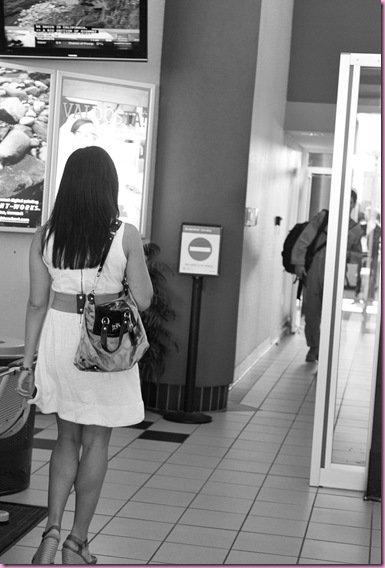 It was one of my less-wordy posts, but many words weren't necessary since I'm pretty sure you could feel my joy shooting through the screen. He was gone quite a lot last year before he deployed, so it was a lonely year for me, despite how busy I kept myself and having such amazing friends (virtual and physical) to support me while he was away. That first hug after such a long time apart is one of the best things ever.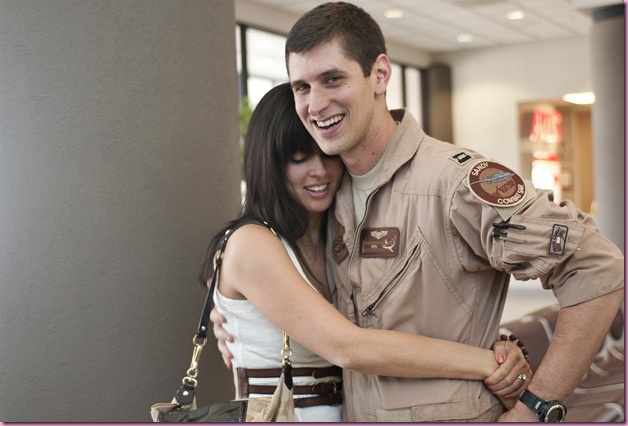 We also had a lot of fun putting the video together to share with ya:
2) My Most Popular Post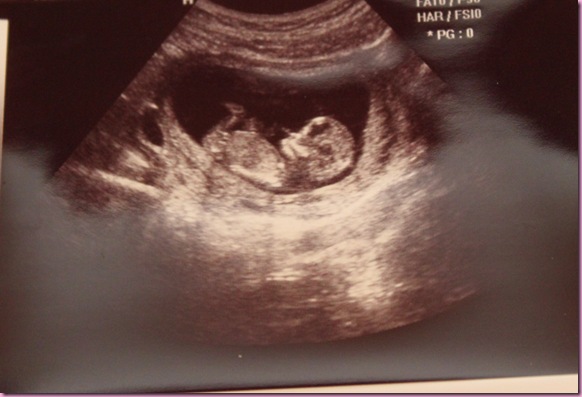 I posted this one while we were on a little weekend getaway to Vegas to celebrate the good news 🙂 I had a feeling it would be an important post since it's the biggest news I've ever shared on the blog, and as usual, you all were so wonderful and supportive about it. After announcing the news, I started my Family page to share our journey along the way 🙂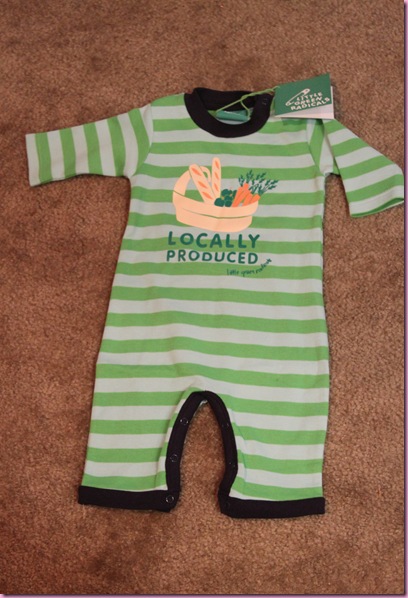 3) My Most Controversial Post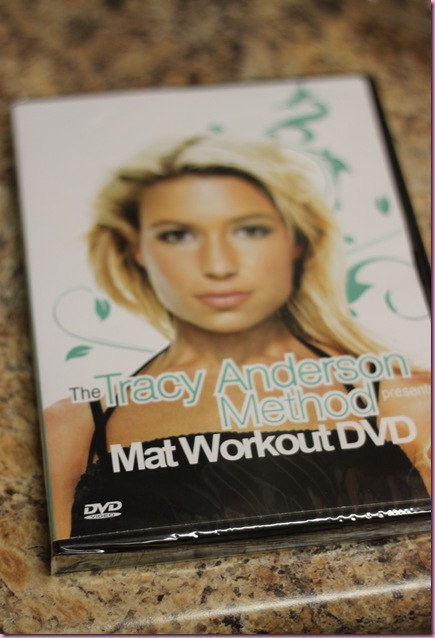 I don't usually tend to stir the controversy pot very often on the blog, since I like to keep it a positive place. When I decided to post a Focus On post featuring the Tracy Anderson Method, I expect discussion to occur because let's be real, she's a little nutzo. There was an amazing discussion in the comments section on the blog, but I was surprised to read some readers' responses to the post on outside message boards because they were disappointed I decided to feature it on my site.
The thing is, I want to post about as many different food and fitness options as possible so that you'll have the information available to make to make the best decision for you, especially when they're major trends (such as the Dukan Diet and Tracy Anderson). If I'm not too familiar with something, I'll enlist the help of a friend to write the post who is either a certified instructor or a frequent class participant, since they'll be able to provide the real deal. Of course, I'll always give my two cents –you can read what I think about the Tracy Anderson method in this response– and if something is positively ridiculous and unsafe (like her diet suggestions!!!) I will clearly state so. I just like to provide as much info as possible and what works for me doesn't always work for others, and vise versa.
4) My Most Helpful Post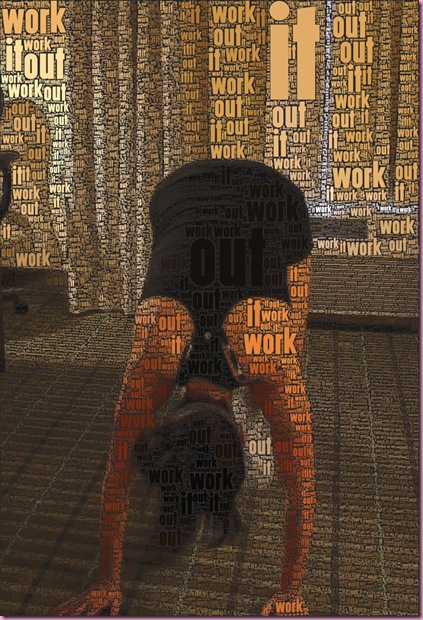 I put my heart and soul into creating all of the workout plans on this little blog, but always hear the most amazing success stories and responses to the Summer Shape Up. At least twice a year (Winter Shape Up and Summer Shape Up), I post at least 4 weeks worth of full workout plans, meal suggestions and recipes to follow along if you'd like.
5) A Post Whose Success Surprised Me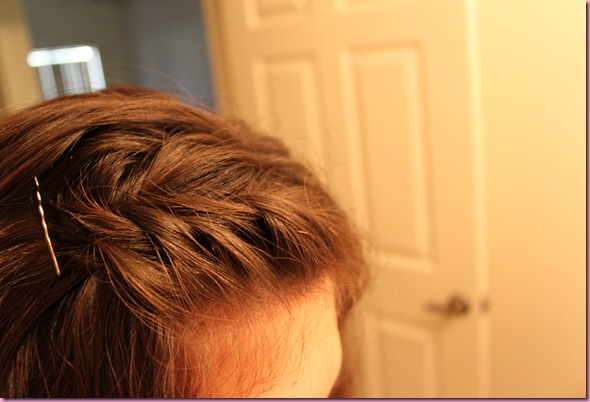 When I posted the pic of my twisty bangs –usually rocked when my bangs are too long- quite a few readers left comments and emails asking how to do the twisty bangs. So I made a little video tutorial and loved getting twitter pics of fellow Fitnessistas rocking the twisty bangs 🙂 [Side note: if you ever want to see something on the blog, let me know!]
6) A Post I Didn't Think Got the Attention it Deserved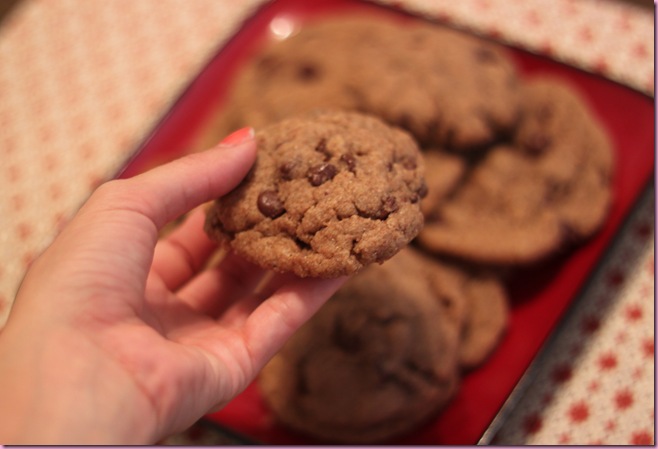 I'm surprised more people haven't made these.. because they're scary good. I actually could go for one right about now 😉
7) The Post I'm Most Proud Of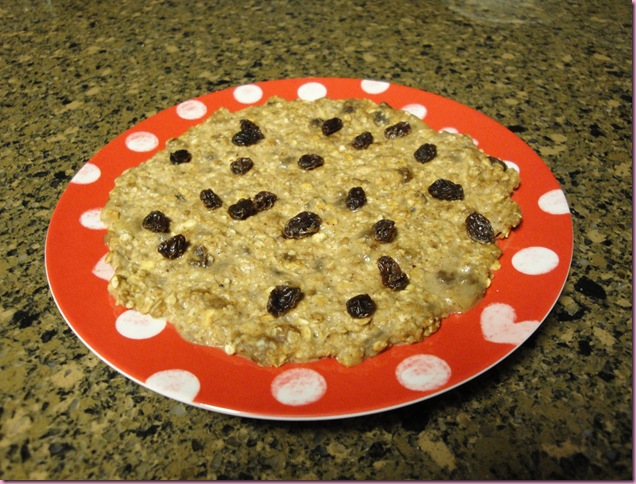 I created this little gem shortly after starting the blog, three years ago. I was on a mission to create the *perfect* breakfast (with excellent nutritional stats and a balance of smart carbs, protein, good fat and staying power), and was so excited when it turned out and tasted amazing. Granted it's not exactly a *cookie*, but it looks kind of like one (especially with chocolate chips) and is definitely something worth crawling out of bed for 🙂
In the spirit of the 7 links tradition, tagging 7 friends to join in the fun:
{Apologies if I'm tagging you and you posted this already! I'm kinda late to the party on this one and my brain is in the POD somewhere}