Last night, Tom and I got the chance to attend a different type of class at a local hospital: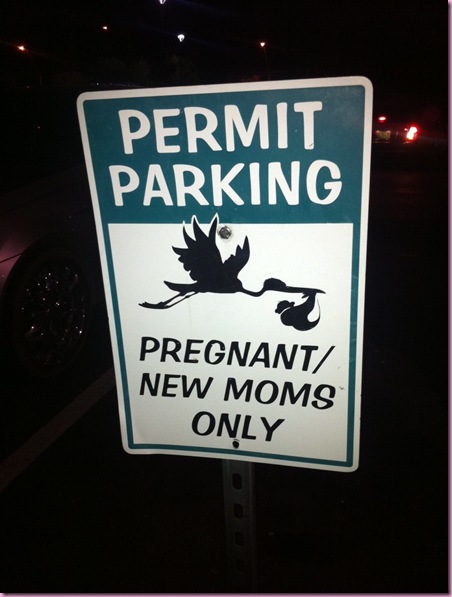 all about breastfeeding.
Tom was really stoked to learn about boobies 😉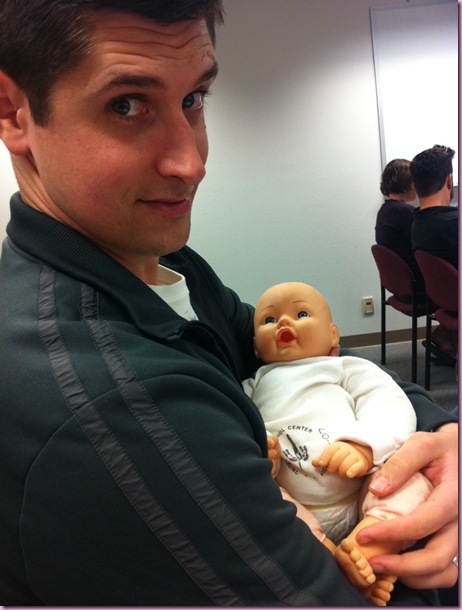 [That picture melts my heart a little bit]
I really need to give him props because his work schedule has been INSANE since we got to Tucson. I'm happy because he comes home at night, and we're in Tucson (!!!), but he's been working a lot. He builds the schedule for the entire squadron, and every week he makes sure that he has time to get away for Bradley classes on Tuesday night and was sure to switch flights with someone else so he could make it to breastfeeding class. So when I started to whine about how he wouldn't be home on Halloween, all it took was a sideways glance for me to remember how dedicated he's been to the truly important things, and I shut my face. After class last night, I made sure to tell him what a good husband he is and that I am so thankful that he cares enough to go to classes with me and for everything he's done to help us prepare for the little one.
The class last night was extremely informational, even though I've read a couple of books about breastfeeding. The instructor was a registered nurse in labor and delivery at the hospital and went over all of the details about breast milk (the different types your body produces and how it changes to accommodate supply, demand and the growing baby), proper latching techniques, ways to hold the baby, tips and tricks- I was SO glad we went.
It was also helpful to practice on a baby doll, to kind of get a feel for the different holding techniques: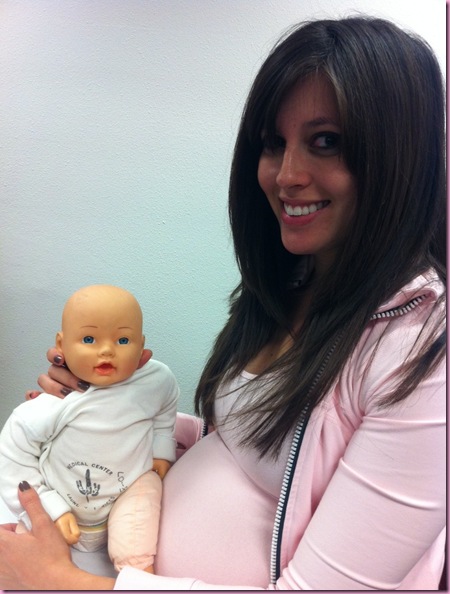 I'm not going to do a synopsis post on what the nurse discussed since I have no medical credentials whatsoever –if you're curious, I'll post some book recommendations, and definitely look into taking a class in your area- but here are some of the things that I had NO idea about before I got pregnant and started researching:
-It's extremely intuitive. I've heard so many horror stories about breastfeeding and how babies can have problems figuring out what their supposed to do, but just like any other mammal, they will smell for their food and go directly to the source.
-The best thing to do after birth is to have skin-to-skin contact with the baby and try to get them to breastfeed. They're most alert at this time and aren't too exhausted yet. Even if it doesn't quite work the first time, the best thing to do is try. [This was definitely one I didn't know before]
-It shouldn't hurt. Once again, all I've heard is that it feels like a thousand knife stabs to the girls, but if the baby is properly latched on, they're may be some discomfort, but no pain. Pain can be caused by the baby not taking enough into its mouth and causing the hard palate to smash down and irritate the tissue.
-You don't have to worry about foods you eat causing digestive distress if you continue to eat what you normally eat. Baby is already used to it. The only thing that may cause problems is too much dairy, which shouldn't be a challenge for us. She also advised to stay away from alcohol and caffeine while breast feeding, but anything you intake should be out of your system in 24 hours.
-Intense exercise can cause lactic acid buildup, which can make milk taste sour or funny, too. The good news is that breastfeeding burns a lot of calories, so there's no need to go balls to the wall on exercise.
-Breastfed babies may need to eat more than formula-fed babies since breastmilk digests very quickly.
It truly amazes me that our bodies are able to produce a perfect food for babies, that's FREE and readily available.
Of course, I have no idea how all of this will work out with our little family until she gets here. It's also something that's been on my mind, and if it doesn't happen, that's ok too.
So tell me friends: what are your breastfeeding tips and tricks?
Friends sans kids: does seeing a woman breastfeed in public creep you out a little, or is it NBD?