Santa came early!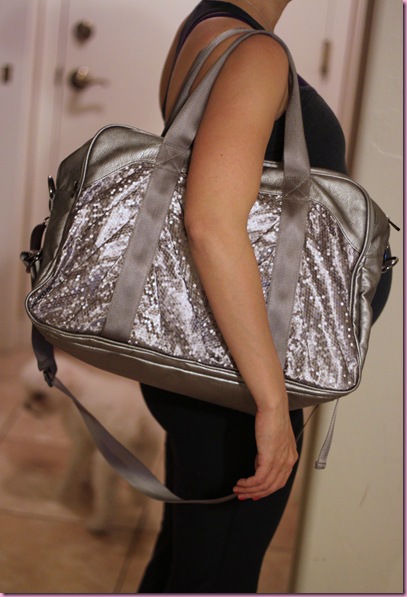 I'd been lurking the oGorgeous website since the new bags were released, and the above silver bag was on my Christmas list. I was beyond excited when my friend Cassey offered to send me one- it just arrived today. As you guys know, I hardly ever do product reviews on the blog, but wanted to help spread the word about these beautiful bags, especially since Cassey is a good friend of mine and is so very talented. 
I love the option of the short straps, or the long strap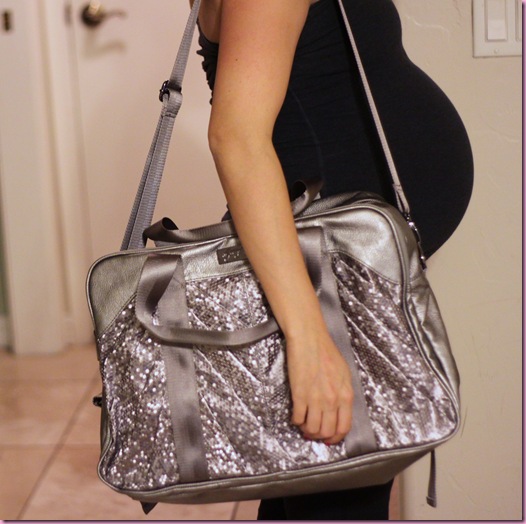 and couldn't wait to fill it up with some of my gym staples to take to work.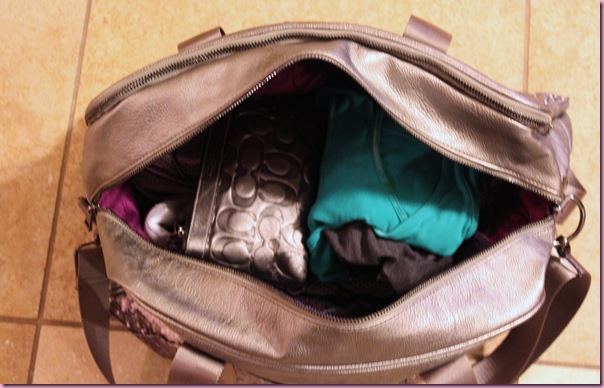 It has a lot of pockets, and there was plenty of room after I added the following: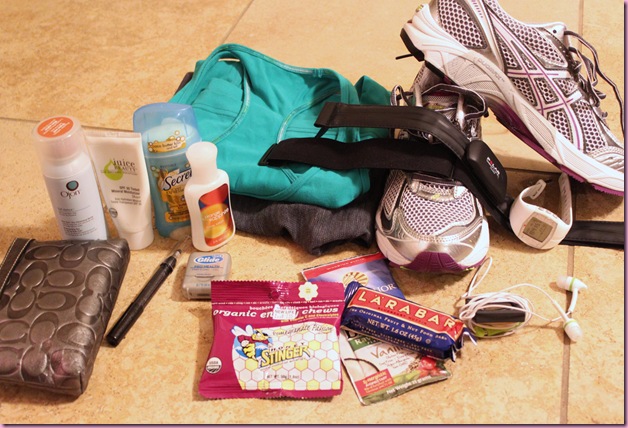 -wallet

-dry shampoo

-moisturizer

-eyeliner

-deodorant

-lotion

-floss

(I don't mess around with makeup in between classes, but if my face is washed and I have moisturizer and eyeliner on, all is bueno)

-outfit (Wunder Unders and tank)

-snacks (in case I want something different than what I brought, or need more fuel)

-sneaks

-Polar FT40

-iPod and headphones

*I forgot to add my bamboo facial cleansing cloths. They're perfect for in-between sweaty classes
The bag has some amazing features, and I'm so excited to start using it every day. I was worried it might be too blingtastic with the sparkles, but it's perfect. Ideal size, compartments for jewelry and extras
and clasps that rotate (tangled gym bag straps are no fun).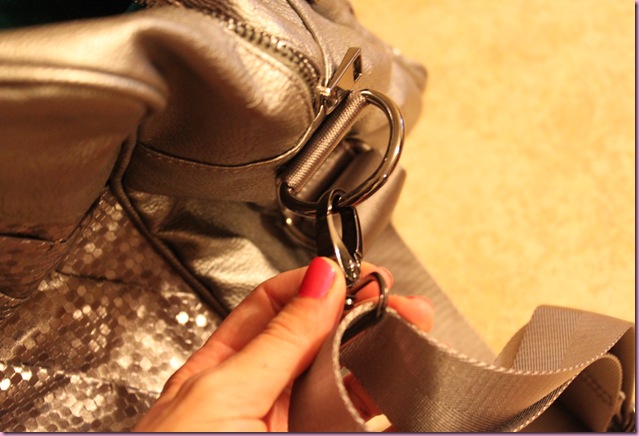 Bella was a fan, too 🙂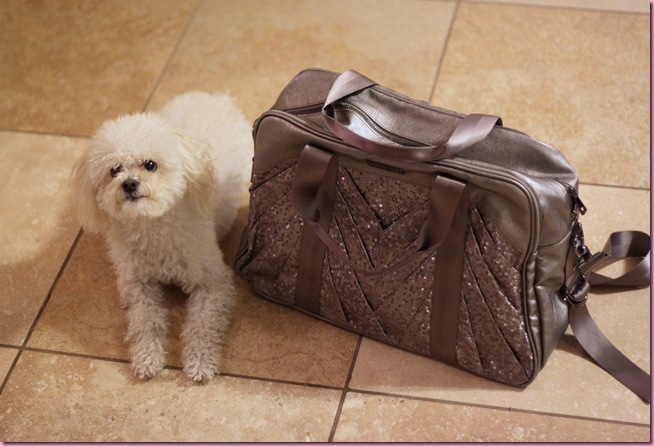 (I was totally holding a piece of chicken in my hand when the Pilot took that picture)
Tonight has been a pretty chill night. The Pilot was craving pizza, so he got takeout and I made something easy for myself at home.
It's not the most visually appealing thing, but fantastic nutrients: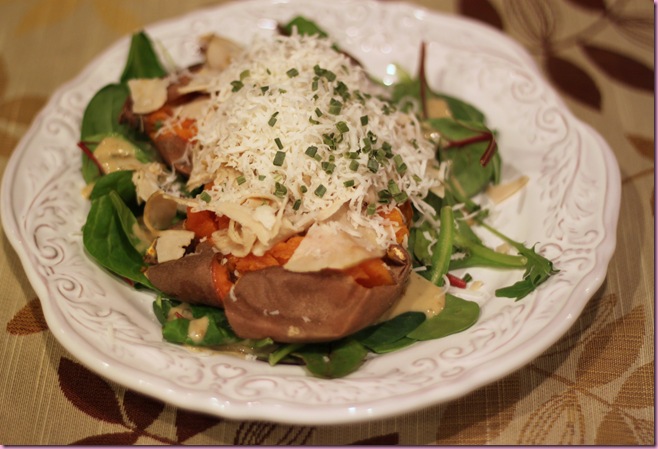 Greens, Goddess dressing, 2 baked sweet potatoes, heated up turkey (tempeh would be a good option, too), goat gouda, garlic, salt, pepper and chives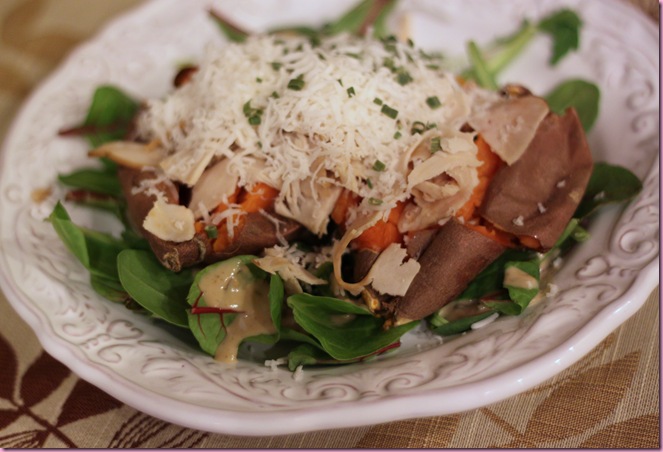 So good 🙂
I baked a sweet potato for this little thing, too.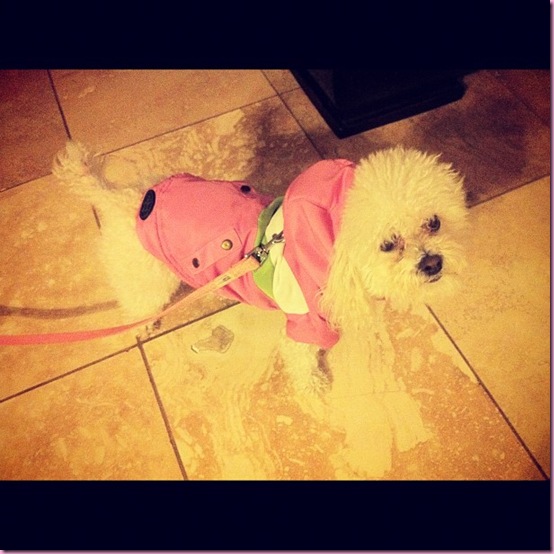 Shower and bed are calling my name.
See ya in the morning!
xoxo
Gina
Today's tip: Do your bangs get curly after a sweaty workout, too? My favorite way to keep this from happening is to pull them tightly to the side and put one bobby pin to hold them down against my head. I look like a total goober, but when I take the bobby pin out, the bangs are still straight.
Heads up: If you have your eye on an oGorgeous bag, too (or would like to pick up one for a holiday gift), Cassey is offering Fitnessista readers a 10% discount off entire orders by entering the code "FITNESSISTA" at checkout (good until December 22) + there is free shipping right now on all bag orders. If you're a fitness professional, email Cassey  at cassey@ogorgeous.com for an even better deal.