One Kale Salad Base, Three Different Salads
Hi friends! How's the morning going? I have a massage today that I've been looking forward to for weeks. It's going to be so amazing… and I always have to remind myself not to smile like a creeper during it. And then there's the drool. Just kidding; that never happens.
Speaking of massages….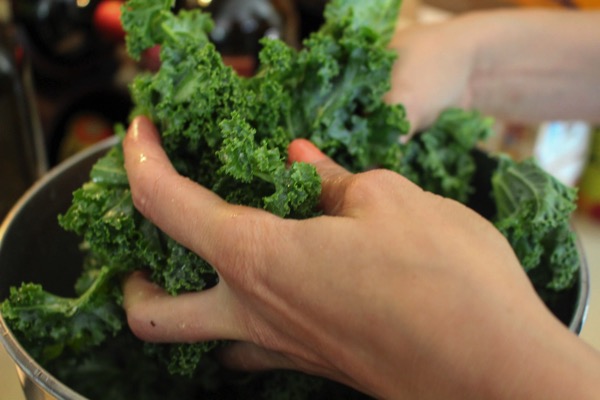 have I got a recipe for you! THREE recipes to be exact.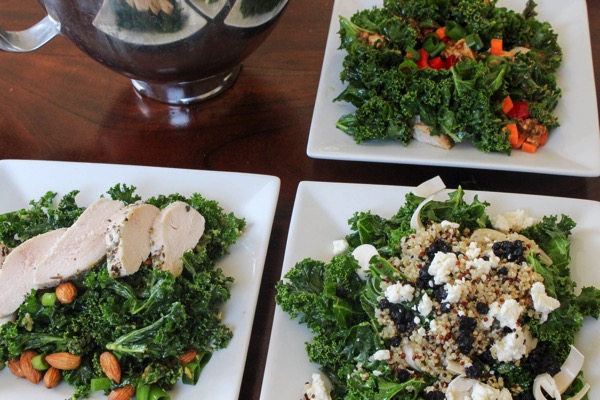 So in some ways, I'm a creature of habit. I thrive on a routine and sense of predictability. Often I feel like I could eat the same thing every day, and be perfectly content. (For the record, it would be an egg burrito with coffee for breakfast, salad with sweet potato for lunch, a giant smoothie/juice for snack, and salmon, asparagus, brown rice and wine for dinner. Dark chocolate or a couple bites of cupcake in there for fun.) But with the salads… I just get bored sometimes. I love the idea of meal prepping, and it makes my life SO MUCH easier, but sometimes when I get to the third day of the same salad, I'm ready to switch it up a bit.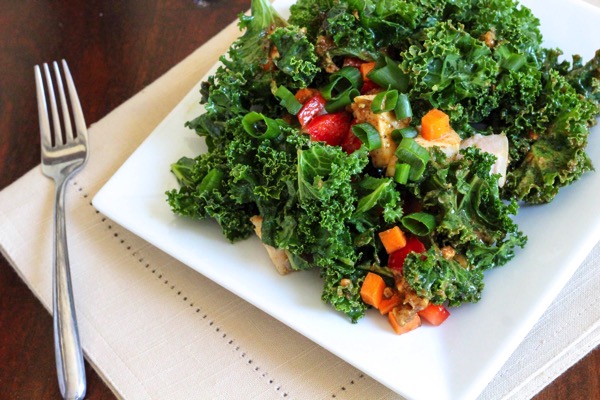 So for today's recipe post, I thought it would be fun to use the same salad base in different ways. It not only gives the ol' taste buds something different to look forward to, but it's a great way to change up your lunchtime nutrients throughout the week.
It all starts with one of my all-time favorites: massaged kale salad.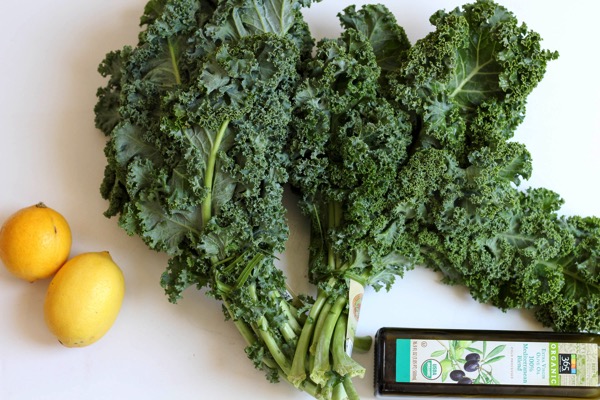 Super easy: take a large bunch of kale, wash thoroughly, and rip into bite-sized pieces before placing into a large bowl. Drizzle with olive oil, the juice of one lemon, garlic powder, sea salt, and pepper.
Now here's the fun part: massage the heck out of it. You can sing to it if you like -I like a little John Legend or Michael Buble for my kale- and be as silly as you want. The lemon juice will help to break down the kale, which not only makes it easier to chew and digest, but it reduces the size dramatically… so you can eat more. 🙂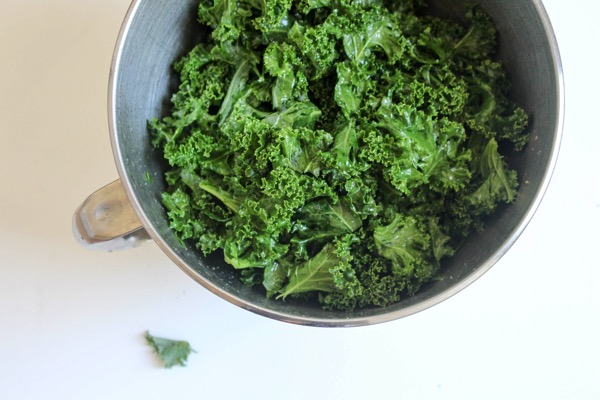 Keep this in the fridge as is to spice up throughout the week! Here are three of my beloved variations, with vegetarian options.
KALE SALAD #1: Chicken, almond and avocado
Kale Salad with Chicken, Almonds and Avocado
Massaged kale salad base

1/2

–

1

grilled chicken breast (seasoned with salt, pepper, garlic and oregano. I make this as part of weekly meal prep. Slice or dice it up.)

1/4 cup

sliced scallions

1/2

large avocado

1 teaspoon

almond butter

1

rib of celery, washed and thinly sliced

1/4 cup

almonds
Tamari or soy sauce
Garlic powder, cayenne
Instructions
In a large bowl, mash the avocado.
Add a good splash of Tamari, a sprinkle of cayenne, garlic powder, the almond butter, and pepper. Add the massaged kale to the bowl, and massage into the avocado mixture.
Stir in the almonds, chicken, and top with extra scallions if you like.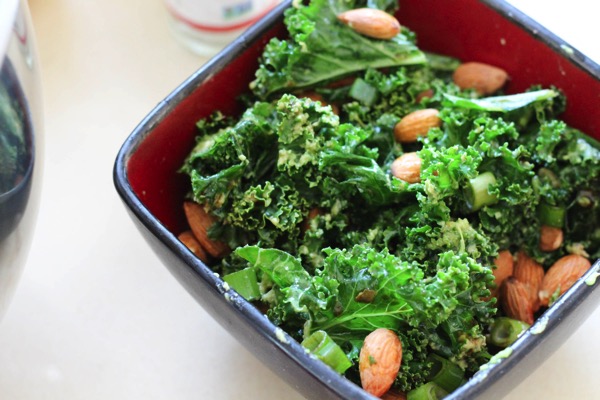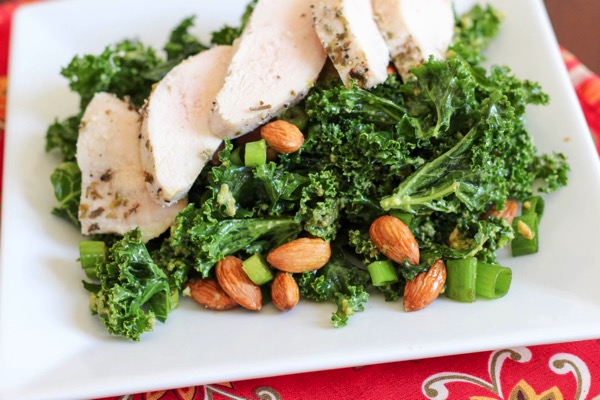 KALE SALAD #2: Dried berries, goat cheese, and quinoa
Kale Salad with Dried Berries, Goat Cheese and Quinoa
Massaged kale salad base

1/4 cup

quinoa, rinsed and cooked

1/4

–

1/2

cup sliced hearts of palm

1

serving of goat cheese, crumbled
Balsamic vinegar (or vinaigrette dressing if you prefer)

1/4 cup

dried berries of choice (I used blueberries, but cranberries are also wonderful. Fresh sliced strawberries or pomegranate arils would work, too)

1/2

–

1

cooked chicken breast, or sliced pan-fried tempeh
Instructions
On a plate, layer the massaged kale, quinoa, goat cheese, hearts of palm, goat cheese, and protein of choice.
Drizzle with balsamic.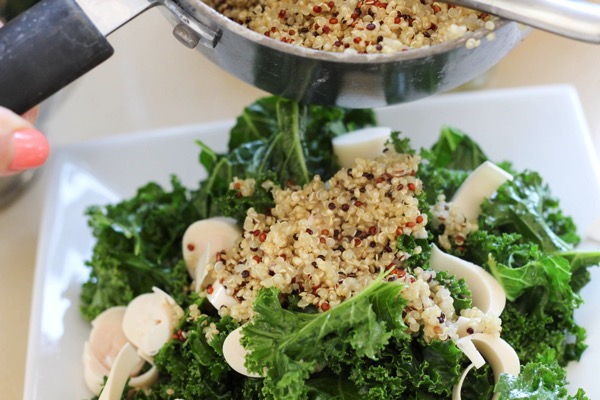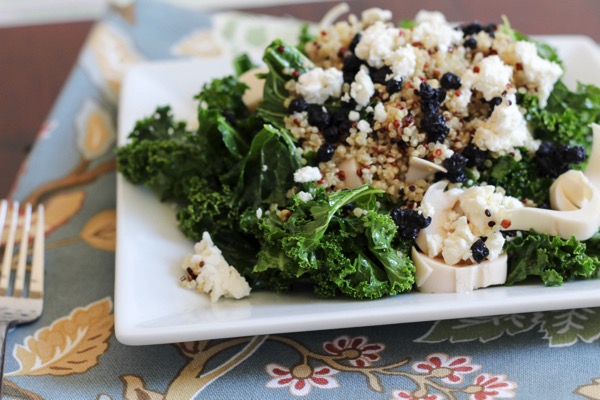 KALE SALAD #3: Chicken with spicy almond butter sauce
Kale Salad with Chicken and Spicy Almond Butter Sauce
Massaged kale salad base
1

bell pepper, seeded and diced

1

carrot, peeled and diced

1/2

–

1

grilled chicken breast, diced (for a veggie version, use garbanzo beans instead. They would taste awesome in this recipe)
For the dressing
1

heaping tablespoon almond butter

1 teaspoon

sesame oil

1/2

–

1

tablespoon Tamari (depending on how salty you want it!)

1 teaspoon

honey
Season well with garlic powder and pepper
Instructions
In a large bowl, combine the chicken, massaged kale, carrots and bell pepper.
In a small bowl, whisk the dressing.
Pour the dressing on top and mix well to combine.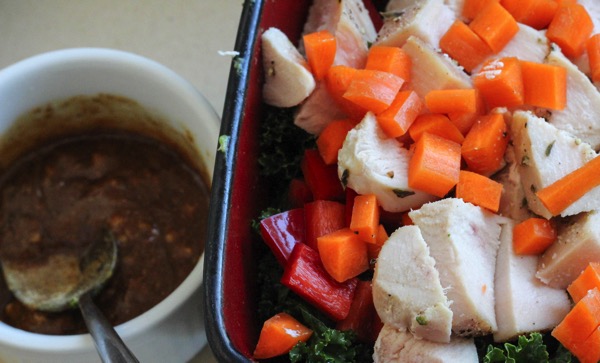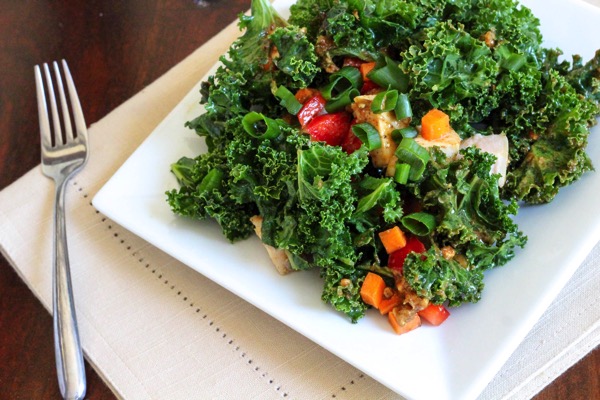 So there ya go! Three insanely delicious and super healthy lunchtime salads. Please let me know if you give them a whirl.
Kale fan: yay or nay? What's your current favorite salad combo? Let's share some ideas in the comments section and help each other out of our ruts. 🙂
xoxo
Gina
More lunch ideas: