Pecan pie protein oatmeal
Hey hey! How are you? I hope you had a wonderful weekend! I'll be back soon with some pics from our adventures. It was a good one, with wine tasting, family Christmas pictures and getting ready for our Tucson trip.
What are you up to today? Are you cooking for Thanksgiving or guest-ing? We are happily guesting – we'll bring some wine and I might be able to craft an appetizer together in the hotel room kitchen – but in a couple of weeks I'll make the full deal because the Pilot and I LOVE day-after-Thanksgiving sandwiches. As long as we have stuffing, turkey and cranberry sauce in the fridge (and some type of pie, obvs), we're all set.
The few days leading up to a big holiday, I tend to take it a little easier on the indulgent food. This usually has a lot to do with the fact that I'm too busy scrambling around before the festivities to make anything truly exciting. I try to focus on protein and produce (eat like a PRO!) with more simple eats that I can quickly put together. It's usually a lot of scrambled eggs, soups, smoothies, oatmeal and salads.
That doesn't mean that it's totally boring. A great example: this pecan pie protein oatmeal.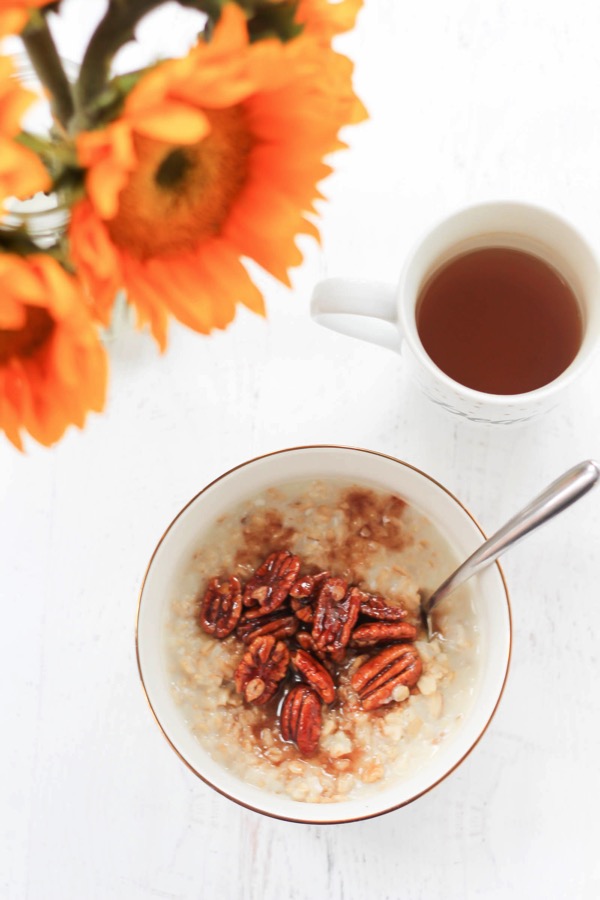 I've made this a few times over the last few weeks. It's packed with protein, the texture is amazing (I'll tell you my secret trick!), and it has the perfect amount of pie-like sweetness on top.
So here's why these oats have been so awesome lately: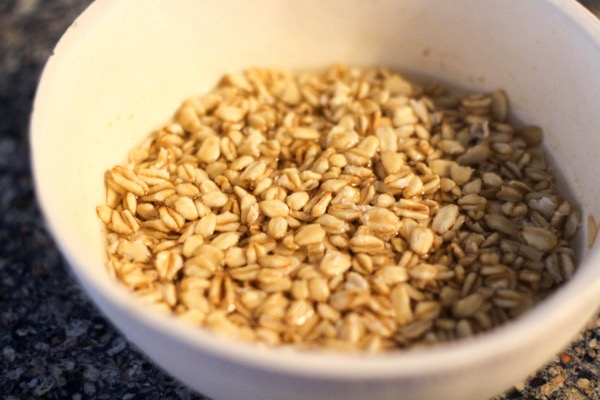 a little soaking action overnight.
Regular ol' oats have been feeling extra grainy/chewy lately, so I started soaking them overnight before cooking. I just cover them in water and let them sit overnight, then rinse and drain before boiling.
It makes the texture super soft, fluffy and creamy. They taste the same way restaurant oats taste, which are usually loaded with milk and butter in the cooking process.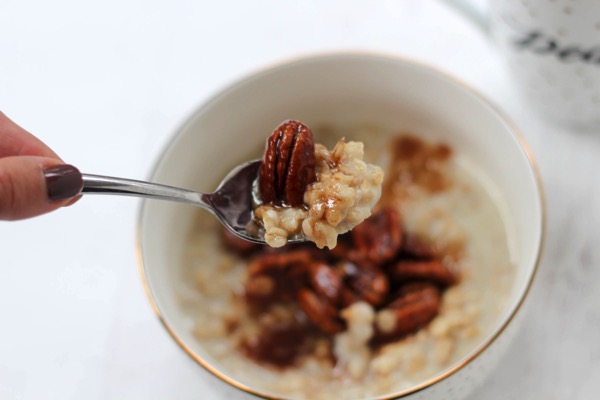 Another bonus from soaking: it makes them easier to digest. I was listening to The Model Health Show (<— fave podcast if you haven't checked it out!) and one of the speakers was discussing lectins and how they can make certain plant-based foods more inflammatory. Lectins are the plant's protective response to keep predators or humans from eating it, and can cause inflammation in the body. Soaking, fermenting, and pressure cooking are all effective ways to reduce lectins. You can read more about all of that goodness here.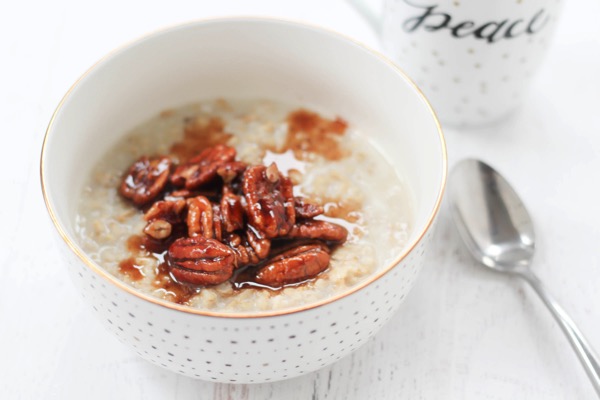 So back to the protein and pecan pie aspect of these oats. While the oats are boiling, I'll add in 1-2 egg whites and a little almond milk. I'll stir it around as it's cooking – the eggs cook very quickly – and then when I remove the pan from heat, I'll add a little bit of cinnamon, vanilla, and sea salt.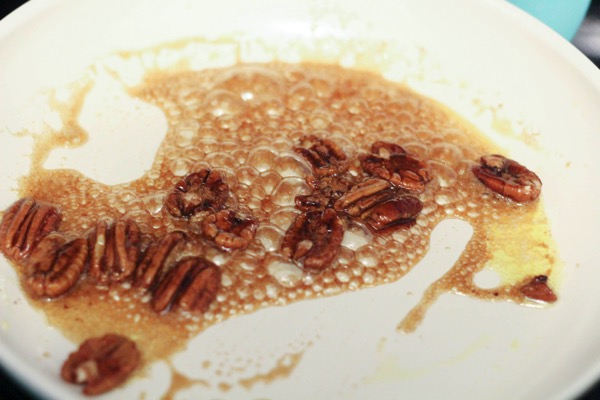 For the pecan pie topping, I heated up 1 tablespoon of butter in a saucepan, and after it was melted, I stirred in 1 teaspoon of coconut sugar, 1 tablespoon of maple syrup, and 1/2 teaspoon of cinnamon. When everything was smooth, I added 1/4 cup Georgia pecans. It took about 30 seconds to fully coat the pecans, and then everything was poured on top of the oats.
You guys.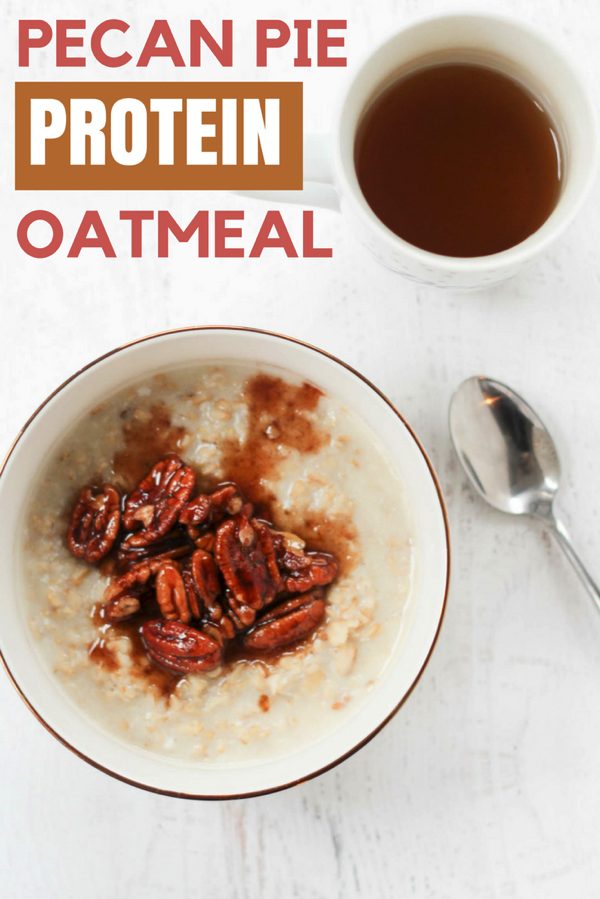 It was so dreamy and delicious, and since it had added bulk from the egg whites, it kept me full and satisfied for hours. I need all the energy I can get packing suitcases and carryon bags.. especially when the temperature is supposed to vary by 30 degrees each day.
Any awesome oatmeal or breakfast hacks? What's your favorite Thanksgiving dessert? I love ALL PIE, but I can't wait for my nana's homemade coconut cake.
xo
Gina