This post is sponsored by my friends at Blue Apron. The first 50 readers will get 3 free meals with their first order here!
Blue Apron is always the solution to my meal-planning woes. It gives us the opportunity to try out new ingredients and flavor profiles, and during Blue Apron weeks, all I have to pick up are breakfast and lunch supplies. Dinner is done, and I know the exact amounts of each ingredient will be delivered to our doorstep.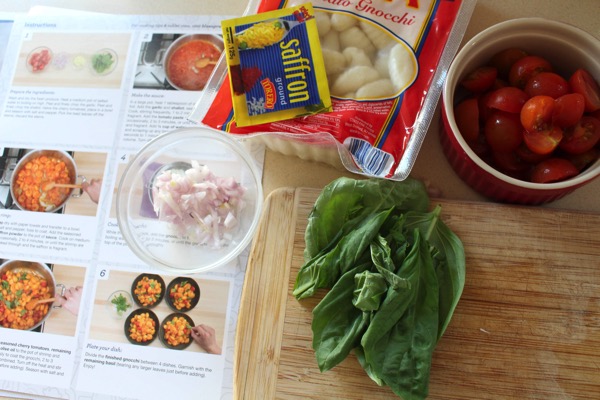 Word has officially spread, because quite a few of our neighbors get Blue Apron now, too. When I saw the postman carrying a large BA box, I was like, "YES! I forgot we had Blue Apron this week!" and then he passed our house to drop it off for our neighbor. We had Blue Apron the next week because I couldn't get it out of my mind haha.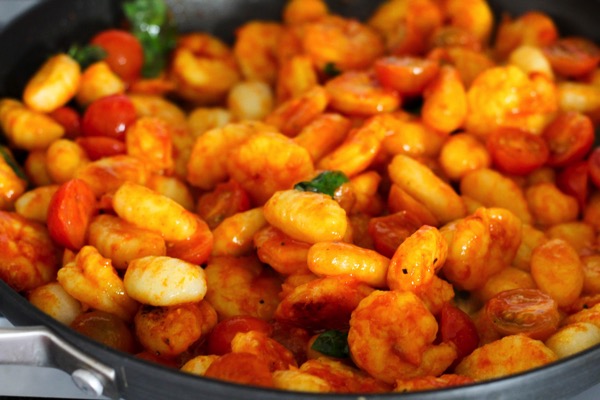 (This shrimp gnocchi was incredible, and Liv went crazy for it, too.)
Here's a little bit more about how Blue Apron works:
-You can choose the two-person or family plan, which contains the ingredients two dinners and four generous servings.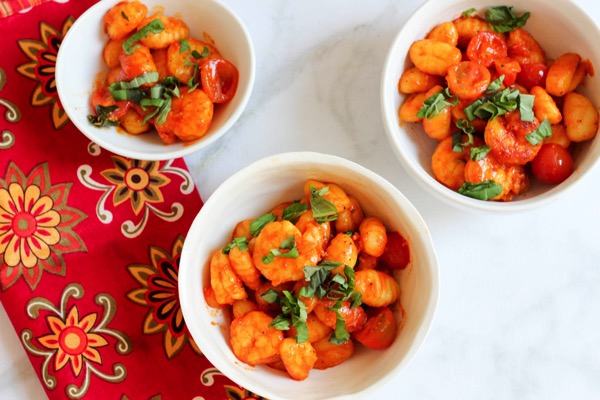 -The recipes and ingredients are delivered to you in an insulated box. Everything we've received has been extremely fresh and I love that I don't waste obscure ingredients. If you only need a small amount of a unique sauce or seasoning mix, they sent exactly what you need.
-They're always adding new dishes, and each serving is around 500-700 calories
-Everything we've tried has been DELICIOUS. We haven't had a "meh" meal in the year + that we've been subscribers. It's a lot of fun to make a restaurant-quality meal at home, and it's another way to spend time together as a family.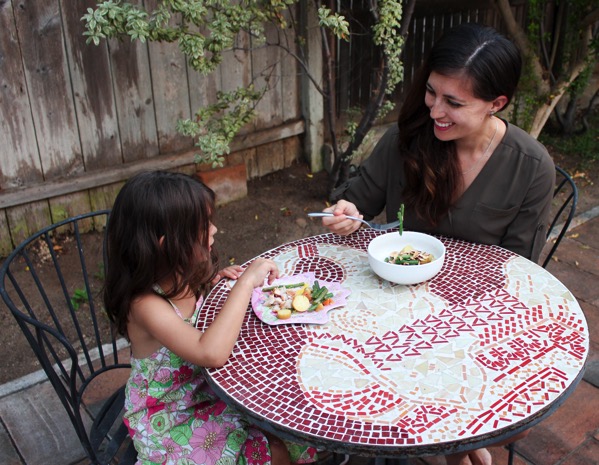 Liv is so much more likely to eat what we have for dinner if we involve her in the cooking process. She's a fan of Blue Apron, too. 🙂
Blue Apron has saved the day quite a few times, and most notably when P was a newborn. Since the recipes are so straightforward and they send everything you need, we could easily swoop in and alternate cooking in between taking care of P and Liv. The Pilot has been making a lot of dinners since we've had P, and I've gotten back into teaching fitness classes at night. I'm pretty terrible at dictating recipes (unless I'm writing everything down for the blog!), and Blue Apron makes everything so much easier to follow. It is pretty incredible to come home to a restaurant-quality meal prepared by this guy. 🙂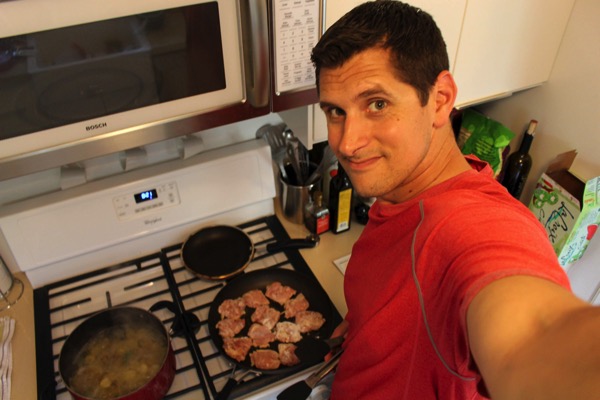 I asked him if he'd mind chiming in with his Blue Apron experience, and here's what he had to say:
Hey, everyone. Gina wanted to get my perspective on the Blue Apron meals since I've had a chance to cook a few. I'll say that it's one of the easiest ways to help out with the fam. Gina's found herself trying to catch up with a blog post or stuck in traffic on the way home, and I can jump in and quickly create a full dinner without having to ask her a million questions about the recipe. I'll admit, it was a little intimidating at first glance because the cooking techniques and prep seemed like they'd be pretty challenging, but the directions were pilot proof, and they tasted great.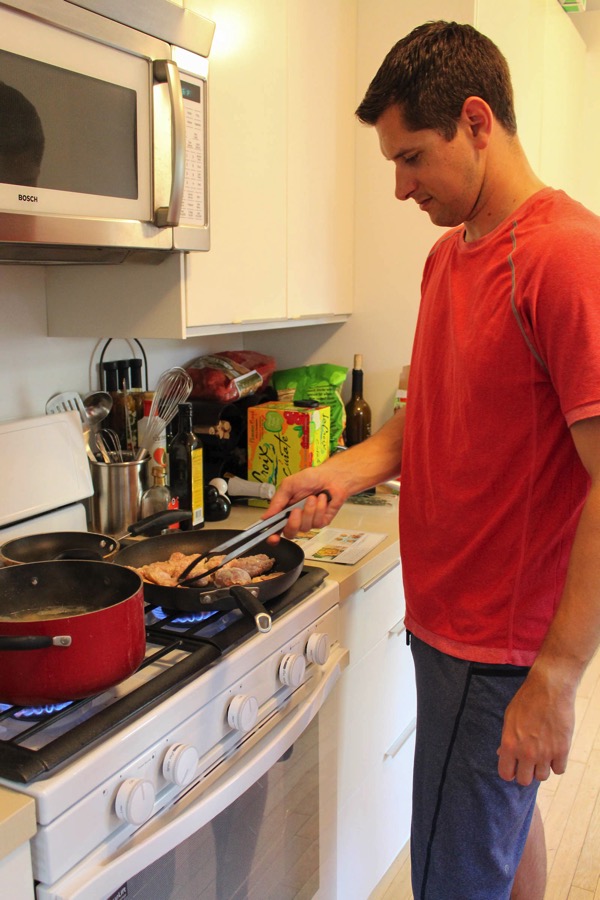 I liked how the meals really opened up my culinary aperture. I've comfortable using the grill, and I make a mean bowl of cereal, but I surprised myself with how the sauces and ingredient combinations came together. All the credit to the Blue Apron chefs for producing delicious recipes that even I can't mess up. So, the fam gets an great meal, and I get to look like the dinner rock star for a change. I'll take it!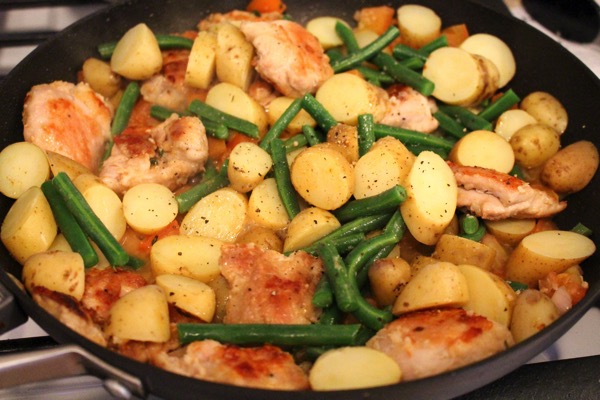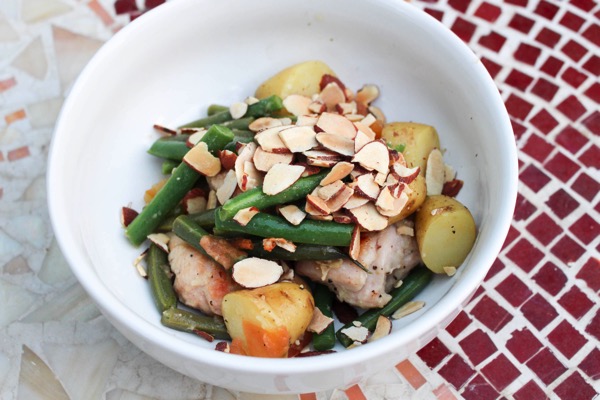 (Provençal seared chicken with fingerling potatoes, green beans and almonds)
Hope you have a wonderful morning.
xoxo
Gina
This post was sponsored by Blue Apron. Thank you so much for supporting this blog and the companies who help support our family.