Hey friends hey

How's your day going?? Are you busy prepping for tomorrow?
I am, while Tucker watches from the imaginary line to the kitchen that he's not allowed to cross.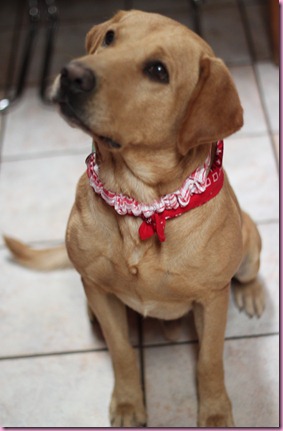 (My little bro put his candy cane collar on him last night)
Tucker has been giving me lots of puppy kisses lately since I miss my own fur children… and I busted my lip open last night.
I went to an AMAZING Zumba class at Breakout Studios –if you're in the Tucson area, definitely check out a class there!!- and when I got home, the door was locked and I was going to sit in the car and call my mom to open the door. I got back to the rental car and flung the door open, turned my head, and said door went into my face.

At least this turned out right, eh??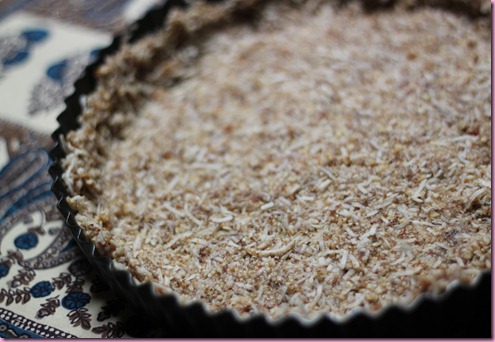 The tart crust recipe is the perfect base for any raw tart. Feel free to fill it with raw strawberry mouse, blueberry cheezecake or in this case, chocolate foodgasms.
The filling recipe will be up soon

Raw Tart Crust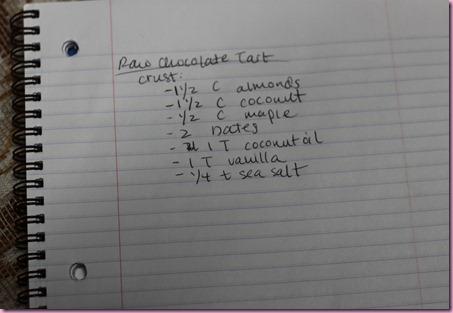 + 1 t almond extract, or any fun flavored extract

1. Measure the almonds, then in the VitaMixalicious or a food processor, grind into a fine flour.

2. Add the dates and chop with the almonds.

3. In a large mixing bowl, add the maple syrup (you can also you agave, but my brother urged me not to since they've banned it at Canyon Ranch), almond/date mixture, melted coconut oil, vanilla, coconut, sea salt and fun extract (optional- I used almond). Add in about 1/2 C more coconut if you need it- this mixture was a little too wet.

4. Press the mixture into a large tart pan, or mini tart pans and dehydrate for 1 hour at 105 degrees. If you don't have a dehydrator, place the tart crust in the oven on the lowest setting for 30 minutes.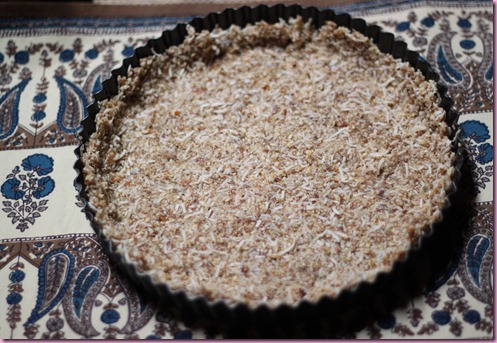 I made the crust last night while we all chatted in the kitchen, listened to Christmas music, and drank Rice Nog.
Plan for the day:
-Breakfast with a friend
-Grocery shopping with madre and nana
-Shopping and Indian with my bro and his girlfriend
-Drinks and dinner with a friend (a squadron wife)
-Dance
See ya later today <3
xoxo,
Gina
Something to talk about: What are you contributing to the feast tomorrow?? Does your family have any fun Thanksgiving traditions? My family eats, plays golf (the girls either walk with everyone and take pics, or stay in the warm house, drink coffee and chat) and then plays poker