Hey everyone! HAPPY FRIDAY!!!! The weekend is finally HERE 😀
To celebrate, I made some Raw granola. I'd been promising a certain Veggie Friend and my aunt some raw granola for quite some time, so today was the day 🙂
Raw granola

– 1 pear, rough chopped

-2 t cinnamon

-1/2 t salt

-1/2 cup raw agave

-1/4 cup pure grade A maple syrup (not technically raw, but used in many raw recipes—use more agave instead if you'd like it to be 100% raw, but the maple gives it a richer flavor)

-1 T orange zest

-juice of 1/2 orange

-1 t vanilla

-2 cups soaked raw almonds

-1 cup soaked raw macadamia nuts

-1 cup pumpkin seeds

-1 banana, diced

-1/4 cup unsweetened coconut

Soak the almonds,

and macadamia nuts

For at least one hour prior to using.

In a food processor, combine the pear, orange juice and zest, and pulse until chopped. Move to a separate bowl.

Add the macadamia nuts to the food processor, pulse to chop (not mushy, but smaller, even pieces) and add to the pear and orange mixture.

Do the same with the almonds.

Next, in a separate bowl, combine the agave, maple syrup, salt, cinnamon and vanilla and mix thoroughly. Add to the nut/pear mixture and mix well.

Stir in the chopped banana, coconut and pumpkin seeds.

Spread onto Teflexx sheets in an even layer, and use a spatula to break up into larger chunks.

Dehydrate at 115* for 36-48 hours.

It's worth the wait, I promise 🙂

Serve with your favorite fresh nut milk or coconut yogurt and berries.
After I made the raw granola, I decided to start planning tomorrow night's dinner party. My friend Jeni is going out-of-town this weekend (to WINE COUNTRY! Me = jealous) so I invited her pilot over for dinner tomorrow night to hang out with my pilot, as well as some friends.
It's going to be a mix of gluten free (my good friend is intolerant), cow's milk free (for me), carnivore delights (for the pilots) and foodgasms.
So what am I going to make to please everyone?!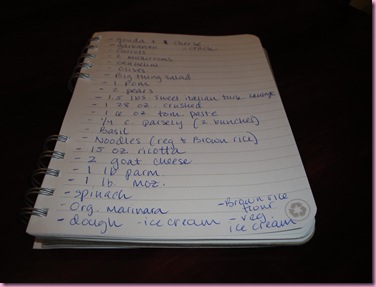 After contemplating and searching online for a while, here's what I came up with:
Appetizers:
Hummus and crudités
Tuscan white bean dip and Mary's crackers
Cheese plate (with gouda, goat gouda, fresh berries and olives)
Goat cheese stuffed mushrooms (gluten-free)
Salad:
Baby organic greens with pears and pomegranate seeds, balsamic vinaigrette
Entree:
Ina Garten's Turkey Lasagna (for the guys)
Butternut squash and goat cheese lasagna with brown rice noodles (I've made this before) for Ashley and myself
Dessert:
Pizookies!!!!!! (Regular chocolate chip with vanilla bean ice cream for the boys, gluten-free vegan cookie dough and Coconut Bliss ice cream for the girls)
Cocktail:
Sangria???
Should be glorious 😀
Well I'm off for a 7-mile tempo run and some training appointments. See ya soon!
Gina