First of all, it feels so weird writing "preschooler" instead of toddler. They say time flies… and it totally does! Liv is definitely a little person with unique preferences, and a very strong opinion about what she's in the mood for. 😉 Every day it's a blessing to watch her grow, learn, evolve, and surprise us.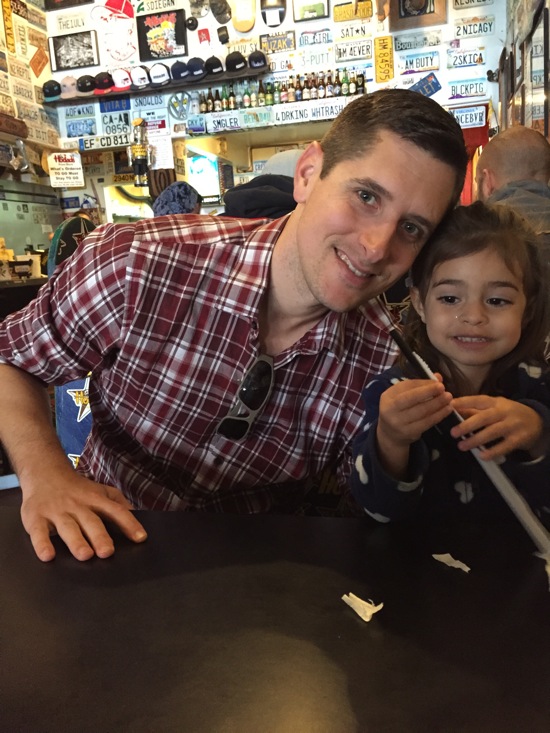 (At Hodad's, our favorite burger spot)
I've had some requests about Liv's eats and how they compare to ours, so I thought it would be fun to put it into a little post.
Here are some similar ones from different stages in the past:
Quick toddler snacks and packaged finds
My most popular posts of all time:
1 month of baby food, 1 hour, $20
Liv just turned 3 in January, and for the most part, she eats what we're eating. More specifically, she eats what I'M eating. Anything I make for myself, especially if it's different from her food, she wants it. The other day, she ate a full bowl of salad because she was picking at mine, I wasn't sure if she'd like it, so I asked if she wanted me to make her a bowl. She went crazy for it! (I'm pretty sure it was the TJ's Tuscan Italian dressing and not the lettuce, but I'll take it.) I've found that she likes options, and just as before, something she enjoys one day, she won't like the next. That is, unless it's pizza or dessert. (<— a girl after my own heart)
Here's what the day's meals usually look like:
Breakfast:
This meal is usually different than what I have, because she'll wake up and ask me for something specific. In the rotation: pancakes (berry chia, banana-egg, or the baby organic ones from Trader Joe's), waffle, French toast, or oatmeal. Once she decides what she wants, I'll serve it along with some fruit and an egg to go along with it.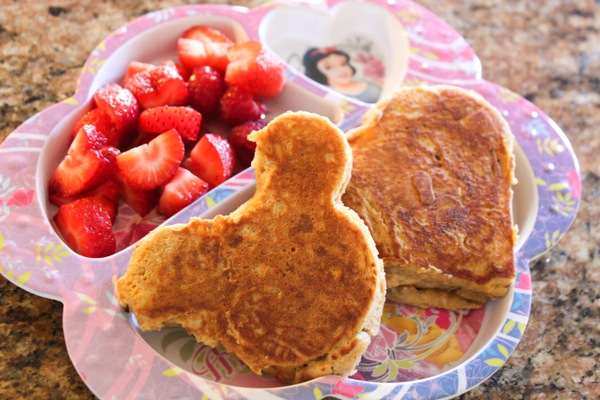 This morning was French toast on wheat bread with maple syrup and strawberries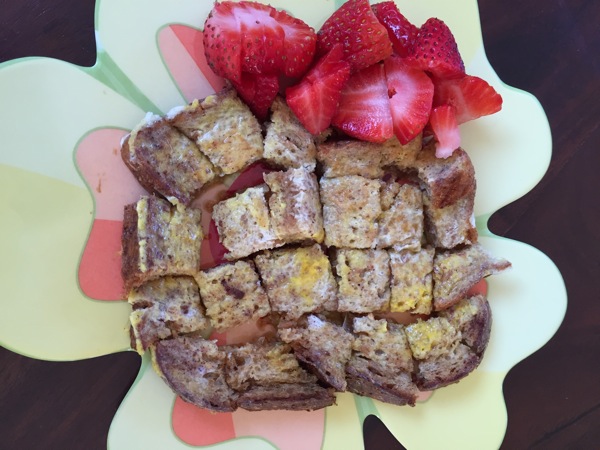 Morning snack:
This one changes up based on if we're at home or out and about, but some faves are
Smoothies
Bars (Homemade granola bars or Trader Joe's cereal bars)
Pouches 
Almond butter or peanut butter on an apple or banana
Amazeballs minus the protein powder or these energy balls
Lunch:
I like to pack lunch for when we're on the go, or the days she goes to school. (She goes a couple of half days each week.)
This is where I confess that I'm in a bit of a sandwich rut. I'll almost always make her some type of sandwich or wrap, which she loves, and I don't switch it up too often. It's either peanut or almond butter and jelly, a deli wrap with turkey, mustard and mayo, or hummus and veggies. Pizza does well, too.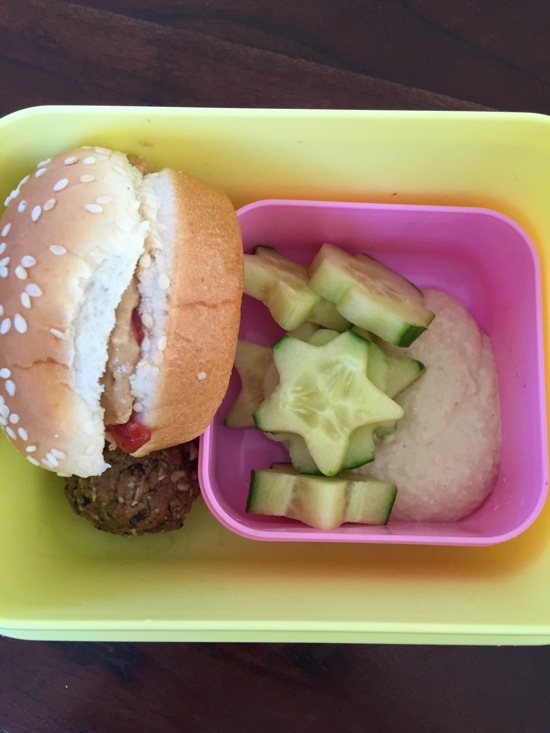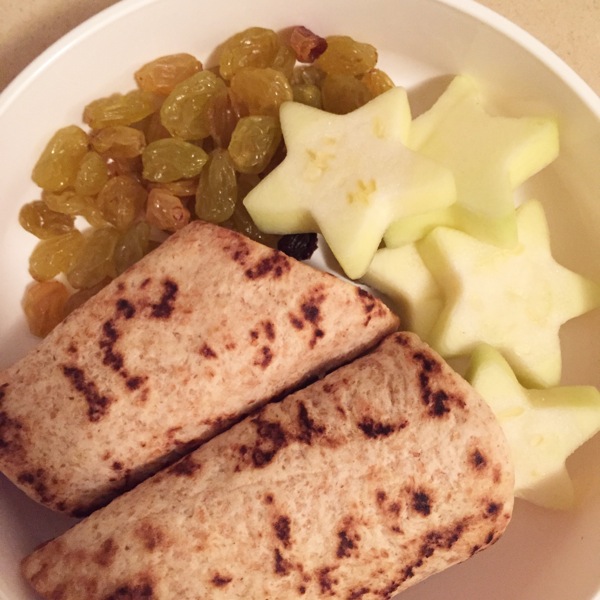 Along with the sandwich, pizza or wrap, I'll try to give her a couple of options to go along with it:
berries, grapes, or melon
cheese (she likes the Babybel cheeses or the organic string cheese)
hummus and veggies (cut into shapes using cookie cutters)
raisins or another dried fruit
trail mix (she loves the sweet & savory mix from Trader Joe's)
Afternoon snack:
We try not to overdo it on afternoon snacks, because then she doesn't have an appetite for dinner. If she's hungry, I'll make a fruit or veggie plate, or grab some chips with guacamole while I cook.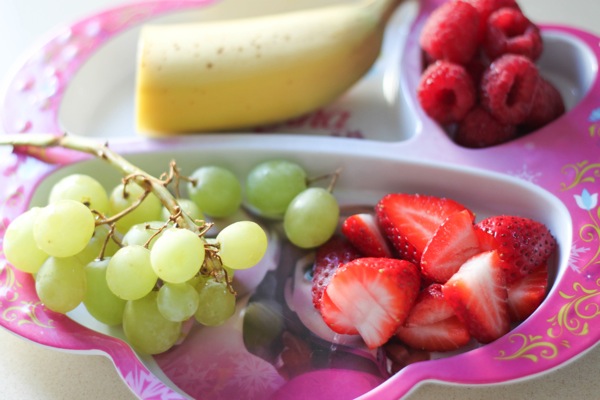 Dinner:
For dinner, she'll eat what we're eating, which varies from pasta, to enchiladas, to fish, tacos, slow cooker meals, soups, chicken, pizza, anything. Sometimes she'll go crazy for it, and others she won't. I've found that dinner is usually a lighter meal. I just like to offer her a variety of things, and sometimes her preferences will surprise us.
This particular evening, she had 4 servings of asparagus!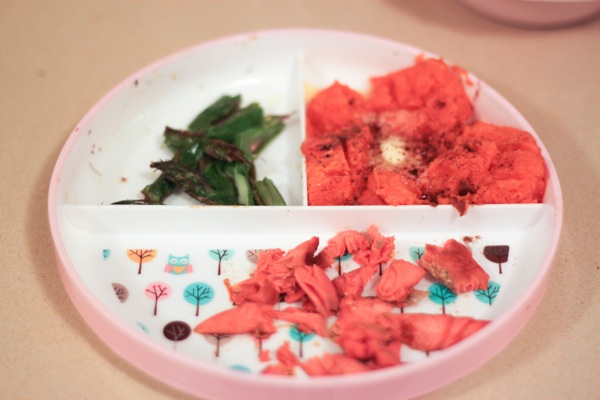 (wild orange-maple salmon, lemon asparagus, and sweet potato with butter and cinnamon)
The "eat the rainbow" philosophy has continued to work well over here. She seems to enjoy trying to eat the different colors, and when I'll put something like broccoli on her plate, she'll say, "Yay, rainbow!" and take a bite.
Any fun ideas for preschooler lunches, or ways to get out of a sandwich rut? What are your kiddos favorite snacks??
xoxo
Gina