P's 3rd birthday celebration
Hi friends! Happy Monday! How was the weekend? I hope you had a great one. Ours was filled with family, friends, and lots of cake. Aka all the good stuff. 🙂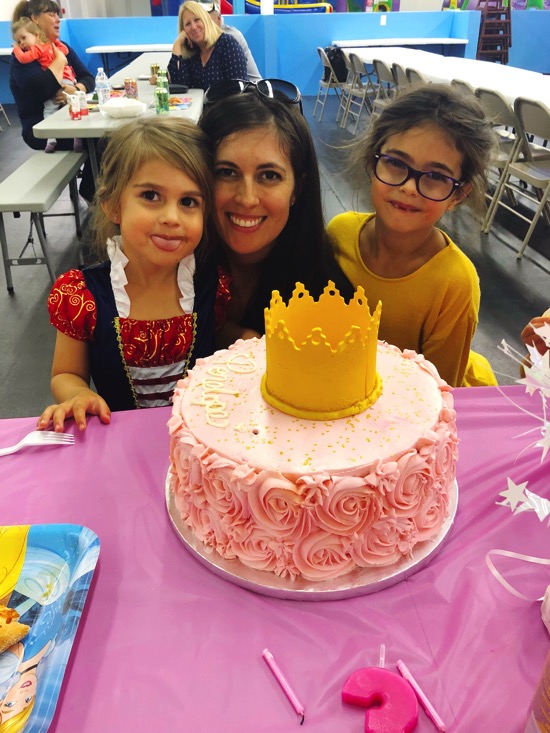 I have so many pics and adventures to share in another post, but for today, I thought I'd focus on P's birthday celebration. Thank you again so all of your sweet birthday wishes for her. I read many of them to her and she had the cutest little smile on her face.
We woke up on Friday morning extremely late. I went to an event for Kyle on Thursday night – I can't wait to tell you all about it! – and when I got home, I played birthday fairy, hanging up P's birthday banner, putting out balloons, cards, and gifts.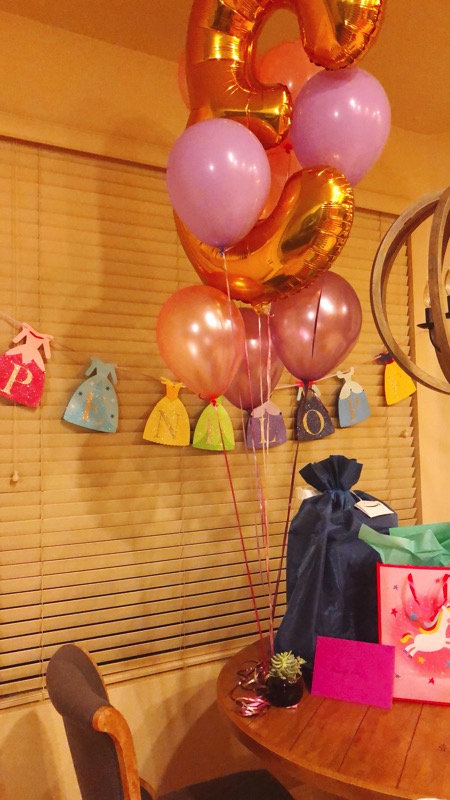 When I finished up and crawled up to bed, I forgot to set my alarm for the next morning. We woke up when we were supposed to be leaving to drop Liv off for school, so instead of getting dressed in a crazy rush, I let Liv stay home for the morning so we could all enjoy P's birthday breakfast together. We were walking downstairs when the doorbell rang and of course, it was madre with surprise birthday donuts.
When I was little, my nana would always bring Dunkin' Donuts before school to sing "Happy Birthday" with a candle. Madre is carrying on the tradition. <3 I made some omelets for the girls to go with their donuts, we sang "Happy Birthday," and P opened a few of her gifts.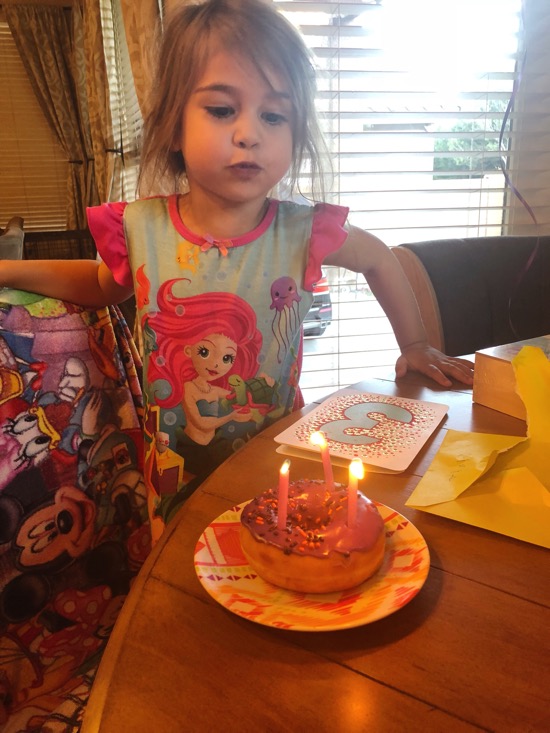 After we dropped Liv off from school, we came home to put all of the party stuff into a large box, and left for the Children's Museum. We picked up nana on the way. 🙂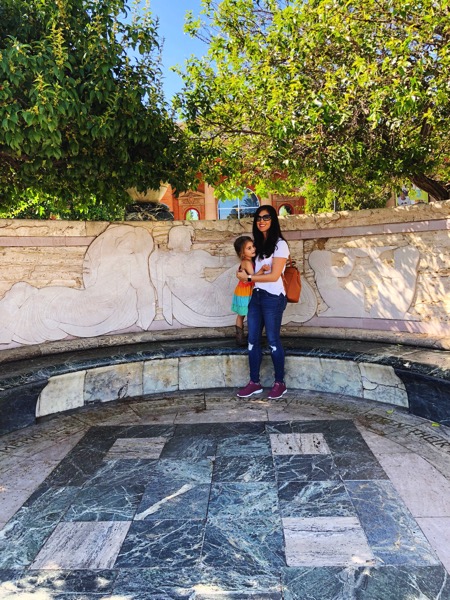 (Side note: I recently got these APL shoes and loooooove them.)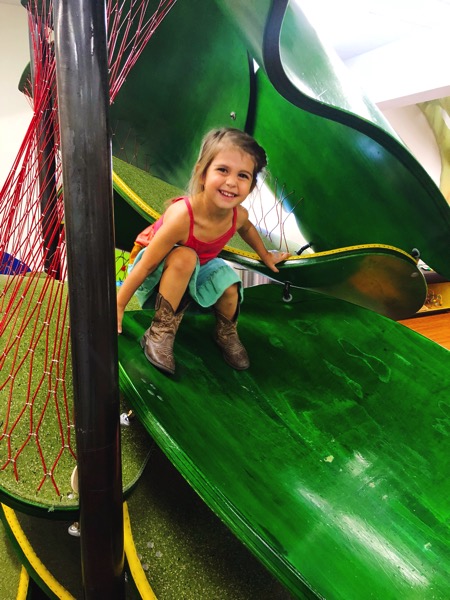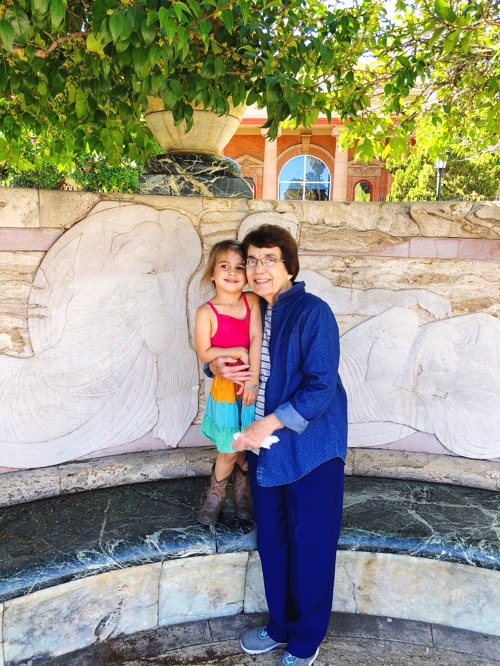 They completely redid one of the front rooms of the museum and it's SO cute. It's like a mini Tucson with a Sabino Canyon, Colossal Cave, "A" Mountain, and Kitt Peak. We checked out all of the exhibits, P had the best time, and before we knew it, it was time for nap. We picked up Livi from school, grabbed the cake, and headed straight to Jump Tucson to get everything ready to go.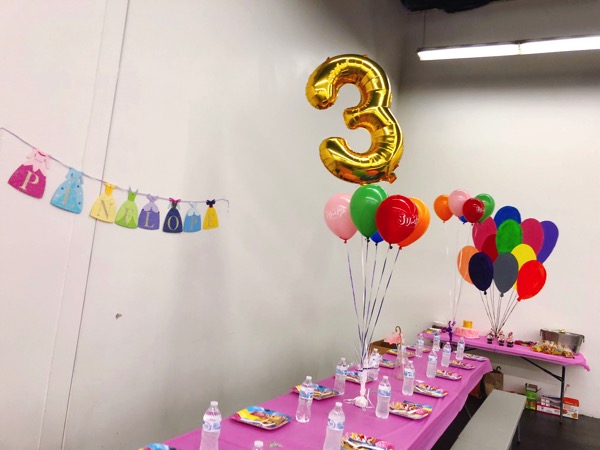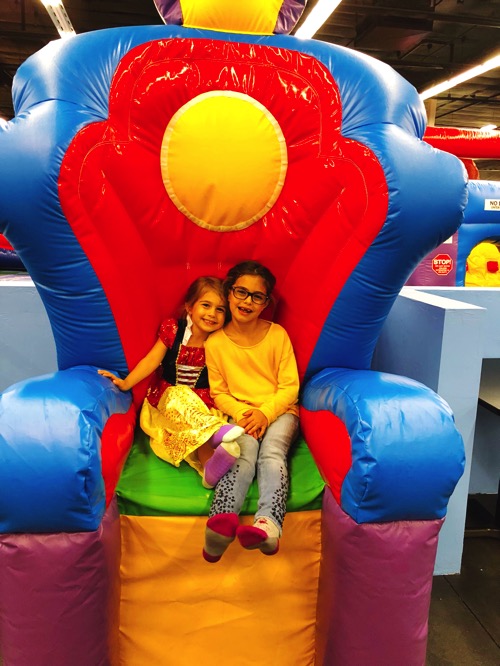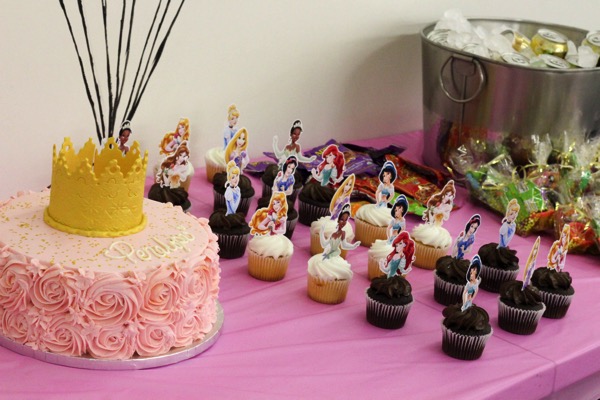 (Madre and nana met us there, which was AMAZINg because nana watched the girls jump their hearts out while Madre and I set up the decorations, desserts, and party bags)
P's theme was princesses, so naturally, I consulted the Etsy experts for the decor things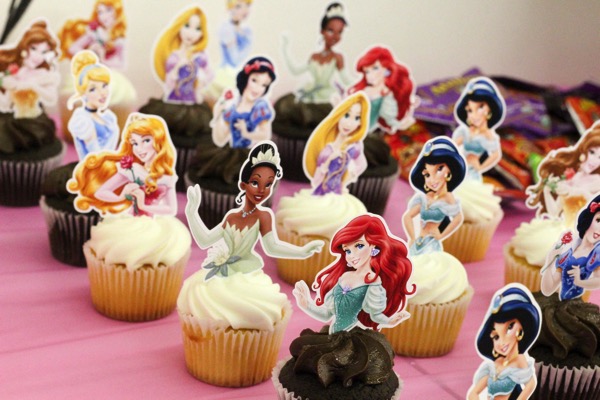 (I don't even like to pretend I'm super crafty and would rather support the craft endeavors of others.. who happen to be way better at it)
I ordered these cupcake toppers, confetti for the tables, centerpiece, this AMAZING princess birthday banner, and picked up the rest of the supplies from Target. The treat bags were filled with mini stamps, play doh, bubble wands, pull-back cars, and Annie's gummies.
The cupcakes were from Whole Foods, and a friend from high school made the most gorgeous and DELICIOUS princess cake.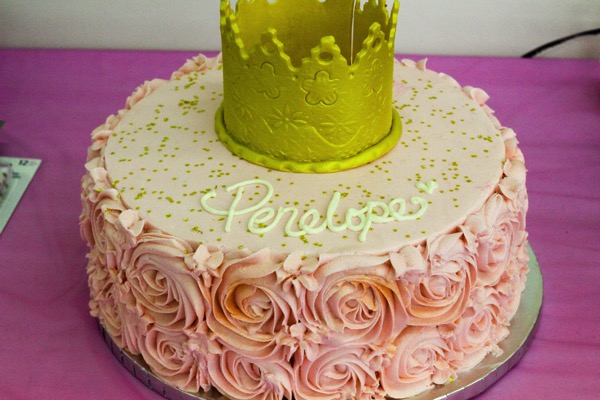 (Check out her Instagram here! Ashley is also the pastry chef for Lovin' Spoonfuls, which is a wonderful vegetarian restaurant in town)
When I read the list of flavor combos to P, she immediately piked the apple pie cake with apple pie filling and cinnamon frosting option. (She had great taste, right?) The cake was so moist, perfectly spiced, and had thin slices of cinnamon apples with fluffy cinnamon frosting in between each layer. The outer roses were a perfectly sweet buttercream. Seriously the cake was a dream come true. (Also, it was completely vegan!) So many people said it was the best cake they'd ever had at a birthday party, and everyone in my family is already stoked because we're ordering another cake from Ashley for my birthday next month.
(PS cold leftover cake out of the fridge was basically the best thing ever)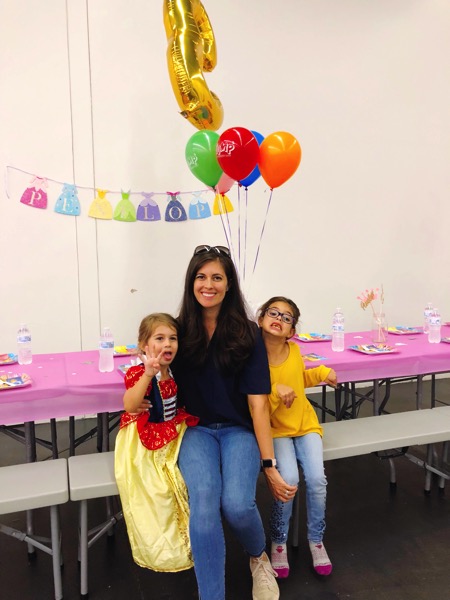 (All of our pics look like this now. Wearing my fave J Crew top)
The family, our friends, and P's friends from her preschool all came out to celebrate with us. I invited P's class, unsure of how many would actually come because they're still pretty little, and was so happy that almost all of them could make it! I knew a handful of them from drop-off and pick-up, but it was fun to put faces to the stories that P tells me when I pick her up from school. 😉 We had pizza, veggies, fruit, and sang, "Happy Birthday" which could probably be dubbed P's new favorite song. She heard it probably 10 time on Friday and danced and smiled each time haha.
Also, we ended up having the entire jump place to ourselves! Apparently they're really slow on Friday nights. Guests kept asking if I'd rented it out, but nope. We just got lucky.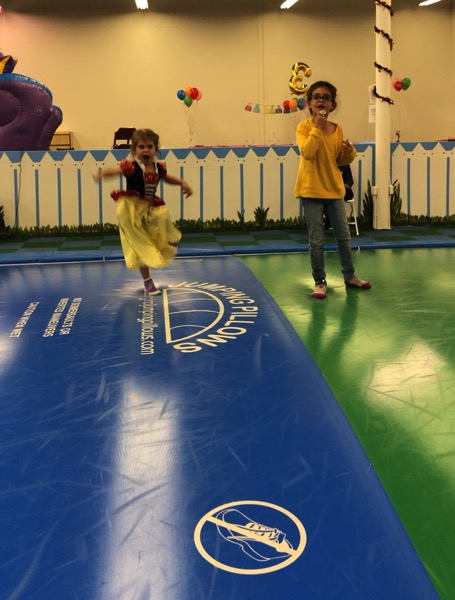 (Please look at her face of jumping intensity.)
After the party, the girls were totally wired from all of the jumping and sugar, we packed up and headed home to open gifts. She's still getting the hang of the whole gift and unwrapping thing – she couldn't believe that they were all for her – and has really enjoyed all of the generous and fun books and new toys she received from her party. She really loved hanging out with all of her friends on a Friday night. At least once every day since her party, she's told me, "Mama, I had so much fun at my birthday party. I had the best time with my friends."
It was a perfect celebration for such a fun, sweet, and funny little goose. I'm looking forward to Halloween this week and even more holiday festivities coming up. 😉
What did you do this weekend? Anything fun? And important question: favorite cake combo? Mine is yellow cake with chocolate frosting.
xoxo
Gina
Congrats to the winner of the podcast giveaway: Kim N.! Stay tuned for more fun giveaways heading your way. 😉