Yesterday was a bit of an interesting day. P and I went to her usual music class (which we love, and she had a blast bopping around and trying to eat the egg shakers), and then I had to take her to Radiology at the children's hospital for her barium swallow (upper GI) test.
This is something I've been wanting to have done for months, especially since she's been having the (occasional, but still alarming) choking incidents.
Her original pediatrician reminded us that it would take months to get into GI, and they usually only rush kids in if they're not gaining weight appropriately. She said she'd put in the referral to get us in the queue, but didn't. We now have a new pediatrician group with a solid action plan for P. Even though she's gaining weight and thriving, these new pediatricians want make sure that there isn't anything structural going on to cause the choking, like a narrowing of the esophagus. They are amazing, and it's been reassuring to hear that someone else is concerned about her digestive issues and genuinely wants to figure out this question mark.
Within a week we were scheduled for GI, and had our barium swallow test scheduled. Yesterday was the day, and it was something I was pretty anxious about.
Here's how it works:
-Your baby or kiddo is tested on an empty stomach, and during the X-rays, they have to drink a barium substance. This is a type of dye, so that they can take X-rays while the child is ingesting the barium to check on how it's processed and if any reflux occurs. Apparently the barium doesn't taste great, but P was really hungry, so she chugged it down like a champ.
-The tricky part: the kiddo has to stay still for the pictures, which is really hard for a wriggly baby. They put soft sandbags on her arms and legs, and I was right there to talk to her and stroke her hair while she drank the bottle. Even so, she was (rightfully) pissed off. Ugh, I felt so bad.
-They take the X-rays, which takes a little while (the kid lies flat on their back and then they take X-rays on each side), and that's it!
Here's the sign they had posted in the dressing room: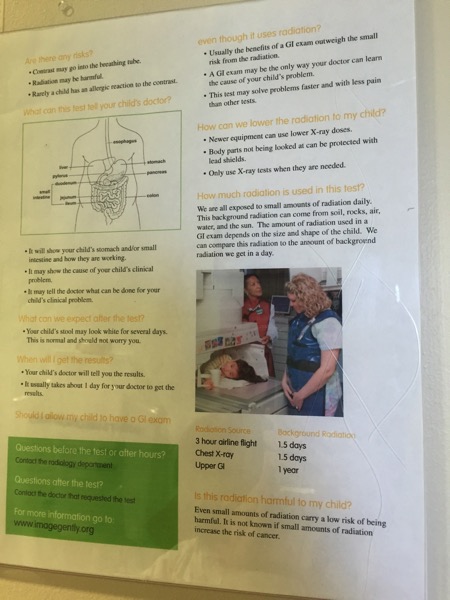 The nurses and staff were wonderful. They were so kind and lovely to P -and took turns coming in to say hi to her while we were getting ready- and saw us 30 minutes before our scheduled appointment. I figured I'd show up early since we'd finished music class and were already in the car. They had said not to let her eat for 4 hours before the test, and it had just hit 4 hours, so I thought if maybe we could get in early, she could eat sooner. (She was so hungry, poor goose.) When I told the receptionist the P was pretty hungry already, they took us right back. It was amazing.
I was also thankful I could be right there with P while she got the X-rays done. They gave me a lead smock to wear, and I could talk to her and hold her little hand. When she started bawling, I wanted to cry along with her. Even though she won't remember all of this reflux stuff, she's been "doctored" so much. It's been a lot of appointments and testing.
The radiologist was in the room with us (along with two helpful techs), and unlike any time where I've had X-rays, he told me exactly what he saw while it was happening. (Usually they make you wait until the doctor can review the X-rays to hear any ideas of what's going on or the results.) The good news: he didn't see anything structural going on. There was a small amount of refluxing after she drank the bottle (expected), but all of her digestive organs and systems seemed to be working as they should. We are so thankful.
Our sweet nurse went to go find a toy for her -each kid who has to get X-rays or testing done gets a toy- and came back with this beautiful homemade blanket. She said that volunteers drop them off for the babies, and she thought maybe P would like it. Just seeing the blanket reminds me that an actual person made it with a lot of love, and it was a very sweet little gift.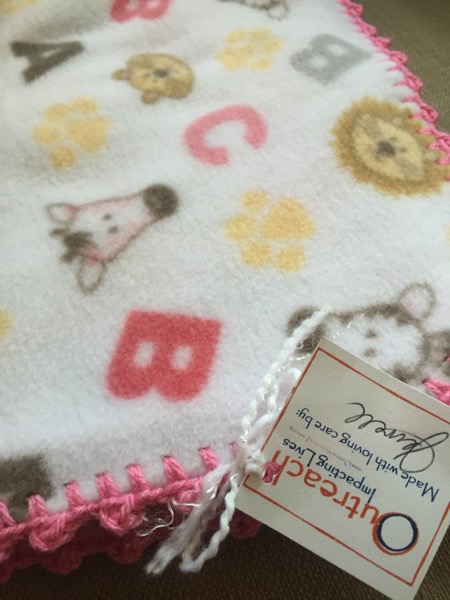 With P, I've definitely stepped out of my comfort zone. I've been a lot more persistent (aka annoying) with the phone calls and reminders to doc offices and insurance, because I know the squeaky wheel gets things done. With Liv, I was afraid to take her to the pediatrician by myself for her to get a shot, and now I'm regularly toting both kids to doctor and specialist appointments. You just do what you have to do.
Cheers to crossing this off the list, and looking forward to our GI appointment next month.
If any of my fellow reflux mama friends are anxious about this test, it wasn't nearly as bad as I thought it would be. Let me know if you have questions or need anything from me.
xoxo
G
Home for the holidays