Even though they're happening more often (every 2 weeks, and soon will be every week), I still look forward to my midwife appointments. When I get there, I usually have to wait a little while –they play Spanish movies on the waiting room TV, yesterday it was Lilo and Stitch- and by the time I've been weighed, blood pressure and temp taken, chatted with the midwife, heard the beautiful heartbeat and leave, I feel so happy for the rest of the day.
There are 8 midwives, and they suggest seeing as many as possible during routine appointments, as you never know who will be on call the day your baby is born. They're all different, yet so similar at the same time since they have the same beliefs and protocols between them. I love them all, but yesterday I saw one of my favorites, who calls the baby by her name, has had 5 children using Bradley Method techniques, and gives me a hug a kiss before I leave. I'm a hug fan, for sure.
She places both hands on my belly and crouches down so that she's eye level with the baby and saws "Hello baby [name], it's your auntie Reen. I can't wait to meet you!"
She has me sit next to her at the computer as we go over all of my charts –it's nice to feel involved in the process- and she compliments me on my dedication to staying healthy for the baby. She lays me down on the table, feels the baby (who moves and kicks for her), and we listen to the heartbeat. The sound of that little heartbeat makes my own heart feel so full, and I almost cry out of happiness every time, just for the little proof that this is real.
I've mentioned quite a few times that seeing the midwives has been unlike many traditional experiences with doctors that I've had. I know there are a lot of amazing doctors out there (and a lot of crappy midwives), but the group I'm currently seeing take their time to answer any questions, and I never feel rushed. I'm very fortunate, and yesterday Reen said "we're going to help you have a wonderful birth experience." So even if it doesn't go as planned, the fact that they care about the actual experience means a lot to me, even though #1 priority is a safe baby and mom.
After the appointment, I continued on with the day's to-dos, and also stopped at Motherhood to see if I could find a dress for Sunday's baby shower.
No luck (Motherhood is not my favorite 'hood), but I did get to see what a belly looks like on top of a belly 😉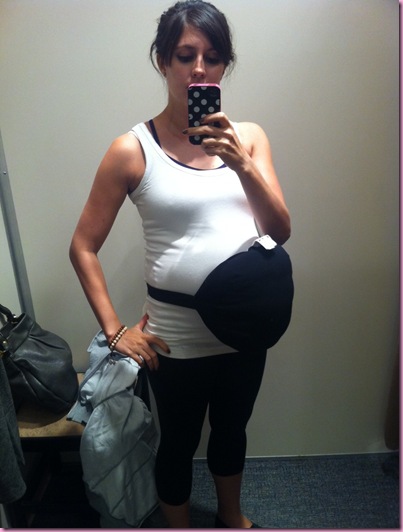 Awesome.
Throughout the day, I kept thinking about what the midwife told me:
"Enjoy the holidays and this time of year as much as you can. There's something magical and so beautiful- enjoy the life inside of you."
I'm definitely taking full advantage because as soon as the baby's here, I know I'll miss being pregnant. I also know that I'll miss having her all to myself, with me, all the time [selfish, but true]. I also know that it will be worth it to finally see, cuddle and smell the little baby I've been dreaming of, and constantly thinking about for 31 weeks.