Hi friends! Hope you had a fabulous weekend! <3
Catching up on the blogworld?
–I'm in NYC! (apparently home of the Naked Cowboy)
-Took my first Physique 57 class, which made my legs beg for mercy
After the workout, I came back to the hotel, did the blog thang, and then met 3 lovely ladies for dinner at Pure Food and Wine: Gabriela, Katie and Diana.
Pure Food and Wine is my second favorite restaurant of all time. (Bobby Flay takes first place)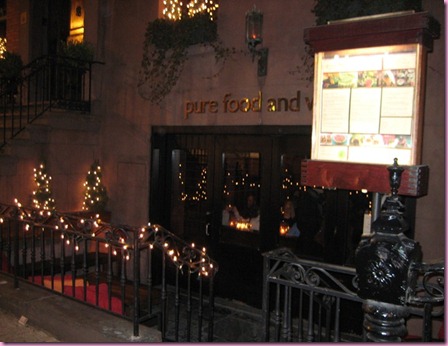 Source
The food is raw, fresh and beautifully presented. Everything that I could wish for

We shared the raw cheese and cracker plate with blueberries and rosemary crisps.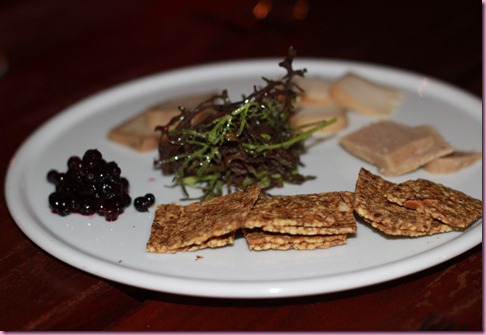 Even though they're nut-based, raw cheeses taste remarkably like the real thing and the rosemary crisps are perfect.
I also got a Master Cleanse Tini (with lemon, cayenne, maple syrup, sake and ginger)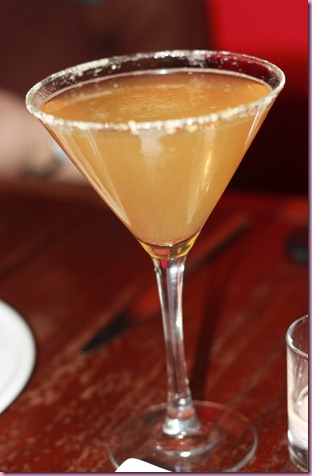 For the entrée, I was so stoked to try the S&M salad. It isn't on the menu (it's a One Lucky Duck item, which is owned by the same company and is takeout-only, next door), but they said they'd be happy to make me one. I've only had it homemade and the PFW version was even better than I thought it would be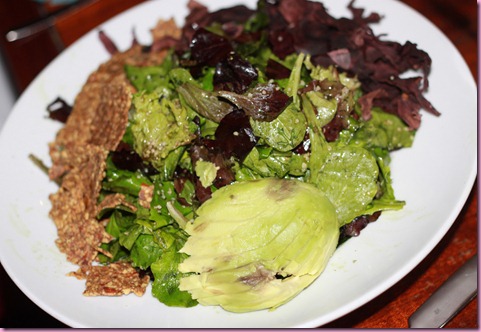 -Rosemary crackers
-avocado
-greens
-dulse
-hemp seeds
-lemon vinaigrette
The salad was HUGE too. Definitely qualified as a salad beast

Gabriela and I also shared the raw tamales, which I ordered last time I went to Pure Food and Wine: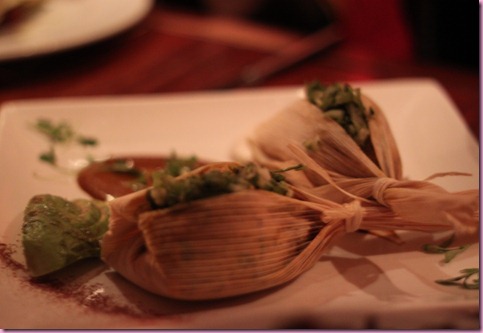 The *masa* is made of cashews and corn, with pico de gallo, cashew sour cream, mole sauce and guacamole. Amazing.
And as if things couldn't get any better….
DESSERT!

We ordered different desserts and shared bites. I can't even tell you which one was the best… I loved them all.
I chose the salted caramel chocolate tart: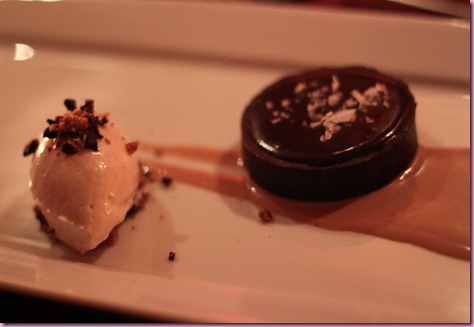 The outside part of the tart was slightly crunchy, like a chewy cookie and the inner part was soft and gooey. It was served with a caramel sauce and a coconut mousse with cacao nibs and maple sugar. I die.
Diana and Gabriela ordered the mint chocolate chip sundae, with raw mint cookie bites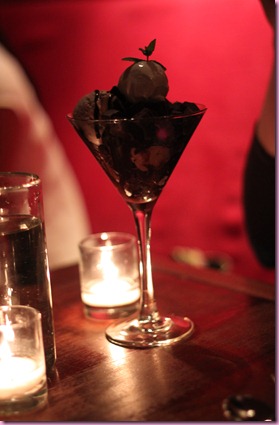 and Katie chose the pumpkin cheesecake parfait.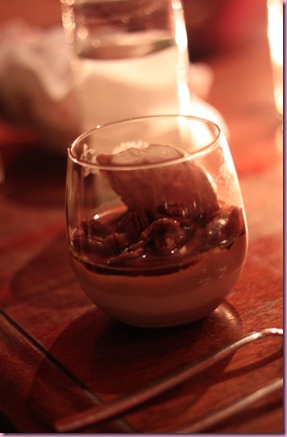 LOVE how they served it in a wine glass!!
It was an amazing dinner and it was such a blasty chatting with the girls

After Gabriela hailed a cab for me –I wasn't quite sure how to do it, haha- I came back to the hotel and crashed into a raw food baby slumber.
This morning, I'm off to be trained by two celebrity trainers!! Not gonna lie, I'm a little nervous, but way excited to learn some new tricks. I'll be filming all of it on the Flip, too

See ya later today!
xoxo
Gina
Something to talk about: Which dish are you most excited about making this Thanksgiving? I can't wait to make a gluten-free version of my stuffing recipe and a raw pumpkin pie- I think the fam will love them.