Hi guys 😀 How are ya? I'm so stoked that ya'll are enjoying the Intro to Iron Pumping plan- some of you have told me that you've tried a workout already. Lurve it 🙂 Stay tuned for the Winter Shape Up for more fitness plans (January 18, 2010)!
I just want to clarify that the plans I create for ya'll are by no means meant to cause pressure or anxiety about working out- they're meant to do the opposite! I like to share information with readers (for FRIZZIE=free!) so that you all can create a workout and nutrition routine that works for YOU! Roll however you want to roll, and my shenanigans and info are here for you to use as you see *fit* 😀
I've been a little slow rollin' today after the fast and furious.
I got up early and had 1/2 a breakfast: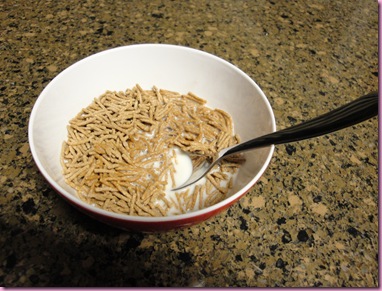 (2 servings of TJs High Fiber cereal and almond milk)
did back and biceps with Jeni, then had some protein: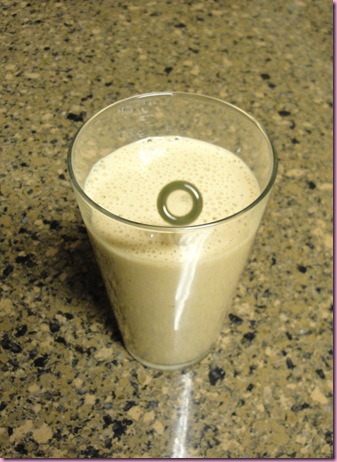 1 cup almond milk with 1 scoop vanilla Sun Warrior, 1 small nanner and lots of cinnamon
Then I went to Bizzle (aka "Starbucks") and did 3 hours of work on the good ol' computadora. I munched a Larabar and drank green tea.. it was lovely 🙂
For lunch, I had a salad beast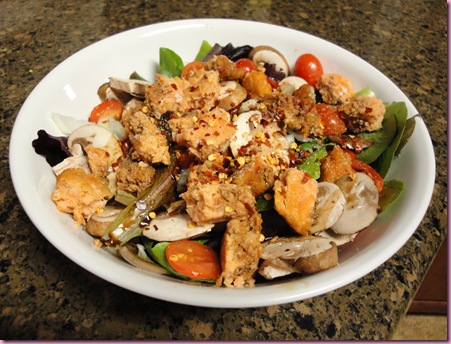 Wild Alaskan salmon burger (from the health food store), organic greens, tomatoes, onions, mushrooms, balsamic vinegar and red pepper flakes.
Next, I had three training appointments, came home and laid on the couch while I half-watched Tyra, and now I'm getting ready to go back to work for two more appointments. Ay carumba!
Hope you all are having a great day <3
xoxo,
Gina
Something to do: Please take a moment and say a prayer for the victims of the Haiti earthquake <3 If you're able to make a small donation, please click here.