Reader's request: Lower body training tips
[Just's a heads up, if you're struggling with anything regarding body image, this may be a post to skip. What we read can affect our body and minds, so if you don't think it would be a smart choice to read about lower body tips/strengtheners, meet me back here tomorrow with for crazy new green drink thing. Sending love to those you who are experiencing or recovering from any type of eating disorder or body image-related illness.]
Hi everyone! Hope you've had a wonderful day <3 This morning, I taught Zumba and also a mini barre class to the studio owner so she could see where I need to go with my training. Each studio has their own routine and method -the one that picked me also seems to be one of the most challenging workouts- and I'm excited to learn more about how to teach.
I tried to take a selfie to show my Zumba clown pants, but my phone couldn't even handle it haha: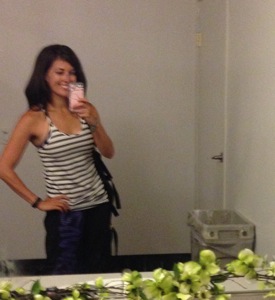 Shoes on the stage: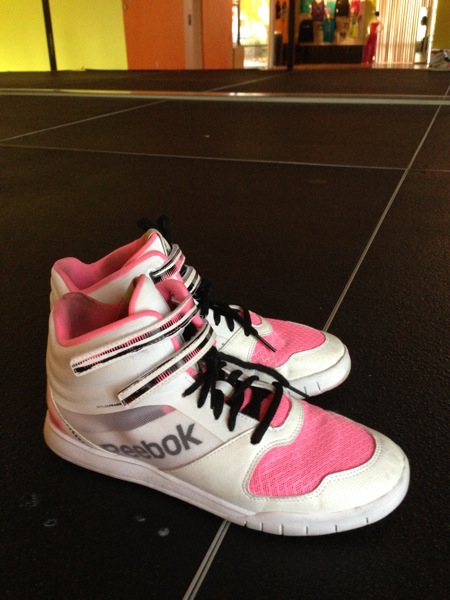 When I was regularly training clients -which seems like so long ago since I've been only doing handfuls of new clients here and there!- there were three areas that always seemed to be of top concern: triceps (firming up the back of the arms), stomach, and legs. For the ones who wanted to firm and sculpt their arms, I usually suggested the trifecta of killer results: cardio, adequate nutrition, and strength training. For stomach, it was almost all about nutrition. Legs were a little more complex.
Here are some of my best lower lower body training tips if you're looking to build strength/power and lean muscle, while simultaneously burning fat.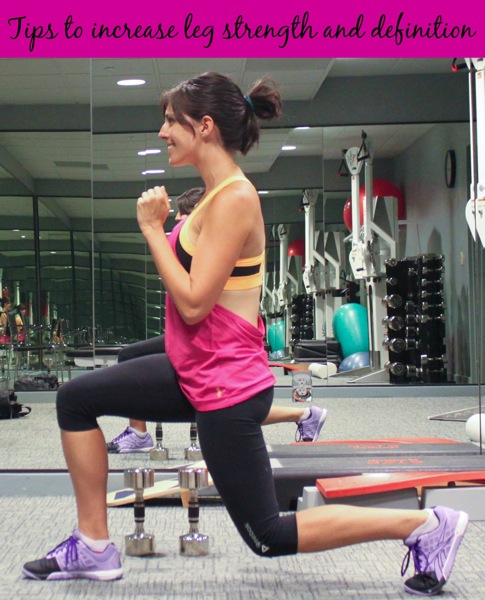 -Adequate nutrition still plays a huge role. Make sure that you're fueling yourself well throughout the day -especially pre and post workout- and consuming sufficient nutrition to support your activities. You can check out some great pre and post workout meal suggestions here.
-Lunges and squats are your friends. Some more of my favorite exercises if you're looking for strength and definition:
Weighted squats with tempo variations
The pretzel. The f*&*@#& pretzel kills.
-Work ALL of the muscles of your lower body. If you're just doing the quad, hamstring and leg press machines, there are some pieces of the puzzle that are likely missing from your training. (Like inner/outer thighs, gluteus medius, calves, etc.) A good rule of thumb: change your leg workout each time you work you legs, and challenge you leg and glutes in all planes of motion. Experiment with unstable surfaces (like the BOSU or a stability ball), prone position (on your stomach for V-glutes or a dumbbell glute raise), supine (hip raises, stability ball hamstring curl, calf raises), on all fours (donkey kicks, leg raises), side (Pilates-style side leg lifts, clamshells), standing (squats, lunges, lateral lunges, curtsy lunges, step ups), and direction changes (squat jump with rotation, clock lunges, walking lunges, bounding jump squats).
–Vary your cardio. A leg-shredding routine will include a combination of speed drills, resistance (treadmill = incline), steady state and rest. Different types of cardiovascular workouts will trigger different results and improvements in overall fitness, performance, and strength. You will also work different muscles based on the type of cardio you choose. Spinning and barre are fantastic for working various lower muscles during a single class.
-Add additional challenge through weight, unilateral movement or resistance bands. Unilateral leg exercises can be extremely challenging, particularly single-leg or split squats. You can also add plyometric bursts in between each leg exercise (like jumping lunges or jumping squats). An easy way to target your inner thighs: place a small playground ball in between your thighs before squats. You'll feel this more in your glutes and inner thighs.
Here are some of my favorite lower body workouts:
tips for firing up your weights routine
and a similar post about increasing upper body strength and definition.
So tell me friends, what's your favorite leg or glute exercise? How often do you train your legs?
Hope you enjoy the rest of your day!
xoxo
Gina