Reader's Request: Does it count as cardio??
Hey hey hey 😀 How are ya?? I'm doing well despite the travel snags 😀
Here's another reader's request:
I live in San Francisco without a car. I spend much of my day climbing hills, walking a mile just to meet a friend, taking the stairs and otherwise hoofing it around town. The slopes here can be really steep. I'd say I walk an average of 2.5 miles a day getting to and fro, with many stairs and hills taken. How much of that should I consider genuine exercise? Can they be considered a work out at all? Am still hitting the gym, just wondering about the extra walking.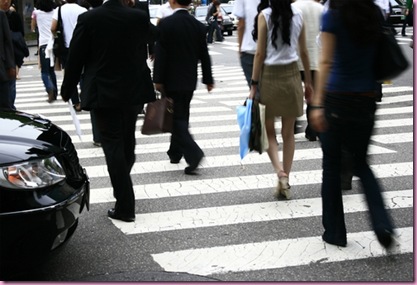 (source)
I definitely consider a person lucky when they get to be active throughout the day and don't spend most of their time sitting down. I'm fortunate to be one of those people who has spent most of their life on their feet, whether through teaching dance, retail management and now teaching aerobics and working as a trainer. The thing is, my body has become used to this higher activity level. I can't count all of the extra moving around that I do as actual exercise as it's just part of my everyday activity level. The bonus when you're active is that you're burning more calories throughout the day, and do not need to go crazy on the cardio. However, you do need to make yourself sweat everyday and since the walking to and fro is sporadic, I don't imagine that it would require too much additional effort if you're used to it.
The thing is, your body is a very intelligent machine and gets used to routine quickly. If you walk the same route, the same stairs, day after day, before long your body will adapt to the routine and while you're burning extra calories from being active, it will become part of the "norm". In order for change to occur (fat burning, lean muscle development, health and fitness gains), one needs to continuously change their routine to prevent their body from kicking into cruise control. That's why it's still important to include various cardio intensities into your workout routine, alternating between hills, intervals and steady state.
While I worked retail management, I was on my feet walking around the department store for at least 10 hours each day. During this stressful black hole in my life, I switched the focus to weight training and reduced my cardio from 5-6 days a week to 3, and just made sure to switch it up. On the other hand, I also worked at a desk as a finance intern for one summer and was on my booty for 9 hours each day. During this time, I really kicked up the cardio because I was not active at all during the day and my body was used to being active/ I did weights 3 times each week and alternated spinning, running and walking, 6 days each week.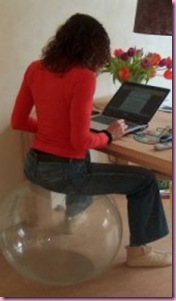 (source)
So am I saying that you need to go buck wild with the cardio if you work at a desk all day? No, no, NO. You just need to do something that's outside of the scope of your every day activities to keep your body guessing and provoke change. So any cardio is a good thing, especially if you're sedentary during work hours. You need at least 20 minutes of moderate-intensity cardio every day for health benefits, and I recommend 30-60 minutes of varying cardio intensities 3-5 times each week for fitness gains. I tell my clients to do 2 miles every day, whether on the treadmill, elliptical or bike.  As always, make sure to fuel yourself accordingly and prevent overtraining. If you're exhausted, sore, dreading the gym, don't do it.
Stayed tuned for a reader's request on desk toning moves and stretches 😀
If you have any requests for a post that would be applicable to other Fitnessistas out there, please send them my way!
Happy training,
Gina
Something to talk about: Do you work at a desk, or are you on your feet most of the day?? What's your favorite type of cardio? I'm usually on my feet unless I'm working on the laptop and I love all cardio, especially spin and Zumba. I'm not a big fan of swimming because err, I'm more of a floater than a swimmer 😉