Reader's request: Save the Gym Hair!
This post has been a long time coming. I usually get an idea for a post, make it happen and write it up. Since I haven't been working out during the day, there hasn't been much point in saving my post-workout hair lately 😉 When I'm teaching at work, we need to look presentable, so we'll freshen up in between classes, but there's no way I was going to film in the fitness staff locker room (hi, creeper). 
So. Now that I have a gym membership and can work out during the day, I could finally get a little video for ya on how I save the gym hair!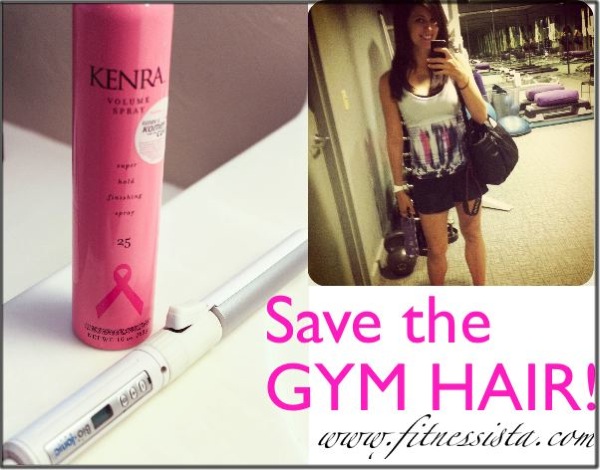 There's not always time to wash, dry and style hair after a sweaty workout, and let's be real: sometimes your hair looks good, is clean, and you want to save it instead of redoing it before heading back to work. Also, why waste time washing hair and blowdrying when you could be working out? When I used to work in retail, I had one hour on my lunch break to make it to the gym, work out, and get back to work, so I quickly learned how to get in a fast, sweaty workout without looking like a hot mess when I returned.
Here's my little trick:
If hair is styled wavy/curly: low ponytail FTW. In this case, I'm not really worried about creasing my hair since it's already wavy, so I'll wear a low ponytail. After my workout, I'll blow-dry the roots, spray dry shampoo, wash my face and freshen my makeup, then fix any of the rogue or wilted curls. Thank goodness messy waves are in- I use that to my advantage.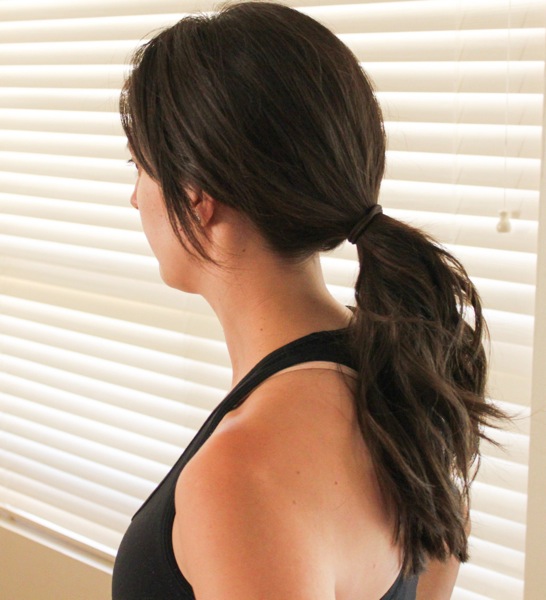 If hair is styled straight: low bun. If my hair is straightened, I avoid the dreaded ponytail crease like the plague, so in the video below, I demonstrate how I roll my hair into a bun, which keeps it up and doesn't crease it. After my workout, I'll wash my face, blow-dry, add dry shampoo, do my makeup, then run the straightener through my hair as needed.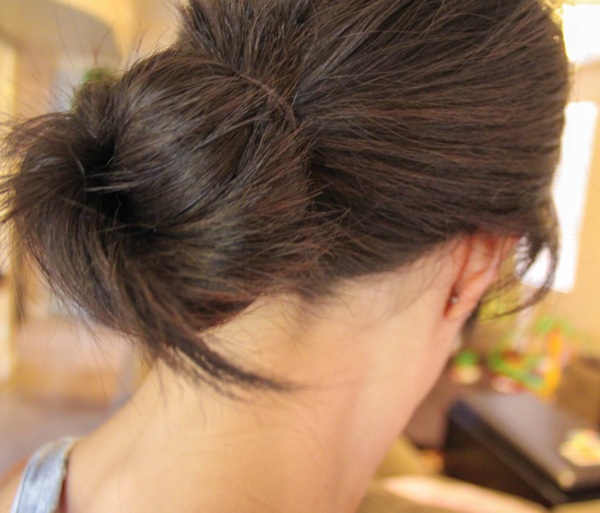 Here's a little "Save the Gym Hair" video:
Tips for bangs:
-Straight-across bangs, like the ones I used to have, I'll wash in the sink and blow-dry. If they get sweaty, the end up curling since I have naturally wavy hair, so I'll shampoo them in the sink, quickly blow dry and run the straightener through them. If I pin back straight-across bangs, I'm committing to wearing them pinned back because they just look weird unless I wash them. (If you have bangs, you know exactly what I'm talking about.) In this case, I'll do twisty bangs.
-Side-swept bangs, like the ones I currently have are pinned to the side of my head with one bobby pin. It doesn't look cool, but keeps them out of my face and prevents kinks. In this case, I'll blow-dry the sweaty roots when I'm done working out, spray dry shampoo, let it chill while I do my makeup, then quickly straighten with the straightener. 
-A thick headband also does a great job of keeping bangs out of the way, but I find that it makes them look funny unless I wash them in the sink after my workout.
Tools:
Dry shampoo, small travel shampoo (if you need to wash your bangs in the sink), small travel hairspray (a light mist will keep frizzies at bay), blow-drier (most gyms have these, so I wouldn't bring my own), straightener or curling iron. For the straightener, the travel ones are fantastic for the gym- they're fairly inexpensive and heat up super fast.
If it still doesn't look quite right:
I'll style my hair into something quick and easy: a waterfall braid, side braid or messy burn will usually do the trick. Or, I'll wash my hair and braid it if it's past the point of saving (like if I just taught Zumba). As far as showers go, I take rinse-offs throughout the day, but avoid washing my hair because it takes a while to dry it- only if it's drenched and I really need it.
What's your post-workout beauty routine like? Any tips on saving the gym hair?
xoxo
Gina