Resistance band loop strength + cardio workout
This total body workout uses the resistance band loop to burn those hard-to-target inner and outer thighs + elevate your heart rate with cardio blasts.
Hey hey! How's the week going?? We're having a great one over here. Madre and nana leave tomorrow (wah!) so we're definitely living up their last couple of days here.
For this morning, I have an all-new workout for you using one of my very favorite workout tools: the resistance band loop! These handy little loops are super inexpensive, and are a *fun* way to add an extra challenge to your favorite exercises. The loop will fire additional muscles in your legs and core, (and arms, if you choose to use it on your upper body) and is perfect for travel. It weighs hardly anything and is very compact. It's probably one of the most random things you'll find in my purse; I usually have one on hand for training clients.
Here's a workout with some of my very favorite resistance band loop moves!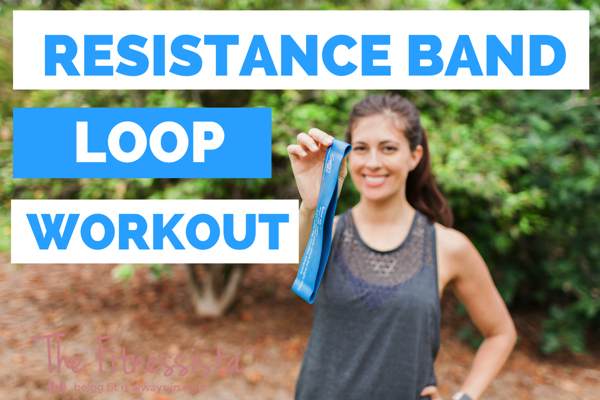 Here's what the resistance band loop workout looks like:

Form cues and tips:
Lunge and back squeeze: Step one foot into the band and hold the loop with the same hand of the foot that is forward. Take a big step back, and keep your feet hip distance apart. Sink into a lunge, keeping your core tight and chest lifted. Make sure that your front knee doesn't extend past your front toes. Exhale and squeeze your back, bending your front elbow (like a wide row). Lower the loop with control and rise from the lunge to repeat.
Squat walk: Place the band two inches above your knees. Step just past hip distance and sink into a squat (booty low and back). Stay in your squat as you step one foot out to the side, and continue to "walk" in one direction, holding your squat. Do 5 in one direction, then 5 in the opposite direction until your 45 seconds is up.
Beast walk: Keep the loop two inches above your knees, and come into your beast position: step into a plank (torso long and straight, abs engaged), and bend your knees to hover them above the ground. Take a step forward with one hand, then step that foot forward. Step the other hand forward, and the opposite foot. Continue to walk in your beast hover position for 45 seconds, rotating to turn around if you need to.
Burpee: Keep the band two inches above your knees. Sit into your squat and bring both hands to the floor, firmly planting your entire hand. Walk or hop back to a plank position (push-up here optional), walk or hop your feet back to your hands, and jump vertically, raising your arms overhead.
Donkey kick: Keep the band two inches above your knees and come onto all fours, with hands stacked under your shoulders and knees under your hips. Gaze down towards the floor so your neck stays long. Keep your knee bent, and contract your glutes to lift one leg off the floor, pressing your heel towards the ceiling. With control, lower down and exhale to lift back up. Keep both hips pointing down towards the floor. Complete your full range movements, then pulse at the top before switching to the opposite side.
Kneeling leg lift: Tilt over to one side and place your bottom hand under your shoulder. Extend the opposite leg out. Keep the foot flexed as you exhale to lift the leg. Complete your full range movements, then pulse at the top 20 times before switching to the opposite side.
Single leg and both leg hip raise: Start on your back with legs bent and feet flat on the floor, and the loop two inches above your knees. Lift one leg off the floor, and press your heel towards the ceiling. Squeeze your glutes to lift your hips, keeping your upper back pressing into the floor. Lower down towards the floor (don't touch it!) and exhale to rise back up. Continue for 15 reps, then switch legs. After you complete each side, do 15 with both legs down, and really try to pull the band apart as you lift.
Clamshell: Start on your side, with the band two inches above your knees. Rest on your elbow, or all the way onto the floor. Keep your knees bent, and squeeze your glutes to open your knees, and try to break the band. Lower down with control, then exhale to open as far as you possibly can.
Complete all of the exercises in a circuit, and repeat the entire circuit up to 3 total times. As always, check with a doctor before making any fitness changes and honor your body. Modify as needed.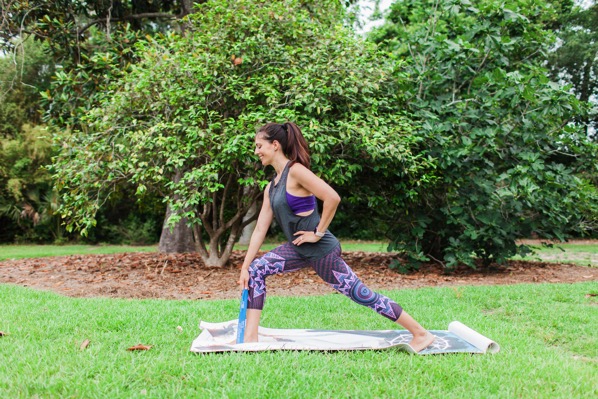 Wearing: my favorite Lorna Jane tank // lululemon bra // Mara Hoffman leggings // La Vie Boheme yoga mat
Please let me know if you give it a try!
Do you use the resistance band loop? What's the most random thing in your purse right now?
xoxo
Gina
Photos: Lindsay Colson