Hey guys! How are you??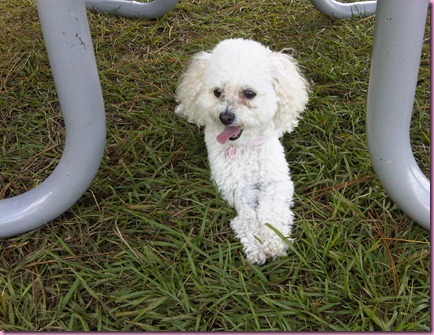 I'm bueno over here- already feeling this morning's yoga class! My friend Kristen lead a BEAUTIFUL practice and has the magic touch- at one point she was sitting on my back, massaging my shoulders and gently pushed me all the way down. Crazy!
After class, I had some banana soft serve/chocolate cherry bomb/ protein pudding/ foodgasm in a bowl: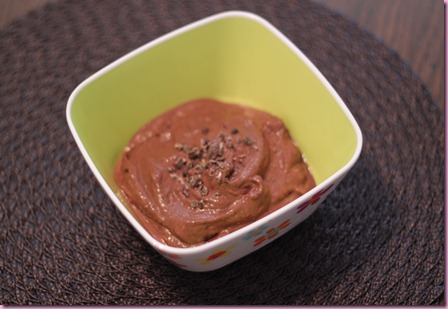 -1 frozen banana
-1 C frozen organic cherries
-1 T cacao powder
-1 t spirulina
-Stevia, vanilla
-1 scoop Sun Warrior
TOTALLY like ice cream and totally raw! Ballerrrr.
After my snack, I got to biznazz on the first part of the raw tacos: the shell

Raw Taco Shells

Makes 4-ish

-1 bag of organic corn, thawed

-Drain the corn and try not to shudder (I hate corn, but love corn tortillas)

In the Vitamix, add said corn, 1/4 sweet onion, 2 T ground flax, 1 t cumin, juice of 1/2 lime, 1 t sea salt and blend.

Plop the mixture onto a Teflexx sheet (or on parchment paper on a cookie sheet if you don't have a dehydrator)

Using the back of a chef's knife, or a pastry spreader, smooth out the mixture until it's an even thickness.

If anything, it should be thicker on the sides, as they dehydrate more quickly than the center.

Dehydrate at 115* for 4 hours, flip and dehydrate overnight. (Oven chickas, bake at lowest setting with the door ajar for an hour or so, flip and repeat)

Taco filling recipe coming tomorrow
I packed up dinner to take to work:
A salad beast with arugula, spinach, raw beets, raw goat cheddar, basil, grape tomatoes, Italian seasoning and Garlic Gold with balsamic on the side.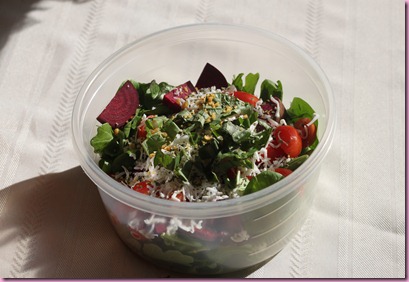 I'm now happily stuffing my face…and trying to remove the balsamic I flung onto the netbook

Please watch Glee for me- I'm gonna miss it tonight

Have a lovely evening and I'll see ya tomorrow with taco meat filling and the second week of Bridal Bootcamp!
xoxo
Gina
Today's tip: At your next fitness class, make a point to say "Hi" to two new people. Pay them a compliment (love your Power Y tank!) or ask them how long they've been taking the class. You may meet some new fit-minded friends