Hey everyone! Hope you're having a lovely morning <3
Today, I can almost walk like a normal person, and I accredit that to this: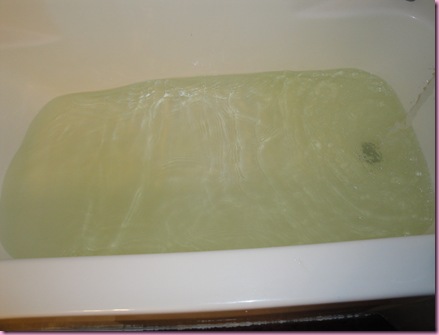 Notice the slightly green color???
A SEAWEED bath!
I used this pack of Repechage seaweed bath that my friend Ashley (whose birthday is today! Happy Birthday, friend!) gave me when I was complaining that I felt like death last week.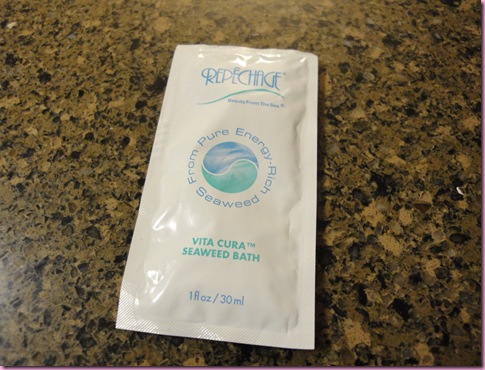 As you guys know, I'm a huge fan of Repechage (from my skincare post), and seaweed acts as an anti-inflammatory due to the high magnesium levels and iodine- the benefits are absorbed directly through the skin. Read more benefits of seaweed baths here. I figured it would be a good way to ease my aching leggies, despite the fact that I despise baths (soaking in your own filth = not my cup of tea).
Viesa was frightened when she heard the bath water running… she hates baths, too 🙂
It was actually –dare I say it- very pleasant and relaxing. I chilled with a Runner's World mag (to remind me that I DO want to run again, haha) and got out feeling pretty bueno.
I went up into the yoga room and did the Lunar Meditation from the Shiva Rea DVD, some ab work and stretching.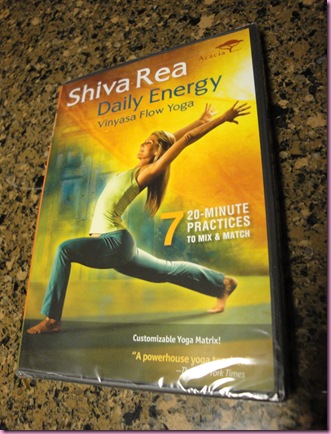 'Twas lovely, and today I am not walking like a peg-legged pirate. All is right in the world 😀
I came back downstairs, watching 500 days of summer (it was very cute, but the music was the best part), then called it a night.
This morning, I was stoked for oats.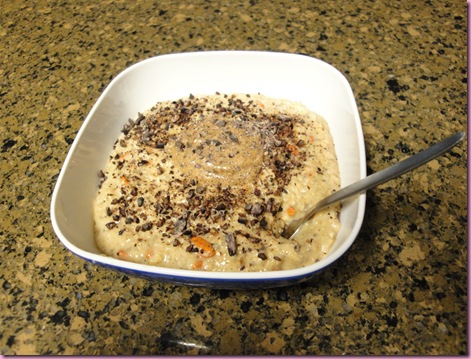 They look SPIKY, huh? 😀
I used the standard mix of:
1/3 C oat bran
goji berries, maca, cacao nibs, chia seeds, cinnamon
1/2 scoop vanilla Sun Warrior
1/2 banana
almond milk
cacao nibs
1 T almond butter
And it was pretty face rocking 😀
I'm off to the bank, Wizzle for groceries, then getting ready for work. I may attempt an easy elliptical sesh today… we shall see.
See ya this afternoon with the giveaway winner (you still have a couple of hours to enter!) <3
xoxo,
G$
Something to think: "Make it yours, and own it." Many of you asked me about the pilot's pep talk he gave me before the half marathon. Since I know many of you have races and events coming up, I thought I'd share the almond-shell version with ya'll. We were sitting at Seasons 52, waiting for our friends to arrive, and I was telling him about how nervous I was. He said, "You know what, it's going to suck. It's going to be terrible, hard, and you'll be hating it. But the thing is, you can let the 'suck' beat you and take you down… or you can make it yours, and own it. If something's going to be painful and terrible, you might as well make it worthwhile. It's a temporary thing and before you know it, it will be over." So while I was running (sans iPod!! GAH!), I kept thinking about the fact that it was going to be over eventually and I might as well make it worthwhile, no matter how difficult it was. Before I knew it, we were in the car driving home 😀