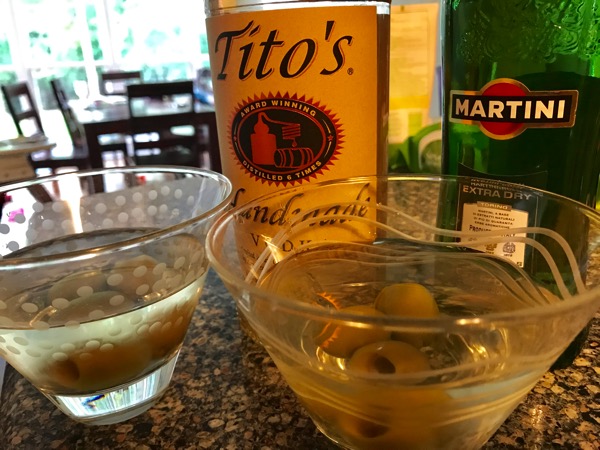 (We switched it up with the usual vino with a martini last night)
Hi friends! Happy Monday! Hope you had an amazing weekend. ICYMI: I blogged yesterday! All of last week's workout details are here.
What did you do this weekend? Ours was relaxing and amazing. Usually I sneak in work throughout the weekend, but in an effort to slow down a bit, I took Friday and Saturday completely off.
Friday morning, the fun started with a road trip to Jacksonville for a girls' shopping trip. Thank you so much to those of you who shared Jacksonville recs in my Friday Faves post! I have a new spreadsheet with all of your awesome suggestions, because I know we'll be back a lot.
We got into Jax just in time for lunch, and stopped at Moxie's Kitchen and Cocktails for lunch.
Megan and I shared the deviled eggs 4 ways,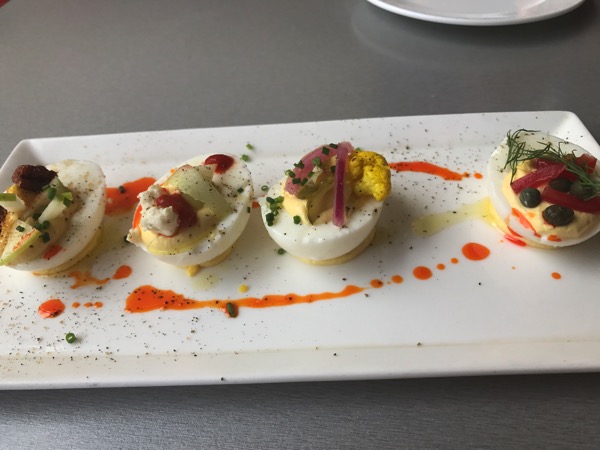 (the favorite was the sriracha and bleu cheese)
and for my entree, I had the salmon and kale salad. I love that at Moxie everything is certified organic and they source their produce and meats from local farms and fisherman. Everything was extremely fresh and light; the perfect fuel for some retail therapy.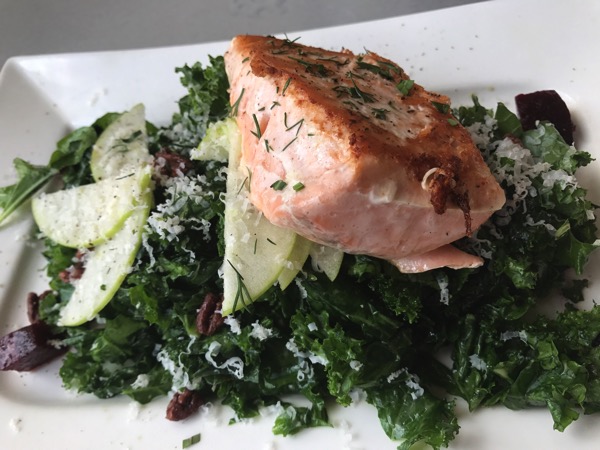 A lot of new spots have opened in Valdosta since we were last here, which have been so fun to explore. I also love the fact that while Valdosta is smaller, there are a lot of cities close by with fantastic dining and shopping options. Tallahassee, Gainesville, Jacksonville, Atlanta, and Orlando are all less than 3 1/2 hours away. If I ever start to cry for Whole Foods hot bar, I know it's just a short drive until I'm face-diving into a random mix of Indian food, grape leaves, and overpriced salad. On Friday, something about walking into a Nordstrom was very good for my soul, haha.
While I didn't go tooooooo crazy on the purchases (just some lulu polo shirts for the Pilot, some Sephora goodies for me, and swim gear for the girls at Nordstrom Rack), my favorite things I picked up are this round brush (for smaller waves; I practiced on Liv and her hair looked ridiculous), and this top from Loft.
After a successful and fun day at St. John's Town Center, we stopped at Cantina Laredo for a margarita and some chips and guac before hitting the road back to Valdosta.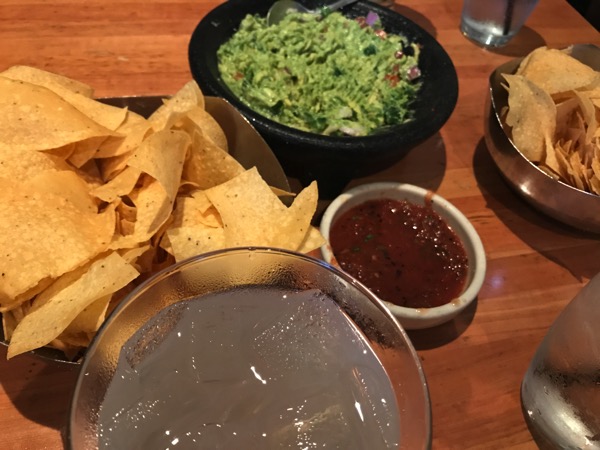 I got home just in time to kiss the girls goodnight, and enjoy some BBQ with the Pilot.
Saturday morning, miss P had gymnastics: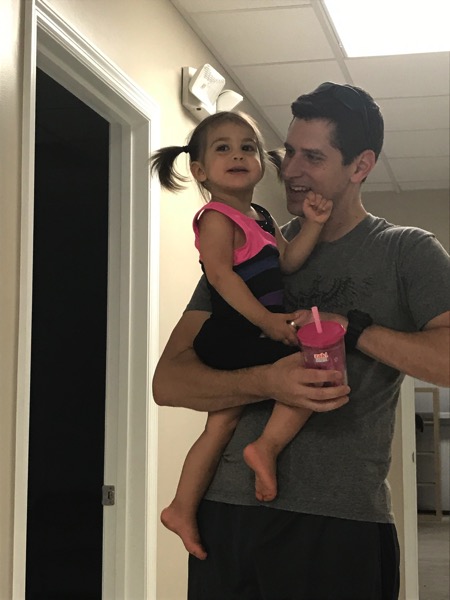 (I can't even handle it)
and then we had an awesome brunch at Birdie's Market downtown.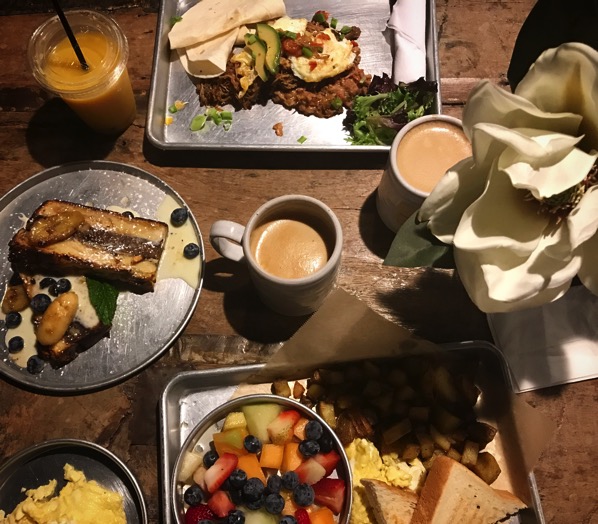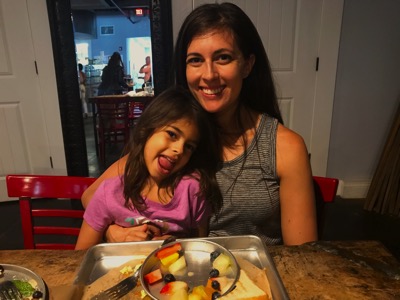 Right now, Birdie's is my favorite place to eat. (If you're stopping through Valdosta on the 75, make a stop for at least a cup of coffee and a bag of the chocolate amaretto pecans. You won't regret it!) I loooooove breakfast, and they have the BEST breakfast. Their local coffee is so delicious (not bitter, and super smooth), and the plate of eggs, fruit and perfectly-cooked potatoes are delicious.
The rest of the day was spent at the pool,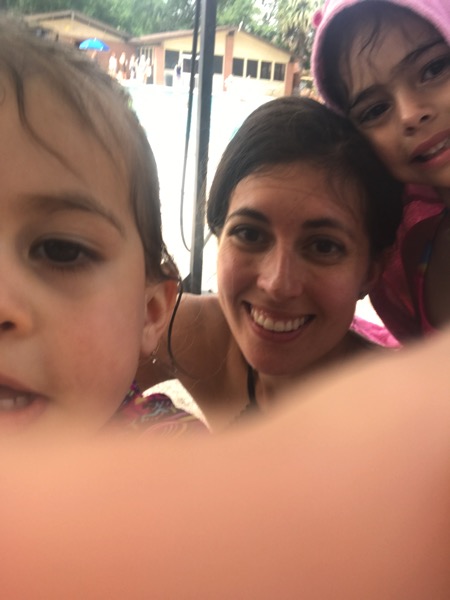 (selfie attempt was a giant fail)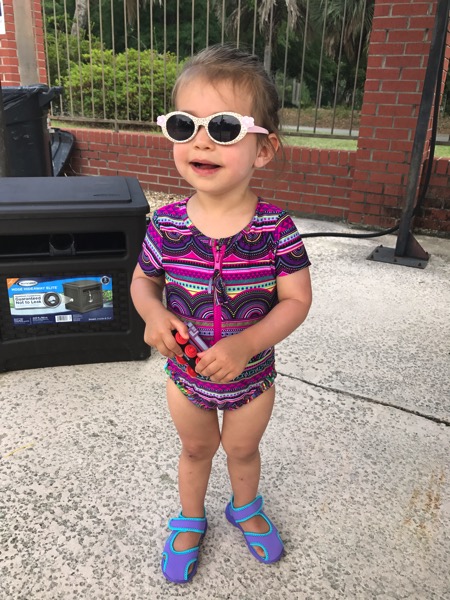 and that evening the Pilot made risotto, and we tried to clean up the garage, which is still full of boxes. Yikes.
Sunday was relaxing and wonderful. It included coffee and donuts, trips to Goodwill for our moving purge casualties, power yoga,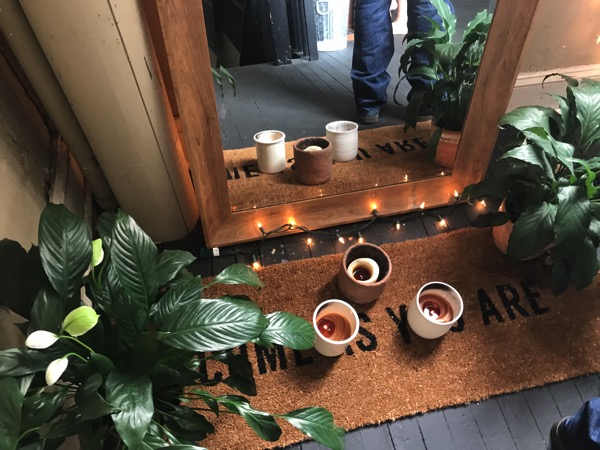 and winner winner chicken dinner here at home.
This morning, it's back in the swing of teaching and training, and all of the fun usual activities with the nuggets.
Hope you have a happy Monday! Thank you so much for checking in on the blog today and I'll see ya soon.
xo
Gina
What was your favorite part of the weekend?
Looking for a workout? I've got you.