Sharing all of the details
Hi friends! Hope you're having a wonderful morning and that you enjoyed the weekend! Ours was fun and relaxing; I'll be posting a recap up soon. We're definitely finding our groove as a family and really enjoying having the Pilot home. Since his homecoming, I feel like I have so many things I can finally share and blog about.
As you guys know, the Pilot was gone for 7 months. (He left with the early crew since we were all in Tucson by that time and it would prevent someone else from having to go early.) It was a long 7 months, but the girls and I made the most out of the time together and loved being in Tucson with the family. We spent the summer swimming at my Uncle Eric's house and playing with the cousins, got back into the routine with their new schools, and traveled together. We spent all of our birthdays and holidays here, put together care packages for him and video messages, and while we were certainly very sad and missed him like crazy, we still managed to have a ton of fun while he was gone.
It felt really weird blogging for the past 6 months because this was a huge part of my life, and I couldn't talk about it. 6+ months of all of the bedtime routines, meals, school drop-offs and pick-ups, after-school activities, events, everything… it was intense. I want to acknowledge all of the single parents out there, who are constantly hustling at this level, every minute of every day. I'm in awe of you and I think single parents are real-life superheroes. During this unique season, the girls were amazing and we had a great time together. While it was challenging, I feel lucky that I was the one here with them and not the one who was away. I really appreciate your understanding for why I chose to keep this info private, and to those of you who did know what was going on, thank you for respecting our privacy and safety.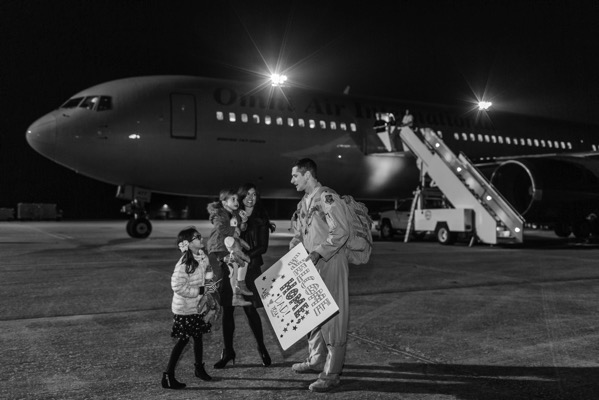 (Photo: Lindsay Colson)
Now, I have SO MUCH TO TELL YOU.
So, the Tucson move. The military didn't move us to Tucson, but we did anticipate switching to the reserves after the deployment. We chose to come out here for the deployment to be with family, and get the chance to stay here if we did indeed decide to switch. The Pilot and I packed up a 28-ft Uhaul of necessities, he drove it across the country, and we moved back into our old house since our tenants were moving out (talk about awesome timing).
We spent so much time weighing pros and cons of staying in Valdosta during the deployment, but in the end, we decided this would be a smart choice. A major part in our decision factor was that one of the girls has Sensory Processing Disorder (SPD).
I haven't blogged much about it, and likely will not post more than the following paragraph. Essentially SPD causes the body to go into "flight or fight" mode. It's not a behavior problem – it's developmental – and certain things can trigger the feeling like her body is attacking itself. For some kids it can be a smell, taste or sensation, and in our situation, it was tactile-based. She would wake up in the middle of the night feeling like her pajamas were literally attacking her body. It was absolutely horrible and heartbreaking, and something we thought was behavioral for a long time. (And when I think about the times I was like, "Stop throwing a tantrum, just get dressed!" I feel so awful. There was nothing she could do about it.) Last holiday season, we were almost 2 hours late to school each day because of the constant meltdowns. All of the clothes she'd put on would feel like a million needles, and I spent a lot of time buying seamless clothes online that she hated, and cutting tags out of everything. After 6 weeks of zero sleep, we went to our pediatrician, who got us into an AMAZING OT who fixed the problem within 2 weeks. (This is incredible but joint impact and resistance helps to soothe that system in the body and prevents it from switching to the sympathetic mode. We do lots of climbing, pulling, crawling, and hanging around here.)
I was really concerned about relapsing while the Pilot was away. When one child has the meltdowns, the other becomes extremely afraid and cries, so both children are sobbing at the same time. It makes it really hard to soothe both kids at once. I knew that if we relapsed, I wanted to have a system in place for backup. If we stayed in Valdosta, I would have had to find another babysitter because our beloved babysitter was moving during the summer, too. I knew if we were in Tucson, if ish hit the fan, I could call anyone in my family and they'd be able to come and help. We hit a couple of tough parts during the first few months the Pilot was gone, but thankfully, knock on wood, it hasn't happened again. We're still in OT and do daily therapy exercises at home, but thankfully it's completely managed and doesn't affect school or her daily life. Our OT exercises are just part of the routine, including skin brushing and varying sensory inputs.
Many women and men stay at their base during their spouse's deployments, but I also learned that a lot of people don't. They head home to be with family. I feel fortunate that we were able to make this decision, and that we could be surrounded by so many people who love us. I still did everything I needed to take care of the girls and our house, but having family around really helped decrease the loneliness. We figured that since it's our last of 4 deployments, we could take some steps to give ourselves a better experience. It was so, so worth it. It may not be the right choice for everyone, but it was absolutely the right choice for our family.
During our first week in Tucson, I took a spin class at (r)evolve. This is cheesy but I'm going to tell you anyway: they played the song by Coldplay that says, "Lights will guide you home, and ignite your bones" and I had to keep myself from sobbing. There I was, on a spin bike about to cry to a club remix of a Coldplay song. I felt overwhelming joy in that moment, and felt proud of us for taking a huge step for our happiness during a challenging time.
We came to Tucson not knowing if we'd get to end up staying here. After many late-night discussions and potential action plans, the Pilot is getting out of active duty. The active duty life has been incredible for our family and has given us lifelong friends. I'm really excited for the next steps and can't imagine what it will be like to choose where we want to live, even though we'll be in Tucson for a little while. He'll still be flying regularly, but will be wearing different patches. 😉
I just feel like the elephant that's been hanging out on my chest got up and walked away. Thank you so much for being here, and for reading, chatting with me IG, and being awesome the last 7 months. While I couldn't tell you everything that was going on, I hope you know how much you being here helped to support me and keep me going when things were a little more challenging than usual.
And with that, the Pilot is taking weekend wake-up duty for a while, and I'm sleeping in every weekend from now on. muahaha.
Love to you all, friends.
xo
Gina