(Yes, that would be a re-work of the old school TLC song)
Hi guys! How are ya? Sorry I had some blog glitches yesterday. The blog was feeling a little hormonal and cranky, but I gave her some crepes and all is bueno in the world 😉
Here's the recipe I've been promising ya'll:
Whole-grain Crepes

Makes 3 Gina-sized crepes (1 serving)

Ingredients:

-1/4 C spelt flour (GF Fitnessistas, try brown rice flour)

-1/4 C almond milk (or milk of choice)

-2 egg whites (or 1 T flax mixed in with 2 T water and 1/2 T melted Earth Balance)

-pinch sea salt

-pinch Stevia

-canola, olive or canola oil

1. Grab a large nonstick pan

    

and heat it to just-under medium heat.

2. In the blender, add the milk, egg whites (or butter flax egg), flour, Stevia and sea salt

blend on high for 10 seconds. Mixture will be thin.

3. Drop a small amount of oil into the pan and spread around using a paper towel.

4. Next, pour 1/4 C batter into the 1/4 C measuring spoon and into the pan

Tilt the pan around to make a full circle of batter.

5. Cook 1-2 minutes until edges are dry, and gently flip. Cook for 1 minute on the other side.

6. Slide onto a plate and fill with filling of choice (sweet or savory), and fold each side over the filling.

7. Top with sauce of choice.

8. Feast and moan in foodgasm ecstasy.

© 2010 The Fitnessista
Some of my favorite combos so far:
Apple, Cinnamon and Raw Goat Cheddar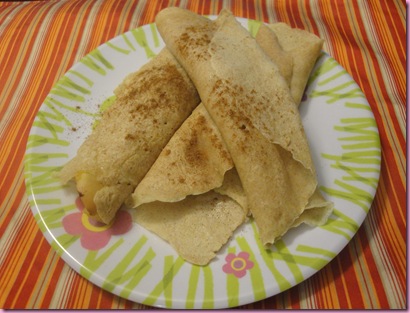 Banana with mesquite, cinnamon and almond butter sauce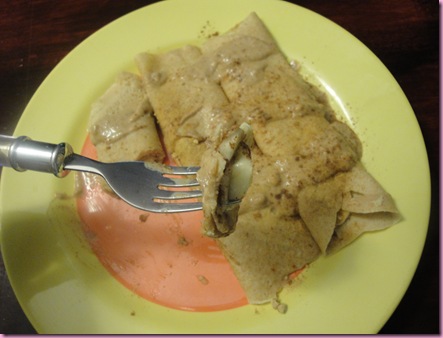 and Roasted veggies and goat gouda with spicy mustard sauce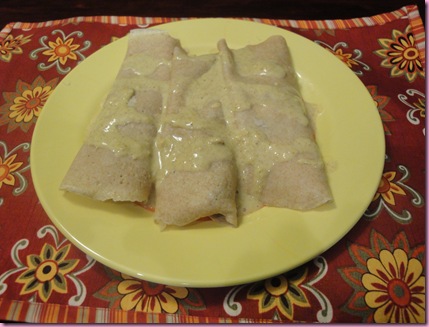 Have you crepe-d before??
What's your favorite combo? Do you usually roll with sweet or savory?
Please let me know what you think of the recipe 🙂
See ya later today!
xoxo,
Gina