One of the things we love to do with Livi is read to her. It's one of our morning activities, and we'll always read her a book before we tuck her into bed.
Sometimes they're children's books, or Tom and I will just read aloud whatever we're reading: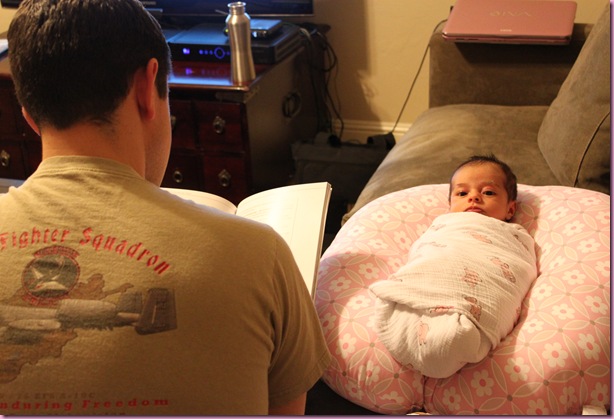 Last night she learned about 357th Fighter Squadron heritage via "Two Days of Rolling Thunder." She listened intently and looked at the pictures.. until she crashed out.
Some of the books we've read so far include lots of Eric Carle and Dr. Suess, "My Daddy Loves Me," and "Look, Look!" (a gift from a very good friend).
She especially loves the pictures in this one because they're black and white: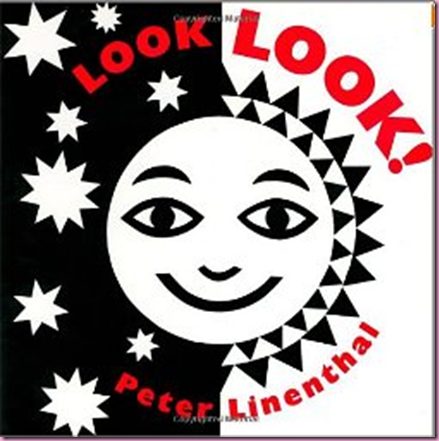 Source
So much in fact that I may just ordered three similar books: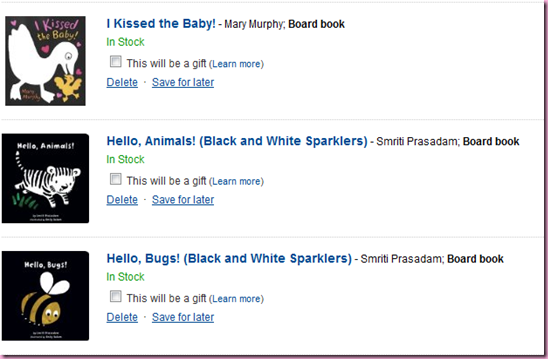 I really enjoy reading to Liv because even though I have no idea if she understands or not, she looks at each page and watches my mouth move as I read the words to her. I love pointing out the different animals and the sounds they make (and sound like a total goober), and teaching her the names of colors.
Some of the benefits of reading to babies:
(from this website)
Reading aloud:

teaches a baby about communication
introduces concepts such as stories, numbers, letters, colors, and shapes in a fun way
builds listening, memory, and vocabulary skills
gives babies information about the world around them

Believe it or not, by the time babies reach their first birthday they will have learned all the sounds needed to speak their native language. The more stories you read aloud, the more words your child will be exposed to and the better he or she will be able to talk. Hearing words helps to build a rich network of words in a baby's brain. Kids whose parents frequently talk/read to them know more words by age 2 than children who have not been read to. And kids who are read to during their early years are more likely to learn to read at the right time.

When reading, your child hears you using many different emotions and expressive sounds, which fosters social and emotional development. Reading also invites your baby to look, point, touch, and answer questions — all of which promote social development and thinking skills. And your baby improves language skills by imitating sounds, recognizing pictures, and learning words.

But perhaps the most important reason to read aloud is that it makes a connection between the things your baby loves the most — your voice and closeness to you — and books. Spending time reading to your baby shows that reading is a skill worth learning.
Everyone in my family read to me from when I was very small, which is definitely one of the reasons why I love to read as much as I do.
It's funny because our first week back from the hospital, I felt like I might not have the chance to read again. Showering is a luxury. Reading? There was no way.
Finally, I've mastered the art of one-handed reading (and typing) so that I've been able to read almost an entire book this past week: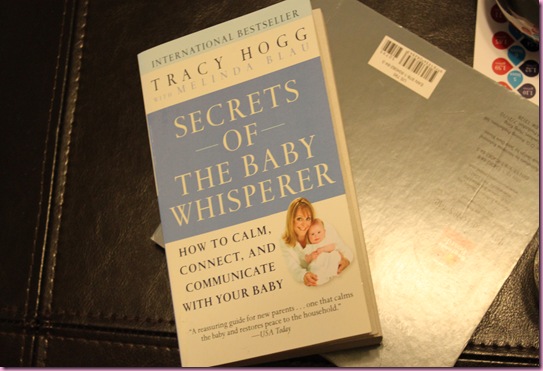 Thank you so much to those of you who recommended this one!
While I am still mystified by Livi on a daily basis, it's given fantastic insight into her personality.
This is the type of book that is more helpful once the baby is here, because it describes 5 different baby personality types and the best ways to nurture and care for each type. According to the book, Livi is a combo textbook and spirited baby. She is very clear about what she likes and doesn't like -her dirty diaper cry is INTENSE. She lets you know instantly when she needs to be cleaned up- and also very predictable about her schedule. When she wakes up, it's eating time.
I've been reading the book in snippets during pumping time and it has been extremely helpful and fascinating.
Next on the list: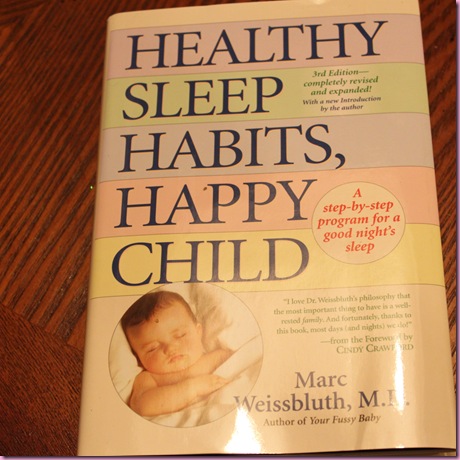 (I should have downloaded these on the Kindle, but wasn't sure if they'd be the type of books I'd want to reference later- it's more challenging to do that electronically)
Sleep is still a little helter-skelter over here, but once we get into more of a routine, I think this book will be very useful. "Happiest Baby on the Block" has also been good to us- lots of "shh-ing," swaddling and swaying over here.
Please let me know if you have any more book recommendations- I'm always looking for late-night feeding and pumping reading material!
What was your favorite book as a child?
I was obsessed with the Angelina Ballerina books and also adored The Giving Tree 🙂