We have a little Houdini on our hands….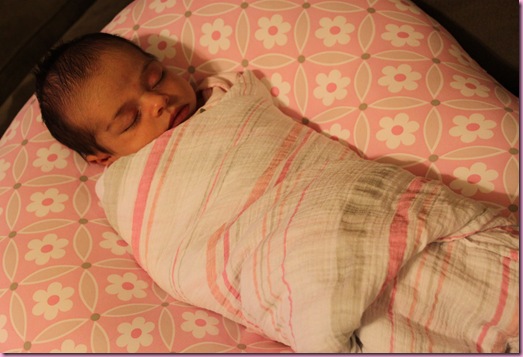 lovely likes to bust outta her swaddle.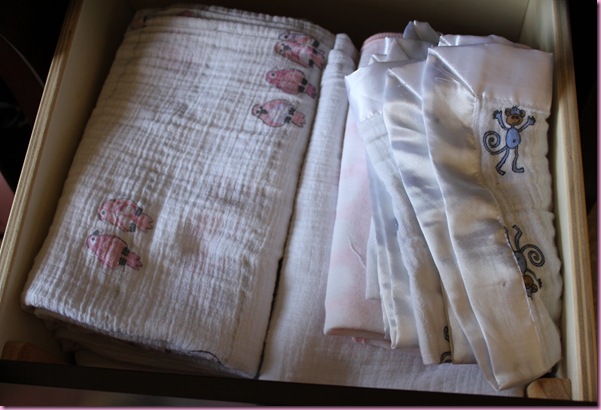 (We like the Aden + Anais blankets- super soft and very light fabric)
Swaddling is one of those things that always mystified me while I was pregnant –it seemed like putting a baby in a straightjacket- but after watching "Happiest Baby on the Block," it all made sense. Babies don't have total control of their limbs, so often they'll flail their arms around while they're sleeping and wake themselves up. Also, they're used to being tightly cuddled in the womb, so swaddling can be comforting.
At first, we thought that she didn't like having her hands swaddled, so we'd wrap the bottom part of her body like a little burrito and let her hands be free. And then we realized she doesn't like her hands to be swaddled so that she can have the freedom to claw at her face.
So lately, we've been swaddling her entire body, which usually works out pretty well for a while, and then from her basinet next to me, I'll hear grunting as she inches her hands out of the swaddle. Each time she wakes up to eat, her hands are up by her face, scratching and flailing away. This is totally random, but I can't help but think of the scene in Four Christmases where Vince Vaughn takes over the swaddling…
"It would appear that my wife is better at making babies, than swaddling them, no? Yes?"
"Unfit mother!"
When Tom swaddles her, she stays burrito-ed a little longer, but when I swaddle her during the night, she almost always immediately escapes. Also, we're still nowhere close to sleeping more than a couple of hours in a stretch at night. The first stretch is usually amazing –about 3 hours or so- and from then on, she's up and ready to eat every hour and a half to two hours. Friends keep saying that it's a growth spurt, but this growth spurt has lasted about 5 weeks 😉
Did you swaddle your baby?
How long did it take before your baby slept a little more throughout the night?