Hellooooooo 😀 How are you?? So glad you guys liked the Pilot's guest post– I absolutely loved it. I'm a little (ok a LOT) jealous over all of the amazing food he's been eating (lobster? bruschetta? gelato? wiiiiiinnnneeeee?) but am glad he's had some time to chill before he goes over to do extremely hard and tedious work for a while <3
So right now, I'm awake and it's still DARK outside. And I'm not grouchy! Amazing 🙂 (haha, not a big morning fan over here)
Maybe because I had breakfast waiting to greet me?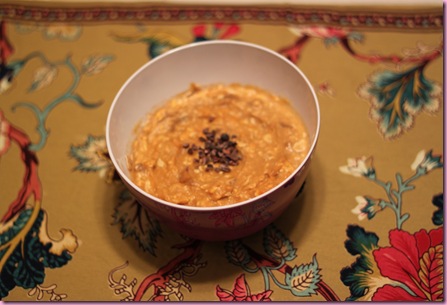 This was like a pumpkin breakfast cookie minus the nut butter, which I never recommend but since my grocery stash is low, you gotta do what you gotta do 🙂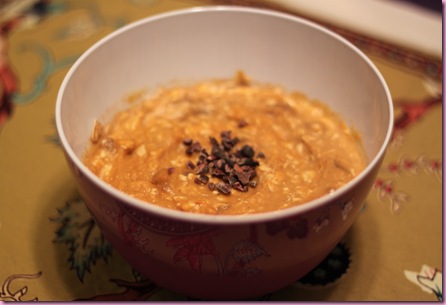 I packed up the bento box using the supplies I had, and decided to get a Panera black bean soup on the way to work to make it a full meal.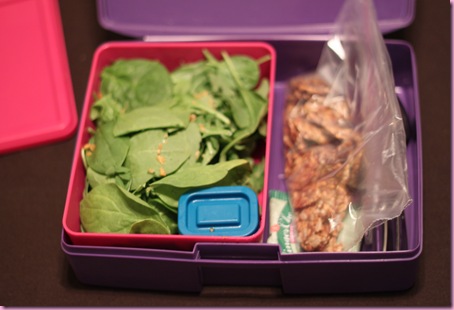 Arugula and spinach with Garlic Gold and balsamic, raw pizza crackers, ginger chews
and kamut bread for soup-dipping (in the freezer section at Whole Foods- it tastes a lot like sourdough):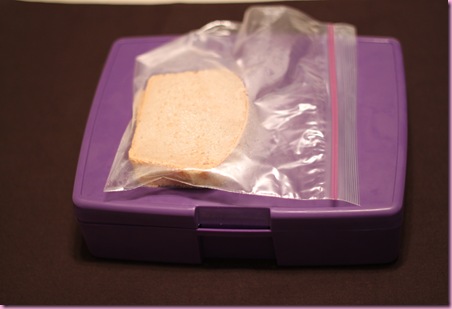 It's kinda nice not having that peanut butter chocolate cake staring at me this morning.
When I got home from work late last night, there was still a little bit left….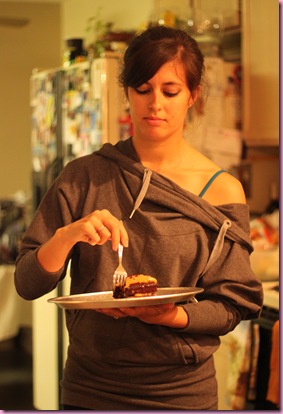 so we had a love waltz in the kitchen.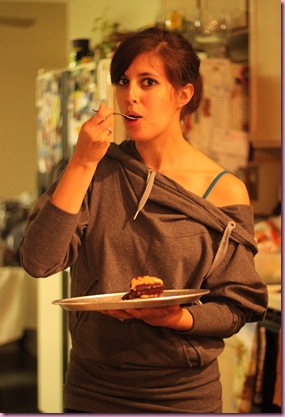 Sometimes you have to take the cake 😀
Since so many of ya'll asked for the recipe… I'll go ahead and give it to ya. It's top secret though, mmm k?
-Take a box of gluten-free vegan cake mix
-Follow directions on said box
-Let cake cool and make *this frosting* using milk of choice instead of heavy cream and Earth Balance instead of butter
Alright friends, I'm off to work!! Really excited for a fun blog buddy training appointment tonight 🙂
See ya later today with a Reader's Request post!
xoxo,
Gina