Another amazing date night with that one good-looking guy I snagged over at Starbucks.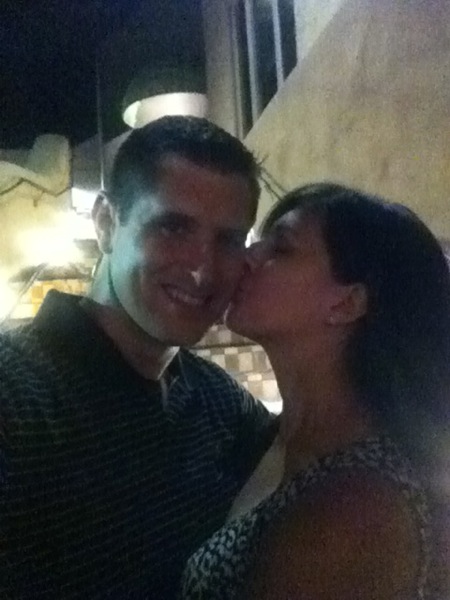 We dined at Acacia, which is quickly becoming one of our favorite spots. They have a great mix of the things we love, fantastic drinks, and locally-sourced organic produce and meat, which is a bonus.
Since our last Acacia dinner, I've had their spicy tropical margarita on my brain- made with infused jalapeño tequila.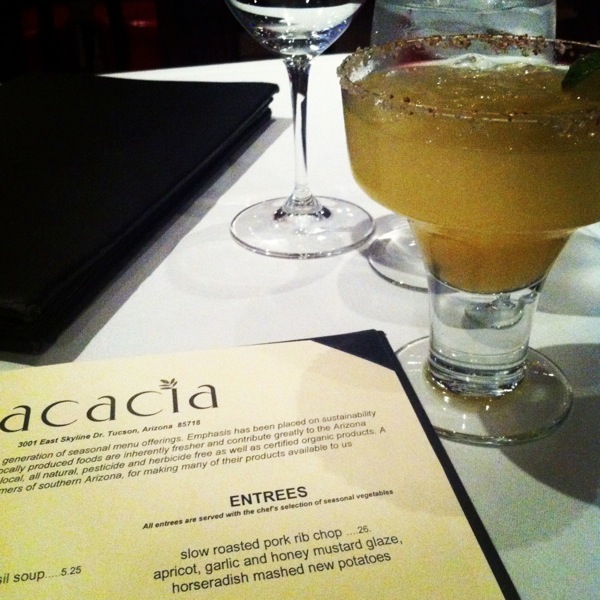 In true date night fashion, I didn't drag out the paparazzi camera and snap pics of our food, but I had to take one of the tomato basil soup in the cute coffee cup: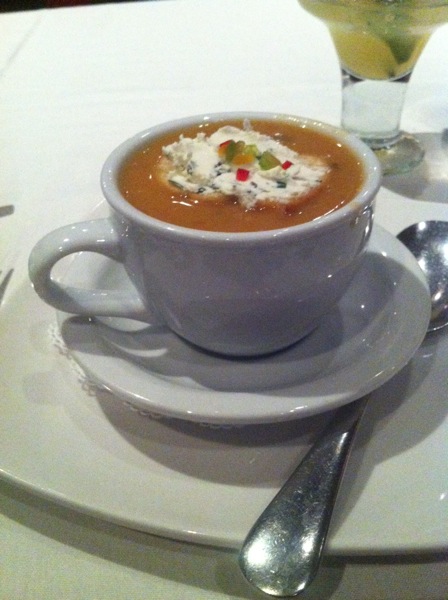 (Presentation = as incredible as the food)
We shared sourdough bread with butter, the above soup (which was probably my favorite of the night), chicken dumplings with a cashew sauce, wasabi and ginger, and for my entree, I chose the corn custard with veggies while the Pilot had cioppino. They added a fun little Southwestern flair by topping the seafood with crispy tortilla strips. It was a fabulous meal with fabulous conversation, even though my throat was killing me from a day of teaching (I'm hoping it's that, and that I'm not getting sick. I'm determined to ninja kick it in the face if I am).
Breakfast: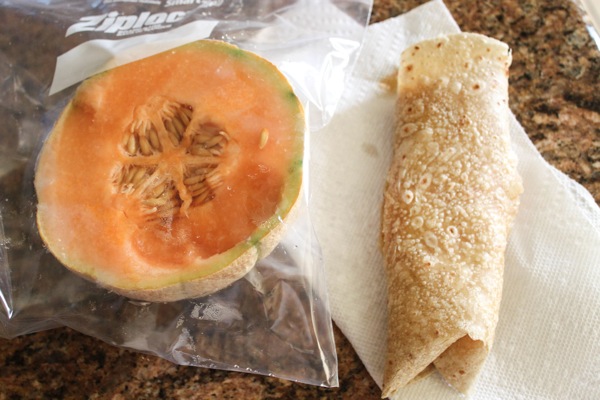 (Eggrito and 1/2 cantaloupe- took a few scoops out for Oliv)
It was a more challenging day as far as the usual classes go. One of the cool things about teaching at a resort is that everything you'll be doing is new to the guests, since the majority is only there for a week or so. At the same time, it's easy to get complacent, since you could do the same things every week and no one would really know. I get sick of my music and moves fairly quickly, so I try to have at least 1-2 new songs and choreography each week. A tough thing about the changing guests and participants is that you don't have a set class that you "know" and can become familiar with their abilities as a group- it's always changing.
When I taught at the base in Valdosta, I had a core group of participants for Zumba, spin and step. I knew what they were capable of, and how much more to push them each week. At the resort, it's kind of like class roulette- you never know what you're going to get. It's scary and exciting at the same time. There have been times I've gone in to teach and have had to totally change my playlist (like today) or bust out my hardest hip hop songs because I found out quickly that they could handle it. You definitely have to adapt and go with the flow.
Killer post-Zumba lunch: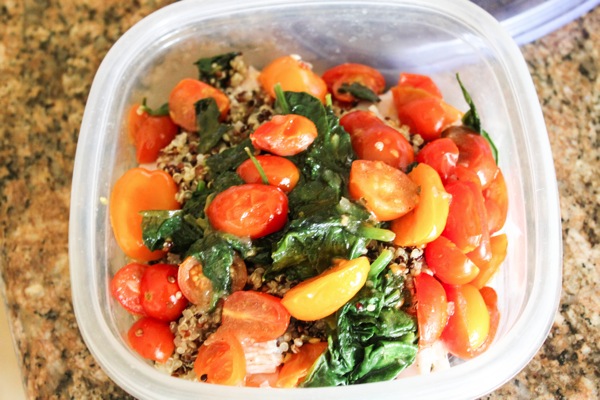 1/2 bag spinach, deli turkey, tomatoes, Meyer lemon olive oil, sea salt, 1 C quinoa
Time to crash! It's Sunday Runday in the morning 😉
Have a great night <3
xoxo
Gina
Friendly reminder: Don't forget to plan out your meals and a tentative fitness schedule for the week!
Here's mine:
Sunday: Run 5-ish miles
Monday: Off
Tuesday: HIIT and weights
Wednesday: Teach Zumba
Thursday: HIIT and weights
Friday: OFF
Saturday: not sure- we'll be out of town
Need some snack/meal inspiration? How about: