This post is sponsored by Collectively on behalf of HP.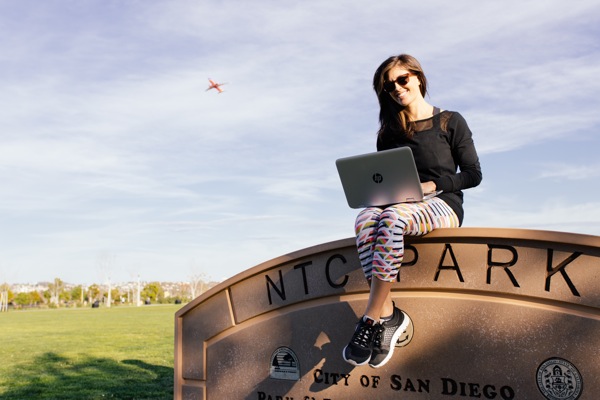 (Photo: Danny Chan)
Hi friends! Hope you're having a wonderful day. <3
Recently, I was gifted the new HP X360, which is an amazing laptop/tablet hybrid. It has four modes: laptop, tablet, tent and stand. The laptop mode is perfect for toting around or writing blog posts, tablet mode is ideal for travel, and the tent/stand modes have been helpful for video streaming.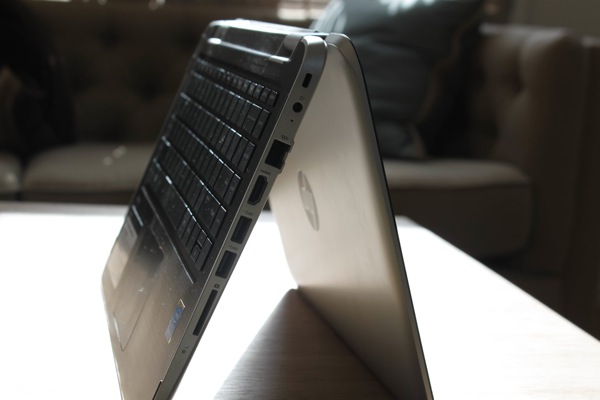 I put on an online barre workout, set up the little tent, and was able to easily watch the video without tilting the screen. It's a versatile, light, and awesome computer.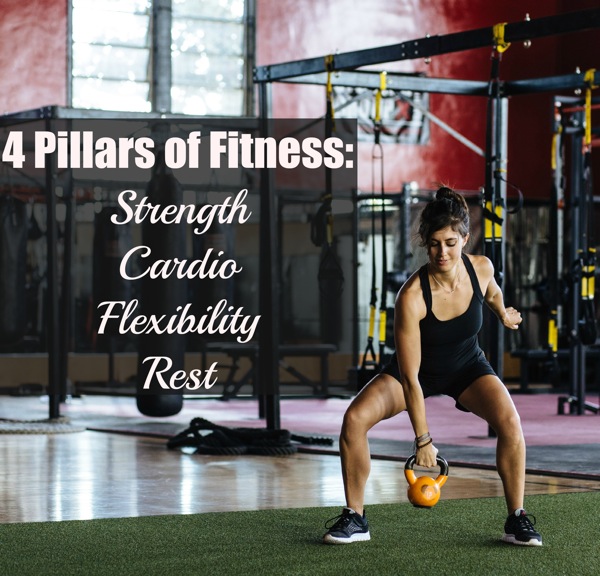 (Photo: Danny Chan)
To go along with the theme of "4" (for the 4 modes of the computer), I thought I'd share some of my best tips for the 4 pillars of fitness: strength, cardio, flexibility and rest. Here are some easy ways to shake it up if you've found yourself in a rut!
The 4 Pillars of Fitness:
1) Strength. Strength is a critical component of a solid fitness plan. Not only does it help strengthen and sculpt your muscles, but it's critical for bone health and maintaining bone density as we age.
Some ways to change it up:
-Play with the amount of sets that you complete. I like to experiment with high reps and low weights, low reps and high weights, and drop sets. For the drop sets, start off with a much heavier weight than you would usually use, and for the second set, go back to your normal weight. Your normal weight will feel much more challenging! For the third set, maybe drop down the weight again, as your muscles will already be sufficiently fatigued.
-Add tempo variations. Try to emphasize the eccentric portion of the movement; release from "work" component (like the "dip" of your triceps dip), slowly and controlled. For squats, try a combination of slow squats, down quick and up slowly, down slowly and up quickly, and pulses.
-Change up your strength training split. Some ideas on how to do that are here!
-Don't neglect the core. Add in core training 2-3x a week on nonconsecutive days. You'll want to target your abdominal muscles, your back (especially your low back, or erector spinae), glutes and pelvic floor. Some of my very favorite exercises are here.
2) Cardio. Cardiovascular exercise is fantastic for heart health, a flood of feel-good endorphins, and a great way to burn extra calories. Cardio can be completed at the gym on a machine of your choice, or at home with bodyweight alone. Here are some ways to amp up your cardio routine:
-Add in some intervals. This is a great way to improve your cardiovascular fitness and get your metabolism going, through a glorious thing called EPOC (our oxygen consumption post-exercise). The intervals do not have to be high impact: try experiment with equal ratios of easy and challenging work. For example, go hard (crank speed or resistance) for 30 seconds, walk or rest for 30 seconds. Repeat for 10-20 minutes.
-Conquer a tough hill. Add a huge hill into the middle of your cardio session. Gradually increase the resistance, hold it at your highest point, and then lower it back down to sprint to the finish.
-Take a new cardio class. This is an excellent way to change up your cardio routine, especially if you've noticed your results have plateaued. Try something new, and bring a friend to join in the fun!
3) Flexibility.
-Find a flexibility routine that works for your body. Some people love to foam roll, some love to hate it, and others just loathe it completely. Some people live for yoga, while others choose Pilates or barre. You can also add in a stretch at home on your own if that works for you. Aim to maintain full range of motion through your joints to prevent compensation and injury. Even throughout the day, try small stretches (even at your desk) to promote healthy posture and blood circulation through movement.
4) Rest.
Results occur during rest; if you don't rest, the muscles aren't able to adequately rebuild and pair themselves.
Take at least one day each week off completely. You can still enjoy a stretch or easy walk, but give your body the chance to repair. Not only will this encourage results, but it will help prevent overtraining and burnout.
What are 4 things you love about your current fitness routine? How will your fitness change this spring? I'm excited to get outside and run more often; it's been Orangetheory treadmill city (which I love), but there's nothing like sunshine on your face during an outdoor run.
Have a happy Friday!
xoxo
This post is sponsored by Collectively on behalf of HP. HP is currently on tour with Meghan Trainor to create a fan-generated documentary using the new HP X360. You can check out the fun videos at the hashtags #bendtherules #ThatBassTour. Thank you so much for supporting this blog and the companies who help support our family. xo