Missed part 1? You can check it out here.
My heart sunk as I anticipated a suggestion that would take me off the path of my birth plan. Fortunately, our nurse was amazing and offered a progressive list of alternatives to a drug intervention. I was so thankful when the nurse handed me an oxygen mask with a warning that an IV would be the next step.
"Let's see if baby needs some fresh air to get her heart rate up."
I happily took the mask. In contractions beforehand, I had noticed that despite my best efforts to breathe deeply, they were too strong and hitting me too quickly without a break to keep some breaths from being shallow.
Thankfully, within moments of taking the oxygen, baby's heart rate accelerated in sync with the contractions, just like they had been watching for. The nurse took the monitor away from my belly, and since my mind was no longer 100% worried about the baby, it focused back to the unbearable pain I was feeling. At this point, my entire body was still shaking and I started to sob as I asked how much longer it was going to last. The midwife was in the room –she was in and out during the labor process, and somehow knew when to help us, or just sit back and let us do our thing- and asked me if I wanted her to check and see how far along I was.
While I was laboring, I avoided being checked as much as possible since I didn't really want to know, or get false hope. The number of centimeters dilated doesn't necessarily mean anything since progress can change or stall at any moment, but when the midwife asked, I had to know. I had to know if everything I had gone through was going to leave me at 6cm dilated, or I'd be closer to the end.
"You're 9cm and about 90% effaced. Your bag of waters is still intact, so if you'd like me to break it, it might help things move a little more quickly."
That sounded good to me, so I asked her to go ahead and do it… and it felt heavenly, like so much pressure was released along with the warm water.
"Do you feel like pushing at all?"
I definitely had started to feel a pushing pressure, so I decided to try and see how it felt.
It felt wrong.
It kind of hurt in a strange way, like my body wasn't ready for it, so I stopped trying to push and kept focusing on making it through one contraction at a time. The contractions became even more intense, which I didn't think was possible, and were now 2 minutes apart and lasting at least 1 minute each.
This lasted for 3 hours.
During that time, Tom kept coaching me through every single contraction, encouraging me, and giving me sips of water while Tricia kept pressing the warm packs into my back. Tom left for a little while to update the family, and came back with photos and a video of them cheering me on.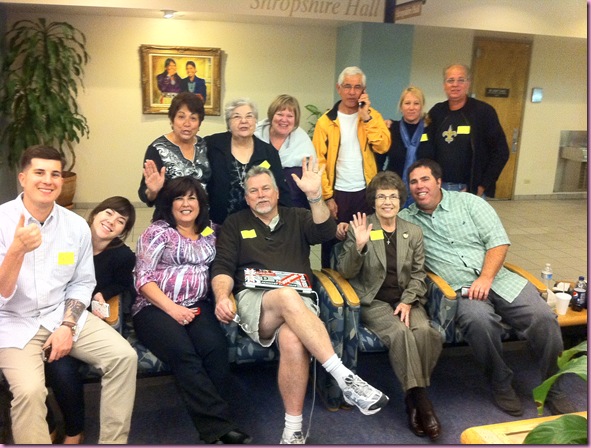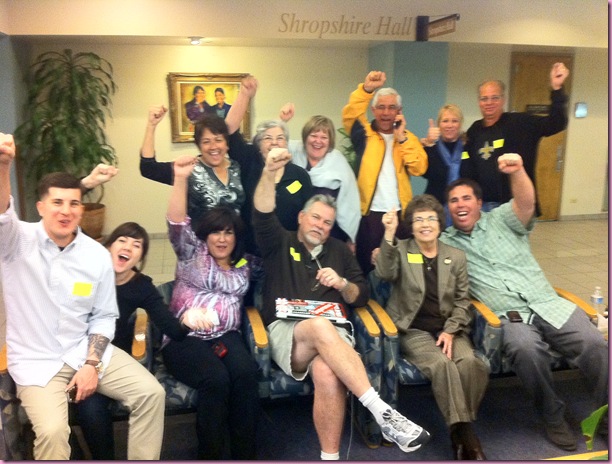 It was the only time I really smiled during the whole ordeal, and gave me a little extra go power, because I was crumbling before then. All I could do was moan, breathe and let each contraction overtake my body. I was still draped over the back of the bed.
The midwife came back and offered to check me again, and discovered that my cervix was still slightly over the baby's head, which was keeping me from being able to push effectively. She moved it out of the way, and then it was time to try push.
I laid on the bed and the nurse monitored each contraction, while the midwife rubbed warm oil and compresses down… yonder…to keep me from tearing.
My body was still shaking, and I can definitely see how pushing is an athletic event. I used all of the strength I had left to try and push the baby, and it felt amazing. It was such a relief to be able to use the contractions to my advantage, instead of just trying to make it through each one.
We held my legs back, I curled my spine, took a deep breath as each contraction began, and pushed for 45 minutes while we methodically worked her head out.
At first, it seemed like we had plenty of time to get the baby out and I could really focus on taking things slowly so I wouldn't tear. I could feel the midwife rubbing oil inside my body in between pushing, and I was so thankful she was doing everything she could to prevent tearing. As soon as everyone could see the baby's hair, things changed.
Her heart rate started to drop in between contractions; sometimes to half of what it was (which can be normal but caused some concern). We monitored her closely and urged me to take large, deep breaths to restore the heart rate each time. Up until this point, there was no clear answer for why I progressed so quickly initially then stalled so quickly when I was so near the end. As her head pushed out, we discovered the answer. The midwife told me that the cord was wrapped tightly around her neck. She wasn't able to lift if over the baby's head and instead of taking the time to cut it, the midwife gave me curt guidance that I couldn't stop pushing. We needed to get the baby out, and I'd need to push as hard as I could to make it happen quickly. I didn't even wait for the next contraction… I grabbed my legs, rounded my back, and pushed my heart out.
Her head was so out, so then it was quickly her shoulders, and then her entire body, along with a rush of fluid (so much for nice and easy).
They placed her on my chest and she felt warm, slimy and amazing.
I kept saying "Baby, baby, you're here, you're here."
But as this was happening, they were quickly cutting the cord. Tom reminded the midwife we wanted to wait for it to stop pulsing, and she said we still needed to hurry because the baby needed oxygen. Tricia put the oxygen mask on the baby's face and soon as the cord was cut, the nurses had to take the baby to a station near the bed to give her oxygen and check on her.
I was so worried….
I kept asking if she was ok while the placenta was delivered, and everyone assured me that she would be fine and to listen to her crying.
Before I knew it, she was back on my stomach, staring up at me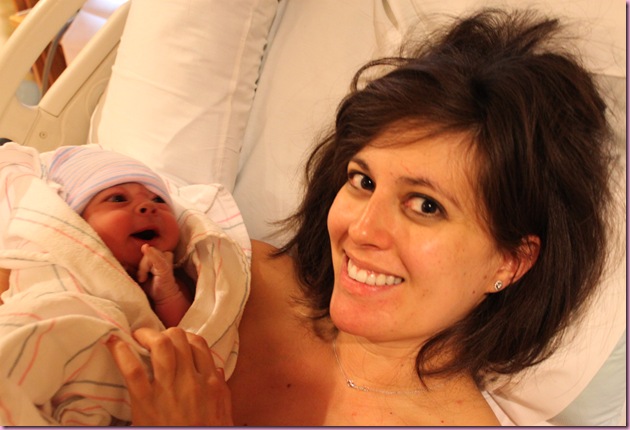 I instantly fell in love.
I did need a couple of stitches from the quick delivery, but the fact that we were able to get her out safely was all that mattered.
We had a totally intervention-free childbirth, but the thing is, I could have had a C-section, Pitocin, epidural, or birthed her out of my nose and would still be just as happy.
Looking back, I still can't believe that things happened the way they did, that I was strong enough to make it though it, and that instead of Zumba-ing in my belly with me, she's finally here.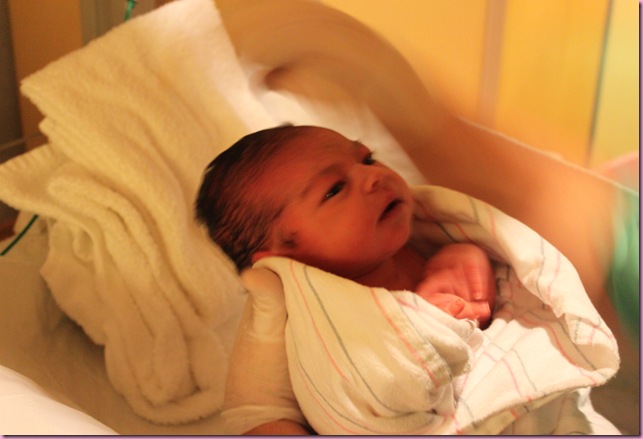 Things would have never happened the way the did without an amazing birth team by my side. The nurses at the hospital were incredible, and never took the baby from our side. She slept in the room with us, had all of her testing and first bath done there, and if they saw we were sleeping, they left us alone until we were awake. I'm beyond grateful to our midwife, who delivered Baby so safely and swiftly; Tricia, who stayed by our sides for 12 hours; and Tom, who never ceases to amaze me. After the birth, I have a hard time looking at him without getting tears in my eyes, because I'm so very lucky.
So there it is: the end, and the very, very beginning <3