Hi guys! How's your day going so far?? We're having an amazing time in NYC! I'll be back soon with pics from the official event (we met Miranda Kerr!!) and some more New York adventures. As you guys probably know, there was an explosion in East Harlem this morning. We are all ok, but there are many who were injured or affected by the tragic events. Keeping them in my heart and prayers today <3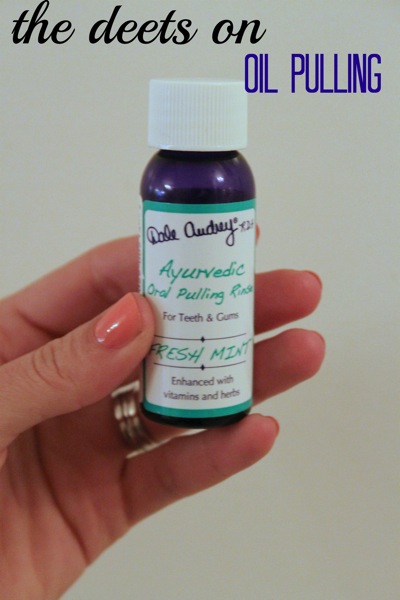 So, let's talk about oil pulling. You may or may not have seen the oil pulling trend flooding the internets lately, and I thought it would be a fun Reader's Request type post. I've been oil pulling for about a month now and really love it! Edited to say: As always, it's up to you to use your best judgment when deciding your unique health journey. Consult with a medical professional before making any changes. Just wanted to share my experience with oil pulling since I've been using it for a while and enjoy it.
Even though it's currently surging in popularity, oil pulling is a technique that has been around for thousands of years. This ayurvedic practice involves swishing oil around in your mouth for up to 20 minutes in order to facilitate detoxification, healthy gums and teeth, and aid in digestion. The toxins and plaque are believed to adhere to the oil, and when you spit it out, all of the "ick" goes down the drain with it. It's also believed to improve mouth muscular strength, balance hormones, improve arthritis symptoms, mood, and assist in preventing dementia.
So how do you do it?
You take about a teaspoon of vegetable-based oil (sesame, coconut and olive all work well) and swish it in your mouth with the goal of 20 minutes. The first time I tried this, I only lasted six, but now it's fairly easy to get up to 17 minutes or so. After swishing around, spit and rinse. A little tip: don't spit the oil down the sink as it will solidify and could cause plumbing problems. Spit it into the trash can or flush it down the toilet. Also be sure not to swallow the oil after swishing… it's pretty gnarly by the end 😉
Pros:
There are only a handful of studies regarding oil pulling, but it has been proven to reduce plaque, gingivitis and the total count of aerobic microorganisms in the plaque of study participants.It's also proven to reduce halitosis, and I definitely notice that my breath smells fresh after oil pulling, especially when I wake up the next morning.
It feels great. My teeth always feel shiny and clean after oil pulling, and recently a friend asked why my teeth were so white. Even though the coffee and wine I drink stains them, I think it helps reduce the stains.
It's inexpensive. I'm always looking for holistic ways to improve my health, and feel like this one really has no risk in trying since I have coconut oil on hand. If it works, great, but if it doesn't, it's not going to break the bank.
Cons:
The evidence of the benefits of oil pulling is mostly anecdotal. Like I said, there are a handful of studies but it hasn't been extensive.
20 minutes is a long time! I usually try to do it while reading before bed, as I find that it's a peaceful and almost meditative thing.
The "detoxification" claim. "Detox" is a huge health buzzword, and I think our body is capable of taking out the proverbial trash on its own. At the same time, I do like the potential health benefits and notice cleaner chompers.
Do you oil pull? Is it something you would do or try?
What's something unique that you do for your health?? I used to be a huge fan of dry brushing but have gotten away from it. Since Miranda Kerr said she's a fan, I might have to get back in the habit. 😉
Hope you have a great day <3
xoxo
Gina
New post on the Fashion page!