Hey friends! How's your day been? What have you been up to today?
Our Sunday has been the perfect mix of work, relax and play 🙂
The Pilot has been working insane hours, which has been pretty standard since I've known him. There's always talk about it calming down, but I won't believe it until I see it 😉 Anyway, since he just got into the squadron and has to go through a major upgrade before he can start teaching the new pilots, and he's been spending most of the past few weekends catching up on sleep and studying. I usually spend my weekends planning for the week (writing blog post ideas, meal planning, grocery shopping, figuring out playlists and new choreography for the week ahead, double-checking appt and conference call times, etc) and end up glued to my computer, iPod or notebook for a majority of the weekend.
Today it was nice to pry the Pilot away from the books and myself away from technology for a while to swim and lay by the pool.
Bella liked my new raft 🙂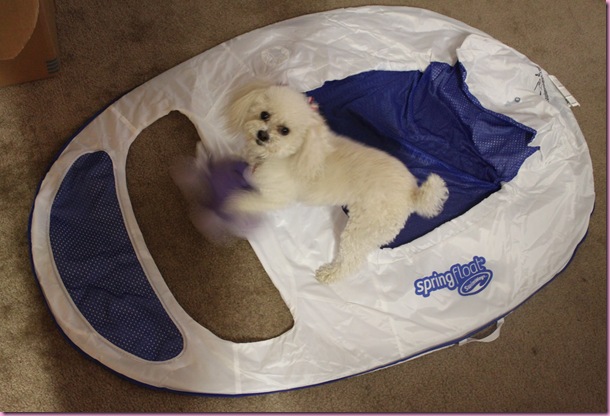 [And by "like" I mean she tried to pop it, repeatedly.]
The Pilot was a fan too 😉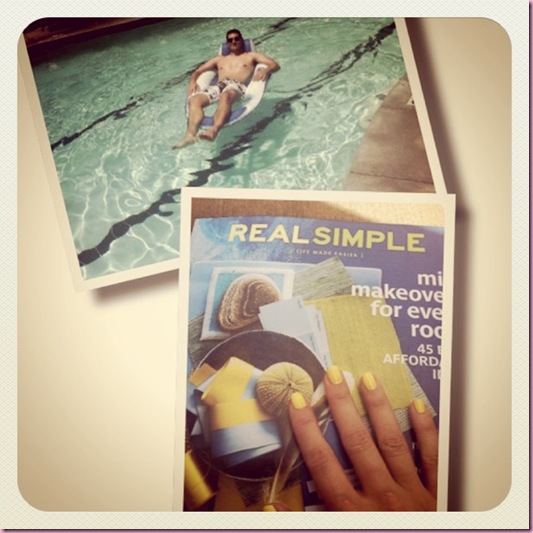 [I have to say I'm a fan of the yellow nails 🙂 I wasn't sure it they would look goobery with my skin tone, but they're cheery and fun.]
I mostly chilled under the cabana reading Real Simple and dunked in a few times to cool off. I floated on the raft and doggy-paddled around.
After the pool, it was smoothie time: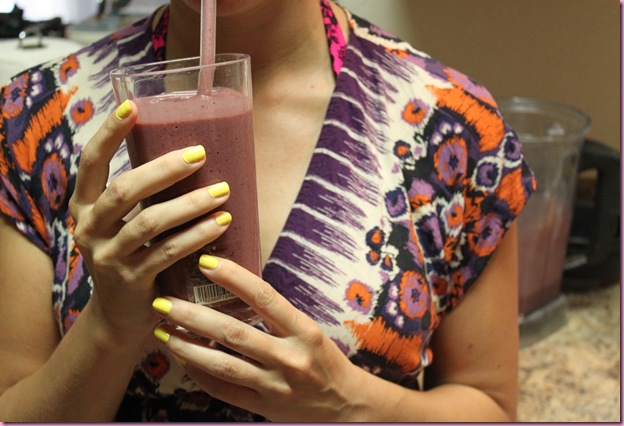 almond milk, Sun Warrior, frozen organic cherries, almond butter, banana and spinach FTW.
[A couple pieces of Vosges chocolate may have snuck in there too]
Today was the perfect kinda Sunday- enough work done to feel prepared for the week ahead and enough relaxation to feel refreshed to tackle everything that will come up 🙂
Off do a little yoga –it's my active rest day- and then a little shindig with the fam <3
See ya later with a Fashion Post!
xoxo
Gina
Something to think:
(I also posted this one on my facebook wall, but I love it so much)
?"Don't wait until everything is just right. It will never be perfect. There will always be challenges, obstacles and less than perfect conditions. So what. Get started now. With each step you take, you will grow stronger and stronger, more and more skilled, more and more self-confident and more and more successful." -Mark Victor Hansen