Most of the time, evenings are pretty pleasant around here. Tom gets home from work, and Livi and I are both ecstatic to see him. We give Livi a bath, jammie/lotion/brush hair, feed her, story time, and put her to sleep. It's nice because she'll usually go to bed fairly early (around 7-8) and we'll get to enjoy a little bit of alone time to catch up and hang out before calling it a night. We're getting to a point where Liv's on a pretty good schedule throughout the day and gets plenty of naps… so most of the time, the evenings go pretty well.
Other times, we're subject to the witching hours: random crankiness before bedtime, where pretty much nothing seems to put that lovely smile back on her face.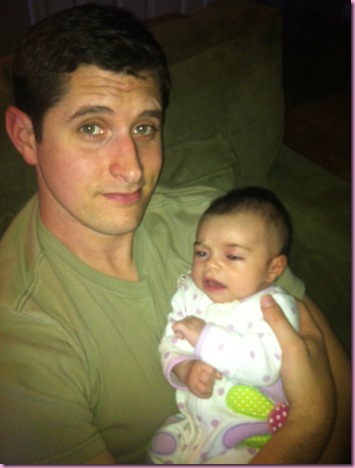 Sometimes, it's just a little bit of grunting and crying, or it can be full-out shrieking, which echoes throughout the house. We go through the checklist: check her diaper (usually the first reason she'll cry- she HATES wet diapers), burp her, see if she's hungry, and if nothing seems to work, we bounce, rock her, or sing to her until she eventually burps, decides she is indeed hungry, or falls back asleep.
All of my friends with little babies have experienced the same thing- you never know what's going to happen around 5-6pm. It's not considered colic because it only happens occasionally and doesn't last very long (colic occurs where a baby cries for at least 3 hours in a row, 3 nights in a week, for 3 consecutive weeks. Whew! My little brother had colic and it was intense), but is still no picnic. Usually having one of the nanas here does the trick –they have that magic touch- but sadly, they don't live here 😉
Anyone have advice or tips for the witching hours? How long does this phase last? (Please don't say forever, haha)