Did you know it costs $60 to use the Babies 'R Us nursing room?!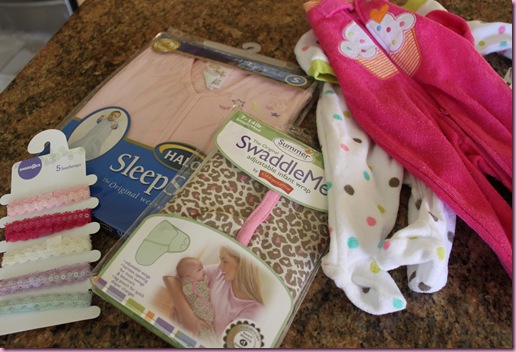 I knew it was getting to be about "that time" so we stopped in to grab some jammies and use the mother's room, which has a couch, glider, and changing table, and walked out with some more goodies. They're tricky like that 😉
We grabbed some sparkly headbands, a new swaddle (the Swaddle Me ones have been working really well for nighttime) and some zipper jammies, which save the day. They make the night changes a little easier when my glasses are falling off my face and I'm trying to button a thousand buttons 😉
I also picked up a Halo sleep sack, because as I mentioned before, we're trying to get her to take one nap in her pack n' play, since she only naps really well if I'm holding or wearing her. As much as I love to hold her while she sleeps, I'd rather get work and things around the house done while she's sleeping. The computer stays closed while she's awake, and it would be awesome to work out while she naps so that I don't have to go at night when Tom is home- I'd rather hang out with both of them.
Yesterday she lasted about 10 minutes in the pack n' play before her flailing arms woke her up, and today about 15 minutes. As soon as she wakes up and cries, I pick her up and put her in the Moby or lay on the couch and hold her for the rest of her nap, but would love to have an option to keep her arms from going crazy without swaddling. (We're trying to save swaddling for a nighttime only thing, so she doesn't get confused.) Enter the sleep sack. According to the internets, if you safety-pin the arm holes closed, it's like a very loose swaddle. The baby will have free movement of her legs, and her arms will stay closer to her sides instead of shooting up into the air to wake her up. We'll see how it goes! 🙂
After some awesome sleeping over here, the past few of nights have been a little rough. We've been up every 2 hours or so, mostly to eat, other times to change diapers or cuddle, and Tom has been flying. I'm positive she's going through a growth spurt (grow baby, grow!), and after lots of wake-ups last night, we lounged in bed all morning, put on some real clothes, dropped Bell at the groomer's, went to Babies 'R Us, and met that one guy we're both crazy about for lunch.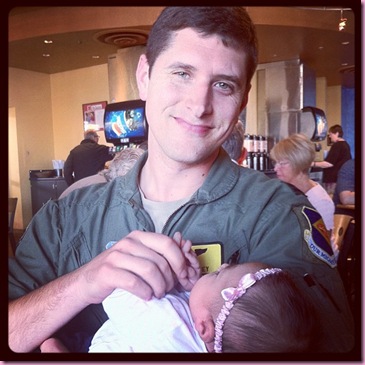 It was a great day <3
Something to read:
Saving my baby (thank you to Brittany for the link!)
10 things everyone should consider before having a baby